Image: Julie Soefer
Talk about a girl boss.  Nina Magon doesn't just kill the fashion game with her black lace jumpsuit and sultry smokey eye, but she's also a design extraordinaire.  You know those Pinterest boards titled "Dream Home", "House Inspiration", or anything relating to your picture-perfect, ideal decor?  Nina brings those to life.  Her natural talent paired with her classic, chic, and modern style have won her various awards and brought her into the spotlight nationwide.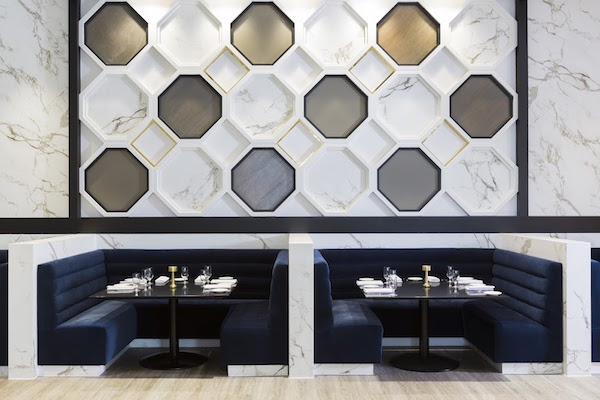 Image: Julie Soefer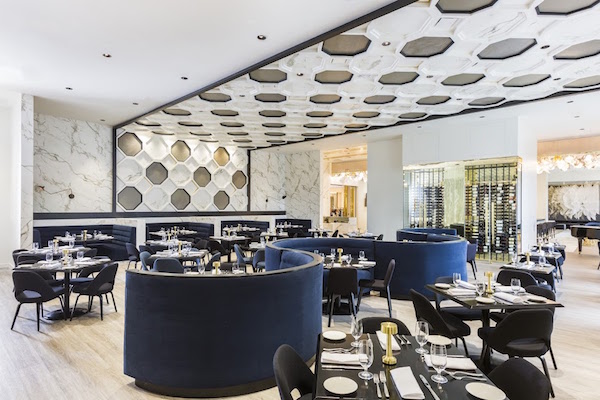 Image: Julie Soefer
If you've set eyes on 51fifteen, Saks Fifth Avenue's new 8,000 square foot restaurant, you're probably wondering who designed this bright, luxurious, and gorgeous marbled space.  Nina and her team at Contour Interior Design worked for four months to complete the design of the project, and construction on the restaurant actually took place about a year and a half later and the design was brought to life!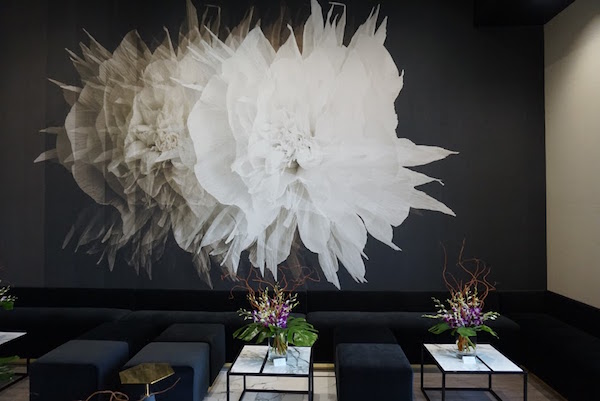 To officially debut the new design and grand opening of 51fifteen, Contour Interior Design hosted a Brazilian themed Carnaval event benefitting Dec My Room, a non-profit organization whose goal is to enhance the lives of children who are being admitted into a hospital for a prolonged period of time.  Read more about Dec My Room and their generous, life-changing projects here.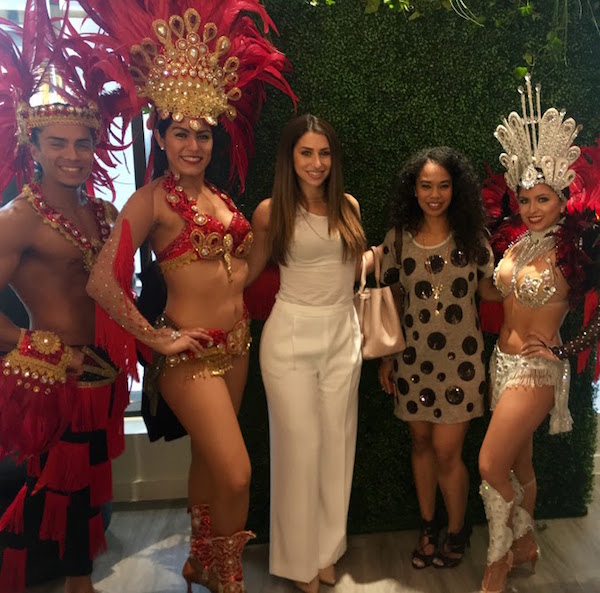 Before we munched on grilled shrimp and chicken and sipped our pineapple vodka cocktails, I had the opportunity to interview Nina and chat about her inspiration, designs, and tips for anyone trying to design a room for themselves: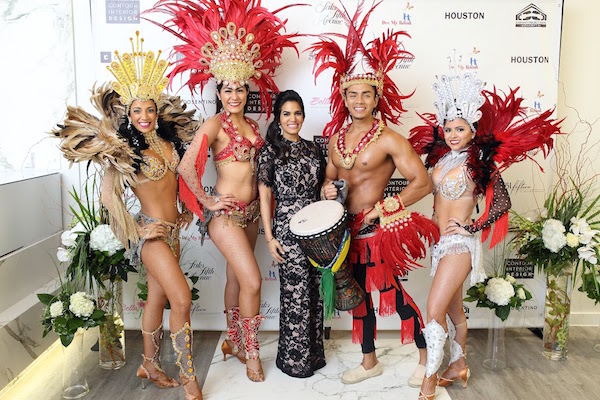 Image: Quay Tran
Q: Where did you get your inspiration from while designing 51fifteen?
A: From myself!  I wanted to bring great design to Houston.  I feel like Houston is surpassing Chicago as the third largest city in America, but our design caliber isn't there yet!  I wanted to bring something fresh and classic to Houston.  Then, I started my color palette which was white and black, which was mandatory by Saks.  I asked if we could do shades of white and shades of black, throw in some brass for color, and let me throw in navy blue.
Q: What's your favorite project that you've worked on as a designer?
A: This year, in February, I was asked to do design on a dime in Miami.  Basically you have this vignette, and you have to talk to all of your vendors and see who would like to give furniture for your vignette for free – all donations.  Whatever you get is what you get.  So, we had to design with whatever we had.  It was a hot pink space with black, a small vignette.  The reason it was my favorite is because it was so challenging, but the result was so beautiful!  We literally had 48 hours to do it.  It was a challenge but it turned out beautifully.  It was so memorable and different for me!
Q: You're coming out with a furniture line in the fall
A: Yes! Some of my furniture pieces are here in the restaurant.  The 2 chairs in the entrance…a few pieces!  The collection is a twelve-piece furniture collection of tables and chairs – Let's see how it goes!
Q: Where can people purchase your furniture collection?
A: You can purchase on our website, and we are also working with several furniture companies who are interested in picking up the line to sell in their showroom.
Q: I was browsing through your "favorite picks" on your website – What's your favorite piece that you've used in a design or in your home?
A: I can't even say!  I love the plastic chairs in the restaurant.  There's so much not there now that it's easy to have a favorite.  I can't finish designing my house because I can't decide.  It's so easy for me to design for other people, but for myself, I can't decide!
Q: What's your advice, from an interior designer to an amateur with good taste, on how to find good pieces and design a room?
A: If you already have good taste, half the battle is won!  If you pick pieces that you love, you just have to realize how to make them stand out and pair them together.  Do a furniture plan: see what other pieces you want.  What is the use of the room, and how many people do you want to sit in it?  Make a layout and see what you need, then start placing pieces in one by one.  If you go in an order and stay organized, it will be so much easier.  If there's an art piece that you love, pick a color from the art piece and say "OK, I want my sofa to be this color".  Don't pick every color in the art piece.  Pick certain colors that you feel are complimentary to the space and start building from there.
About Nina:
Nina's gorgeous residential and commercial interiors have awarded her with being named one of the top designers in the country by NBC, "The Design Industry's Next It Girl" by POPSUGAR and "The Breakout Star" by RUE Magazine.  You might recognize her from NBC's American Dream Builders, where Nina was hand-picked by Nate Berkus (Oprah's interior designer), where 12 designers competed to win the title of the first American Dream Builder.  Nina was a semifinalist and stood out for her beautiful taste and aesthetics.  Yes, she was hand-picked by Oprah and her team.  How many people can put that on their resume?!