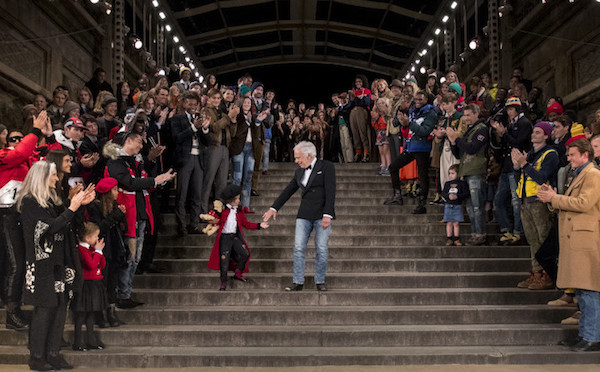 One of the biggest events of NYFW, Ralph Lauren celebrated his 50th Anniversary with a star studded dinner. Staples in the Fashion Week scene, Lauren and many others did what they always do and blew us away with beautiful runway collections!
A lot of big things were in order to be celebrated this NYFW! Not being there in person this season, I felt compelled to check out NYFW in two distinct parts…..first, my Regulars or the Classics, those favorites that continue to command our attention season after season and are my benchmark of NYFW and what it has meant for U.S. Fashion.  Second, which we'll be looking at next time, are the Newbies, the Contemporaries as I like to call them that are the newest, hippest offerings on the runway this season, that are not necessarily a house-hold name yet but are building momentum after each season.
First, is Ralph Lauren who was celebrating his golden anniversary, with the brand reaching its 50th year. The monumental milestone was celebrated with a star-studded dinner, held in Bethesda Terrace and Fountain in Central Park was just as iconic as the man himself! Anna Wintour, Hilary Clinton, and Oprah were just a few of the famous faces in the crowd, making it an evening of extravagant festivity!
Badgley Mischka was also celebrating a big anniversary- 30 years of their dazzling designs. The significant show also marked the launch of fresh merchandise categories, with the label expanding into childrenswear and fragrance!
Meanwhile, over at Carolina Herrera, the audience celebrated the first collection of new creative director, Wes Gordon. It should be noted that Wes Gordon's first collection for Carolina Herrera will be in Houston, live, as the featured runway show for the Best Dressed Luncheon on March 28, 2019 at The Post Oak Hotel being sponsored by Neiman Marcus and Houston Chronicle and benefiting the March of Dimes.
While the other classic (and fan-favorite) designers may not have had anything to celebrate, they still produced show-stopping collections worthy of celebration! Naeem Khan showed unbelievable detail and whimsical designs we have all become so delightfully accustomed to. The same went for the always stunning  Oscar de la Renta, with an intricate mix of easygoing and elegant looks paying homage to the brand's roots, while staying innovative in the industry!
Keep scrolling for our top picks from each of the designer's magnificent runway shows! 
 __________
Ralph Lauren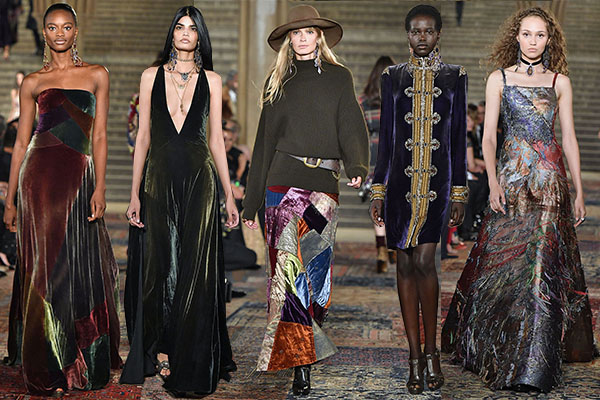 Ralph Lauren had a crystal-clear image of what he wanted for his collection, which is no surprise since this year marks the brand's 50th anniversary! As Ralph states, the eclectic collection was "inspired by the timeless heroine who thrives on originality" and that reads so clearly across each look that walked down the runway. Ralph Lauren has evolved with the times so effortlessly, and this collection showcased each of the brand's chapters over the years. With a seamless blend of charming vintage and eye-catching modern designs, theres no question why the Ralph Lauren brand has lasted for 50 years, and will for 50 more!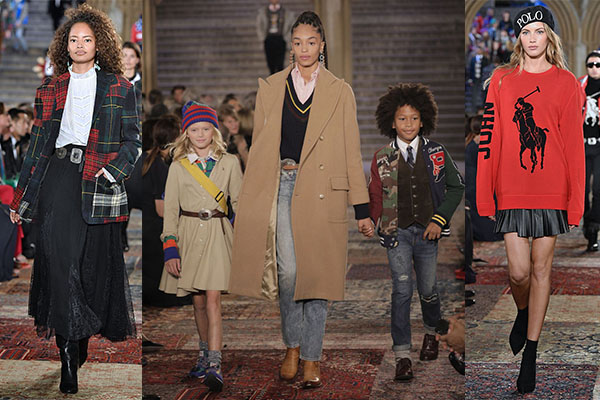 __________

Carolina Herrera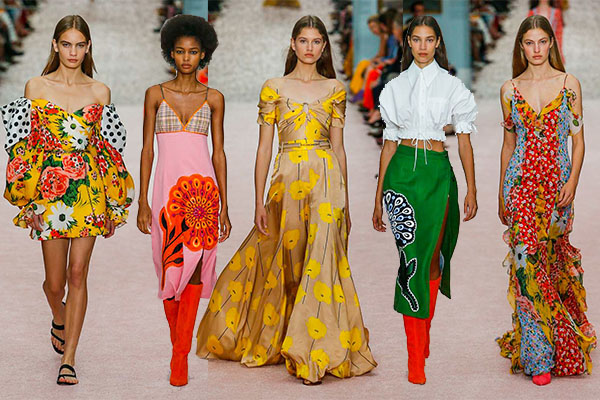 On Monday, the ever-creative Wes Gordon made his official debut as creative director for Carolina Herrera and WOW! The collection was bursting at the seams with fun, flirty florals, ladylike silhouettes and bright, eye-catching colors. While the collection beat to a different drum than the classic Carolina Herrera (who was sitting front-row!) we all know-and-love, Gordon stayed true to a major House of Herrera virtue- fierce femininity. With curve accentuating shapes and more youthful hemlines, Gordon is expanding the brand to a younger audience while still honoring Carolina Herrera's original image which leaves us even more excited for his future fashion weeks!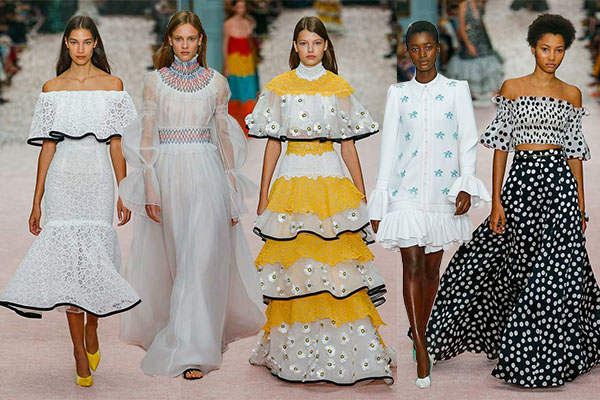 __________

Naeem Khan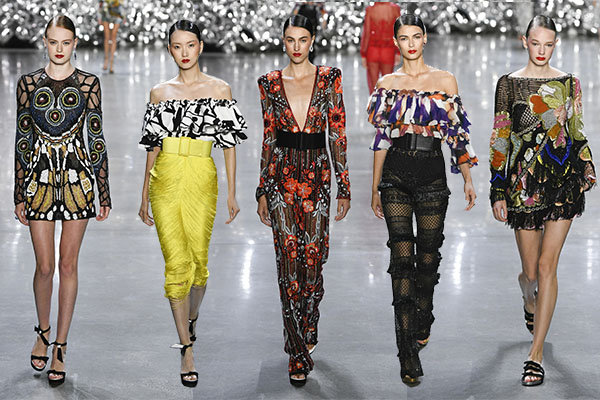 Naaem Khan's vibrant collection was most definitely a sight for sore eyes! Butterfly motifs, floral patterns and abstract designs paraded down the runway, making us feel like we were watching just that- a parade! Khan expressed his love of "color and elegance, that's the mix of the season!" Hot pink and neon yellow in extravagant ruffles made the audience forget about the dreary weather outside. For a designer who has dressed royals and first ladies alike, Khan knows his way around statement dressing. Taking inspiration from the underground party world of NYC in the 70's and 80's, this collection had us all nostalgic for the wild times of Warhol and Studio 54!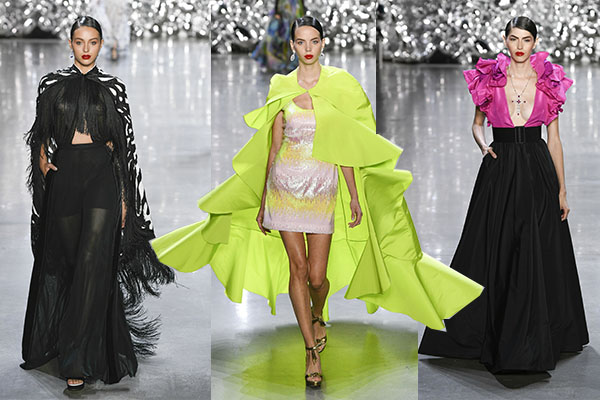 __________

Oscar de la Renta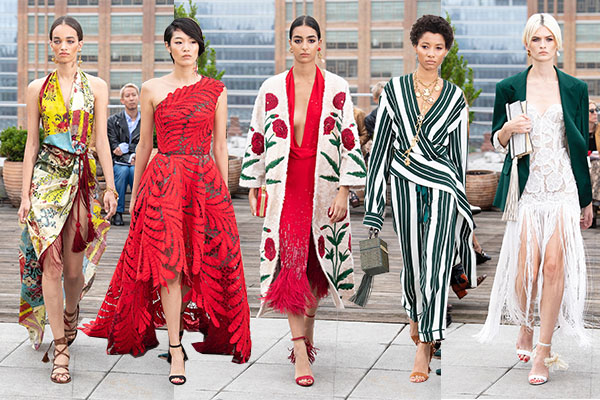 High in the clouds on the rooftop of Spring Street Studios, Oscar de la Renta transported the audience to a whimsy wonderland of fringe, feathers and gorgeous designs. Creative director duo Laura Kim and Fernando Garcia, added a touch of casual chic to a brand otherwise known mainly for red-carpet glam (but don't worry, that was there, too)! The mesmerizing detailing and fanciful finishes added a touch of modern to the classic essence of the Oscar de la Renta brand. With as many famous faces in the crowd as on the catwalk, it's safe to say this sky-high show was one of the most notable of the week!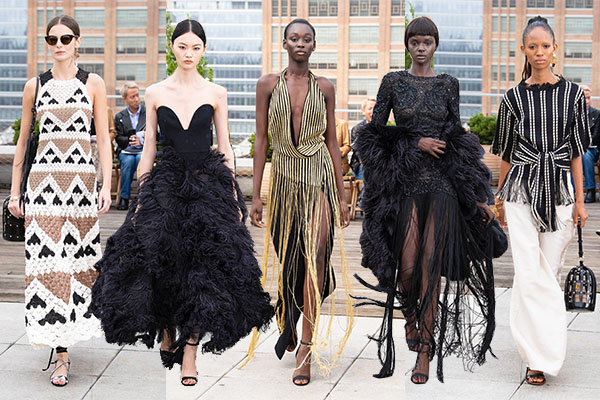 __________

Badgley Mischka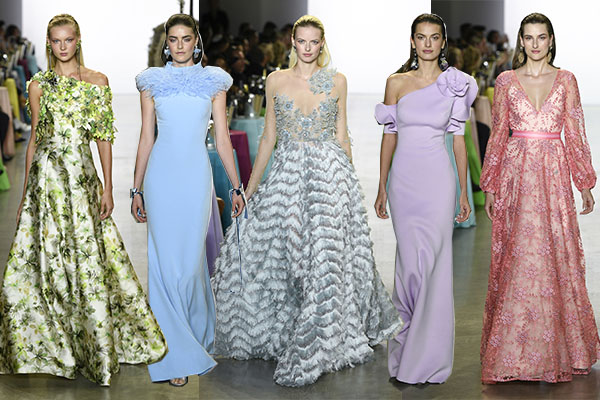 Another brand celebrating a big anniversary this year, Badgley Mischka topped off thirty years in the most mystical of runways. Pastel hues and floral motifs fluttered down the runway making feel as if we had magically flown into a spring time wonderland. Mark Badgley and James Mischka took inspiration from Alice in Wonderland, so its no wonder the collection has the airy, jouyous festivity of a spring-time garden party. Mischka even quipped "It's all a beautiful fairy tale this season", and he is so right…it totally is!
Bonus: The label also debuted mommy-and-me designs that are just too cute!!!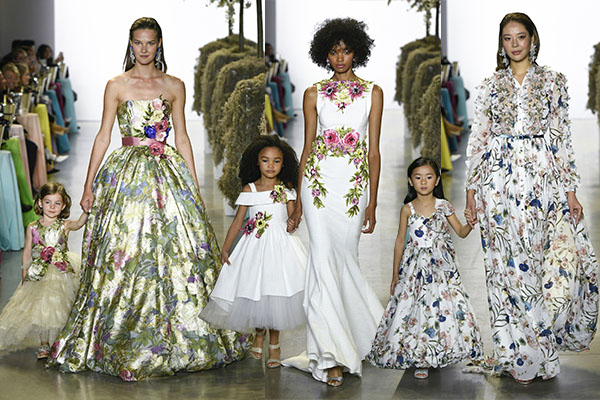 _________
For more Fashion Week news, head over to our NYFW Recap Pt. 1 or  check out the dates for the top fashion weeks around the world, below:
London Fashion Week  ||  September 14th-18th
Milan Fashion Week || September 19th-25th
Paris Fashion Week || September 25th-October 3rd
New York Fashion Week: Bridal   ||   October 4th – 7th
__________
Feature Image courtesy of Ralph Lauren