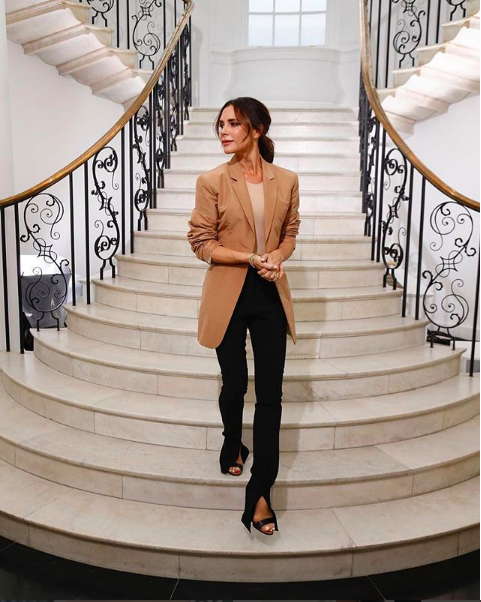 London Fashion Week seemed to be done in a flash, but boy did they pack a lot in those five days! With a 10 year brand anniversary and a LFW return home, Victoria Beckham (always a favorite of MRG!) had a lot to celebrate!
It's hard to believe London Fashion Week has already come to a close! The five day fashion frenzy was stocked full of milestones and big-time debuts. London-born fashion icon, Victoria Beckham, spiced up LFW by making her grand-entrance for the first time! Even more ground for celebration, she was ringing in ten years of her Victoria Beckham brand and she chose her home ground to do it on!
Also marking ten years in the industry, Mary Katrantzou also came ready to celebrate this LFW! With mesmerizing colors and designs, her runway looked as if she was throwing her brand it's own whimsical, magic-filled birthday! Wrapping up the whirlwind five days, Burberry presented one of the largest collections of the week. With a whopping one hundred-and-thirty piece collection, Ricardo Tisci more than made his debut as new creative director of the iconic London-based brand.
With all of this to commemorate, there was a lot going on this LFW, but keep scrolling for  snapshots of the most memorable shows and our favorite moments of the week!
______

Victoria Beckham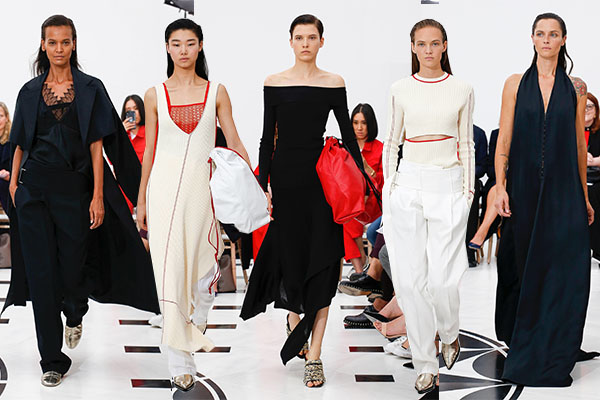 After showing at NYFW for the past ten years, this was Victoria Beckham's debut at London Fashion Week! Her signature contemporary-chic style shone through in every look that walked down the runway. It was easy to picture VB wearing each piece, with sleek silhouettes in luxurious fabrics and a simple color palette consisting mainly of neutrals with elegantly-done pops of color throughout.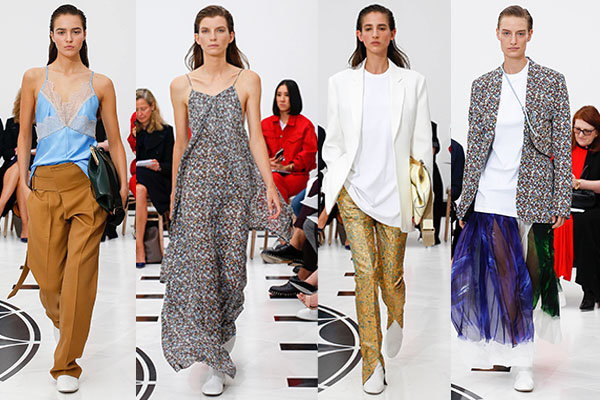 "It's all about celebrating women, not just the Victoria Beckham woman", Beckham stated after the show and its clear that she achieved just that! Designs that are just as luxurious as they are practical, we are sure to be seeing these pieces everywhere come Spring! With her family sitting front row, the homecoming show really was a full-fledged celebration- too bad our invites seemed to have gotten lost in the mail!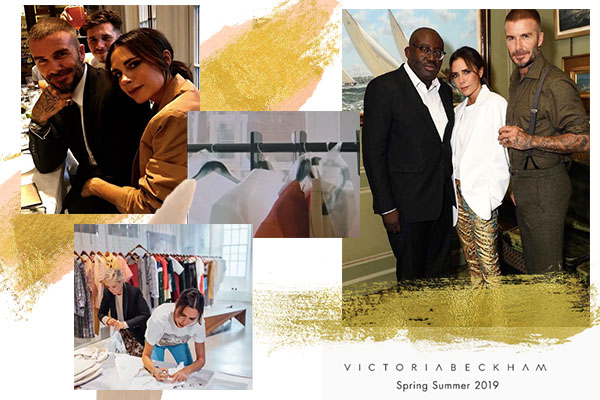 ______

Burberry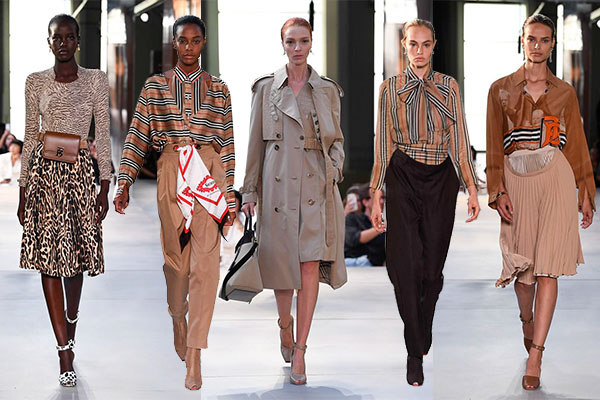 Monday was the day of LFW that was highly anticipated by all fashion folk around- Ricardo Tisci made his runway debut with Burberry, as the new creative director. While there was much anticipation as to what Tisci's Burberry would look like, it was quick to tell from the beginning that he was there to honor his new home. Building off the signature styles of the heritage brand, the runway offered updated and elevated designs of it's signature trench coat and iconic check. The collection also showcased the brand new Burberry monogram logo, that premiered in the beginning of August.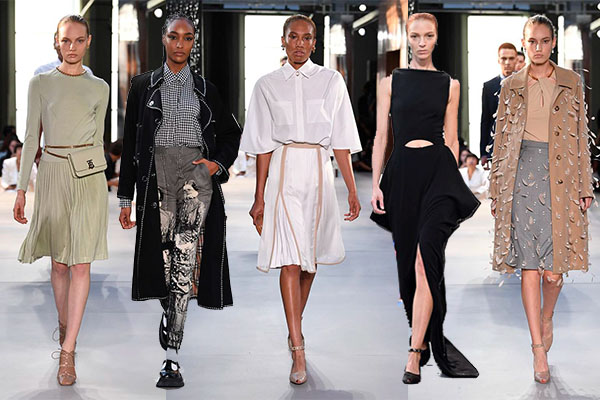 The 133-piece collection was split into three sections- refined, relaxed, and evening. Just as Tisci had hoped, the show was "a celebration of the cultures, the traditions, and the codes of this historic fashion house" all while celebrating "the beautifully diverse United Kingdom". With a collection this diverse, the fashion world is abuzz with excitement for future of Tisci's Burberry!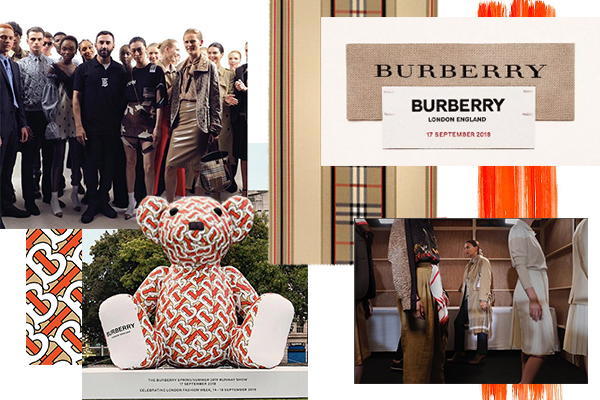 ______

Mary Katrantzou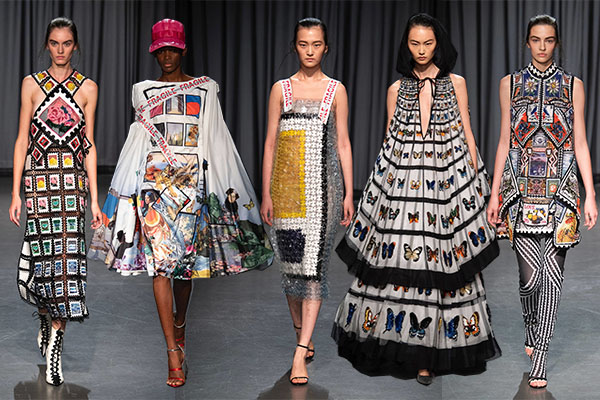 Yet another 10 year anniversary to be celebrated! This year marked a decade in the industry for the wild and whimsical label, Mary Katrantzou. Over that time period, the designer has more than made a name for herself, known widely for her extravagant embellishment and prints and always her bold graphic designs. This collection was full of intricate beading, eye-catching colors, and dizzying geometric patterns. Each look that walked down the runway was truly a treat for eyes exhausted of the fashion normalcies.
With pieces paying homage to the early start of Katrantzou's career, the runway show was as much a look back on the brand's history as it is the jumpstart for the next chapter. Taking inspiration from past collections, and unfinished design concepts, this collection was intriguing in every sense of the word. With a decade of designs under her belt, there's no question Katrantzou will be entertaining us for years to come!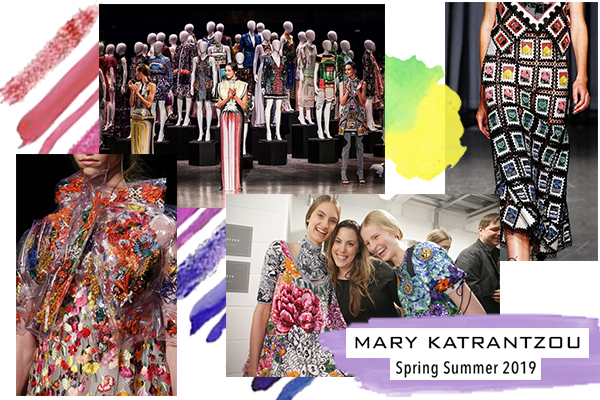 _________
For more Fashion Week news, you can head over to our NYFW Recap  or our Rundown on NYFW Classics. Still not enough? Check out the dates for the remaining top fashion weeks around the world, below:
Milan Fashion Week || September 19th-25th
Paris Fashion Week || September 25th-October 3rd
New York Fashion Week: Bridal   ||   October 4th – 7th
__________
Images courtesy of Vogue Runway, @victoriabeckham, @burberry, and @marykatrantzou
Feature Image courtesy of @victoriabeckham