The Passion for Fashion Luncheon was held this year at River Oaks Country Club and this very special event that benefits Houston Community College Design Department, not only benefits the students there but also is always a beautifully entertaining luncheon and fashion show filled with many of Houston's most stylish women.  This year was no exception, as the star attraction was Christian Siriano, Project Runway, Season 4 winner and featured designer for the event. Mr. Siriano was sponsored by Elizabeth Anthony boutique in Uptown Park, where his clothing is sold exclusively in the Houston market.
Unable to attend the luncheon this year for the first time and anxious to see Siriano's designs first-hand, I eagerly attended the V.I.P. Cocktail reception at Elizabeth Anthony the night before the event where I was able to chat with the young talent and learn more about him, like that he was from Maryland, living in NYC for 10 years but loves to spend his weekends in his 1800's farm house in Danbury, Connecticut.  However, there were no clothes, as they were at the Country Club and I knew that I must come back and see the collection……so happy that I did as they were all stunning. He has been dubbed, "the new king of old-school glamour" by Elle Magazine and "the next billion-dollar designer" by Yahoo!'s Lauren Sherman, his designs have appeared on the world's biggest stars and most prestigious red carpets. The list of the world's leading ladies in all fields from Movies to Television, Music and Fashion have worn his beautiful designs.
He also designs four seasonal collections of affordable shoes and handbags for Payless ShoeSource, since 2009. He immediately had a RTW collection out in 2008, moments after he won Project Runway and has partnered on a makeup line for Victoria Secret, and clothing and accessories collaborations with brands from Lane Bryant and Nordstrom to HSN, Disney, Puma and Starbucks! "Silhouette", his first fragrance launched in 2014. His venture into other categories such as intimates, eyewear, home/bedding and beauty are all in the works or completed in 2015 to 2016. This man stays busy and uses his gift of talent in so many ways!
About his Spring 2016 Collection which is shown below and was the trunk show for Elizabeth Anthony where he had so many customers that we could barely chat…it was exciting to see all of these women actually 'buying' his clothes right there on the spot!
His inspiration for Spring was the imperial cities of Morocco, such as Casa Blanca, Marakesh and many others.  His vision was that a woman would get on a plane, travel to all of these magnificent cities and be inspired by the special things from each such as the iron work from one or the magnificent sunsets of another.  I did not expect to be as taken with his collection as I was.  I love beautiful fabrics and that was the main attraction for me…..styling of the garments were unique, modern and glamorous, but I could not stop myself from babbling over and over about the fabrics.  All made in Italian mills and some French. he works closely with them on each of the fabric designs and the result is divine!
My favorite dress below was made of asymmetrical, modern panels in a rich white textured fabric that I was drawn to from the moment I felt it.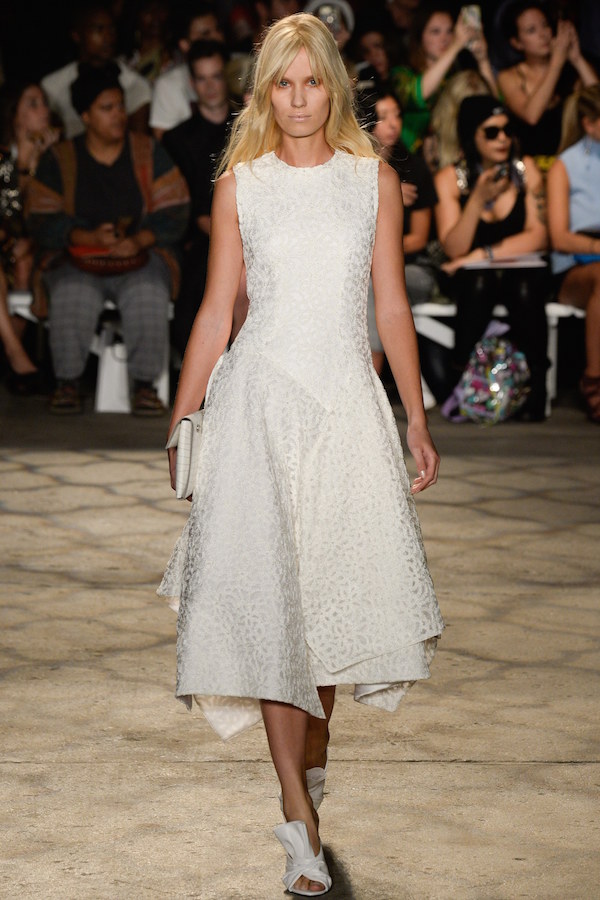 Fun fringe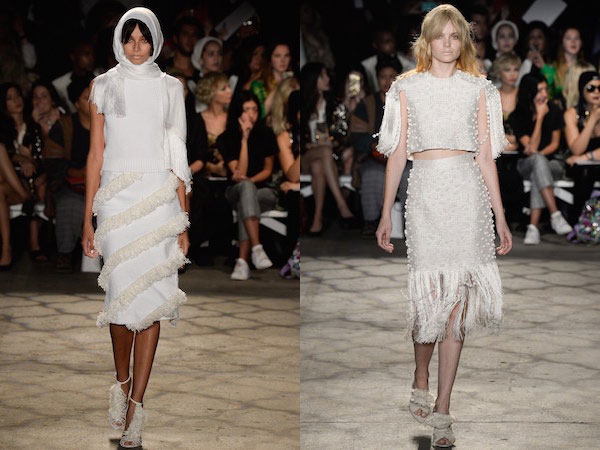 Chinchilla…..a Cashmere and Silk blend with a touch of synthetic fiber to give it 'sparkle'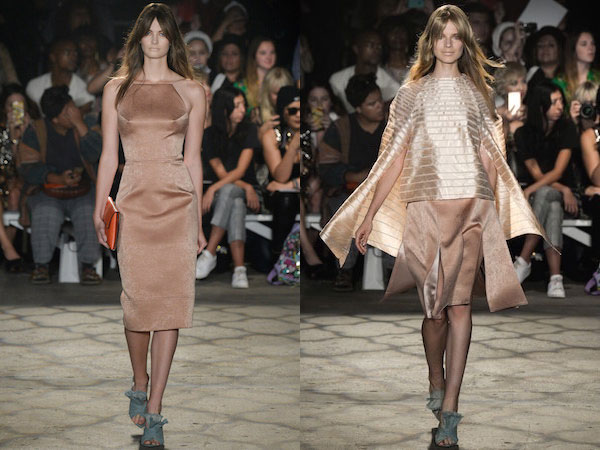 Striped, textured knits with raw edges…..so modern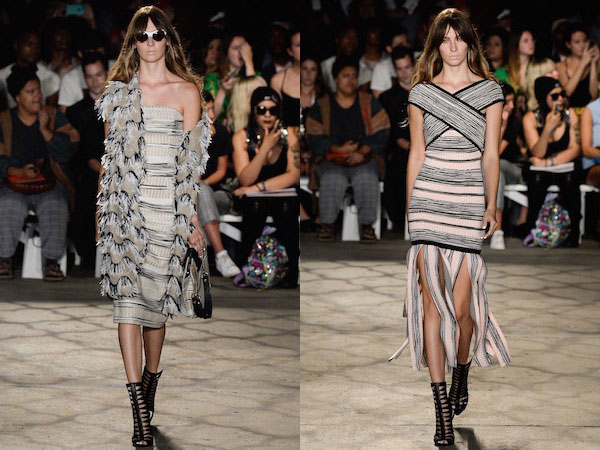 Cutaway bodice, both long and short looked great on everyone that tried it on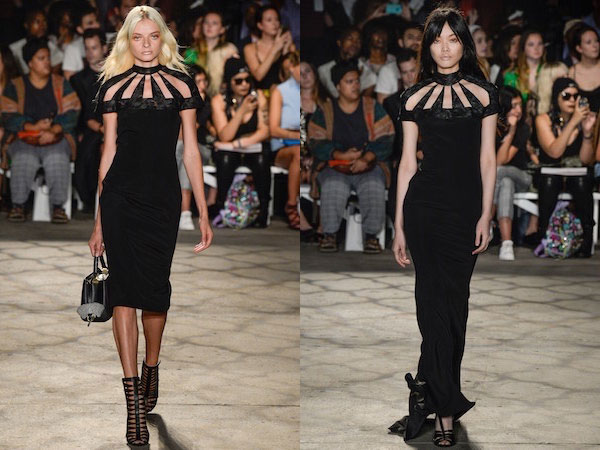 Beading, texture…..Glamour!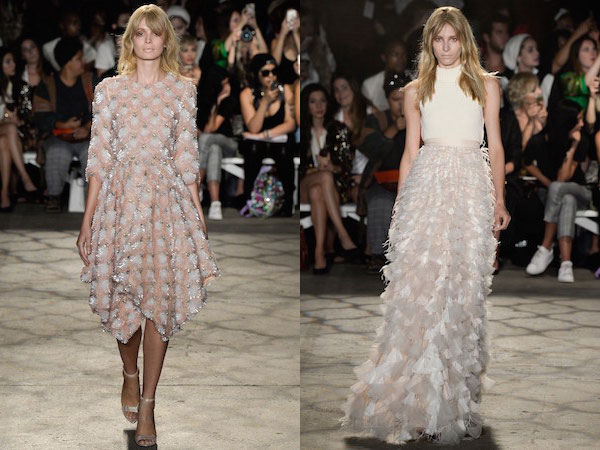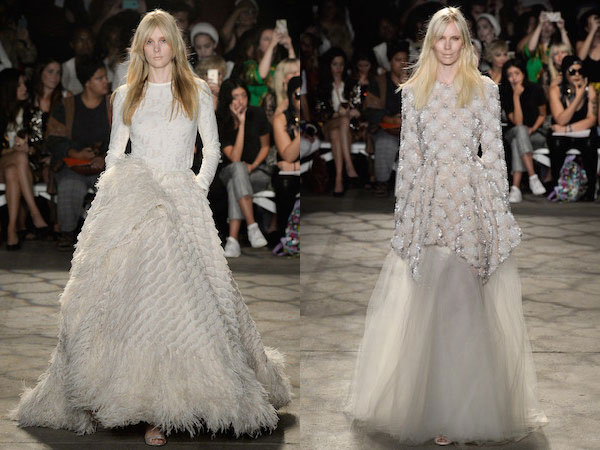 Two of his selection from Resort…..his salute to Palm Springs in Bright, Bold Color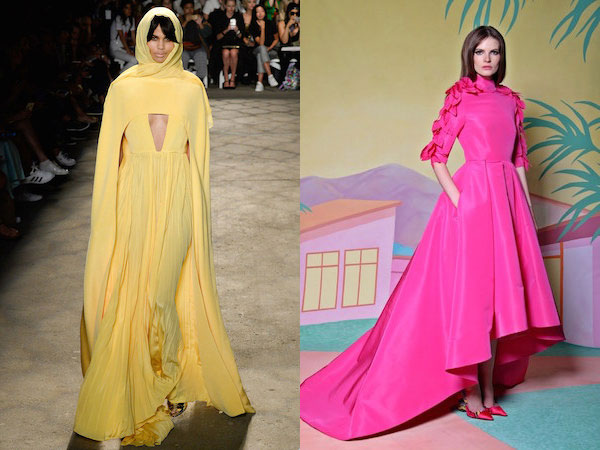 Special Note:  Although the Christian Siriano collection has successfully come and gone from Elizabeth Anthony, it should be noted that special orders can be done with a quick, approximate two week turn-around…..a thought I've had as shopping was not an option for me those couple of days and there were so many dresses that I liked!  His retail pricing, BTW, is very good…….$800-$1700 for day dresses and $1500-2500 for evening!
photos courtesy of Christian Siriano