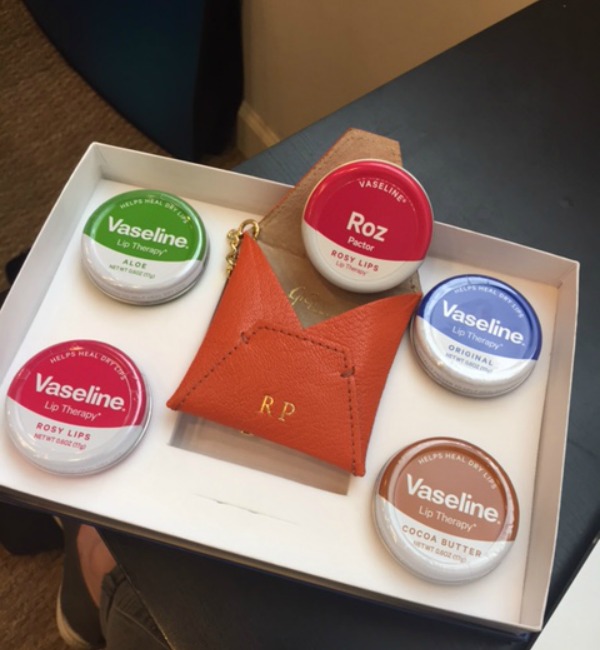 I'm one of these people that to this day, even as an owner of many luscious lip balms that have been given to me by many of the best brands in the beauty business, I still have always kept  a jar in my nightstand of good ol' Vaseline. (am I dating myself here?!)  Vaseline really is the best of the best; they have been around for ages! So, you can imagine my pleasant surprise when attending the 'Create + Cultivate' Digital Marketing Conference in Dallas in January to see none other than a 'Vaseline Pop-up Shop'.  They were testing for all of us their Lip Therapy tins recently launched in the US, and I was able to test out the set. I even received a personalized tin and monogrammed GiGi New York case so that I never lose a lip tin in the bottom of my handbag or if one of my daughters takes it, they'll have to fess up as it has my name on it, I liked that!
The tins come in four flavors: Original, Cocoa Butter, Aloe and my personal favorite, Rosy Lips. I don't believe in a "naked lip" so the sheer pink tint of Rosy Lips is great, especially on a day where I am running around with little to no time. (Also, my name is on it…how could I not love it!) The Aloe is a close second – I've always been a fan of aloe vera and what it does for the skin. The Original and Cocoa Butter are both great as a base before applying lipstick!

The skin on your lips is thinner that other parts of your body, so they tend to lose moisture quickly. This lip therapy doesn't just coat your lips, it truly heals them and it stays on for hours! They are a savior when it comes to harsh winters or hot summers, you know,  the unpredictable weather in Houston. One day its sunny and 80 degrees, the next it is windy and 40 degrees – it takes a tole on your skin. A little tip: Apply it before you go to bed so you wake up with refreshed lips.  Vaseline Lip Therapy can be found at most drugstores, grocery stores and online…..so easy to just pick one up and keep in my handbag!
Vaseline lip tins will forever be a part of my daily beauty routine!

This post is sponsored by Vaseline