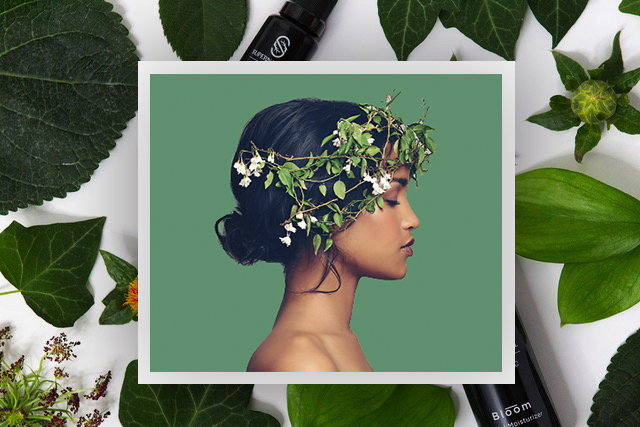 Supernatural Body is a new local line of luxury USDA-Certified organic skincare products containing only incredibly healthful and nourishing organic ingredients.
Every single one of the luxurious Supernatural Body (available at www.supernaturalbodyusa.com) products are full of essential fatty acids, minerals and vitamins such as: Matcha, Sacha Inchi, Sea Buckthorn, Triphala, Camellia, Chamomile and many more. Supernatural Body holds strong to their beliefs that products should contain no parabens, no synthetic fragrances or dyes, no pthalates, no SLS and SLES,  and no animal cruelty plus must be good for the environment.
Meet the Woman Behind the Magic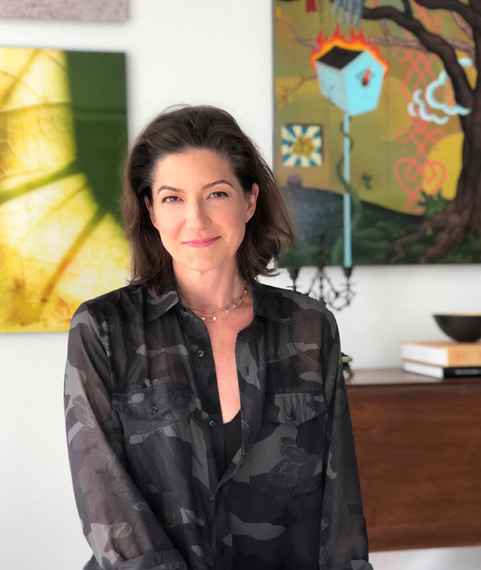 Growing up, Michele Griffiths had constant issues with her skin and back in 2000 after countless hours of puzzling over the ingredient labels of mainstream skincare products, Michele began experimenting with organic skincare. She discovered that commercial products not only contain residual herbicides and pesticides but the products also contain chemicals acting as preservatives, emulsifiers, dyes, fragrances, etc. Once on a regimen of organic skincare over time her issues melted away. In 2004 on a research trip to India she was introduced to ingredients used in Indian traditional medicine and skincare, those ingredients had a further transformative effect on her skin and upon returning home to the states she began the research and development for a line of skincare based on some of the powerful plant based ingredients she had discovered.
Michele was determined to ensure that her products were Certified Organic and found from her research the perfect partner to make this happen in a totally organic lab that only allows purely organic products within. The result has been this collection which Michele knows works for her, her issues and will enhance the skin of women who use it.
In April 2018, Supernatural Body was formally launched with Griffiths' mission being to bring a version of her own skincare to the world. Below, is a list of Supernatural  Body's top-sellers and most popular items. It should be noted that a new item just hitting the airways is Lavish Body Butter, a balm that has already proven to be a big hit in all of Michele's personal appearances where women have tried this new feel-great product.      For a complete product listing click here.
***PLUS, for a limited time only, Michele and the Supernatural Body team are giving a special deal for My Red Glasses readers! When checking out on SupernaturalBodyUSA.com, just enter the code "RED" to get 25% off your purchase until December 15th!***
---
PōSHen Facial Serum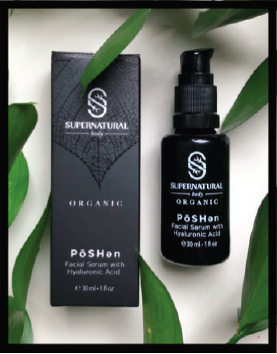 Crafted with organic oils of Sacha Inchi, Sea Buckthorn and Flax Seed, Poshen Facial Serum combines nourishing fatty acids and powerful antioxidants (Matcha & Morninga) to help fight signs of aging.
Contents:
Hyaluronic Acid to deliver deep hydration.
A rich source of antioxidants and Vitamin E.
Matcha, which improves skin tone, firmness, elasticity and reduces the production of acne-causing oil.
___
Renew Eye Gel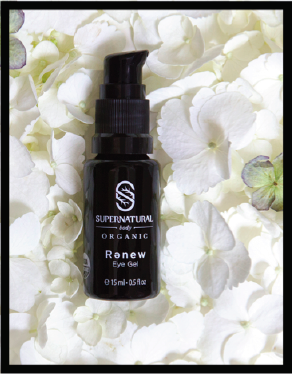 Specifically designed to revive, firm and hydrate Renew Eye Gel is the go-to for the delicate area around the eyes.
Contents:
Morninga, which is high in Vitamin A & C, helps reduce wrinkles and promotes collagen production.
Camellia Oil, containing polyphenols to promote cell renewal and protect from UV radiation.
Mango Butter to soothe and nourish the most delicate of skin
___
LaVisH Body Balm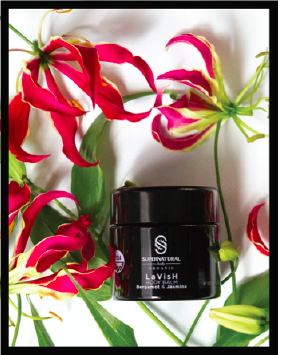 A luxurious, deep-conditioning body balm, LaVisH delivers concentrated, long-lasting moisture to promote more supple skin. Providing intense moisture, the body balm moisturized and calms irritated skin.
Contents:
Organic plant butters and oils including shea butter, grape seed oil, apricot oil and camellia oil absorb quickly into skin to hydrate and soothe.
Contains antioxidants and essential fatty acids to restore elasticity and promote healing.


---
Editor's note:  As you all know nothing makes it to my blog that has not been tried by me, and Supernatural Body was no exception. I have found many of her products have had a very favorable reaction on my skin. I personally am addicted to her serums….both the Facial Serum and the Eye Gel have produced great results and shown improvements in some of the facial issues that I had. I am also a big fan of her soaps…..the Rose Clay I have been using as a great facial cleanser that thoroughly washes the makeup and its residue away feeling so clean after. I'm also loving the Lemongrass as a body soap. To check these out, click here. Supernatural Body is also available at Switch2Pure, Houston's newest online beauty spot and pop-up in River Oaks District.
If you choose to shop online at SupernaturalBodyUSA.com remember to use the code "RED" to get 25% off your purchase! Offer valid through December 15th.
**Sponsored Post, Photography courtesy of Michele Griffiths, a former professional photographer for 25 years, teacher and professional artist in the Houston community prior to her current mission of solving hers and your skincare issues.