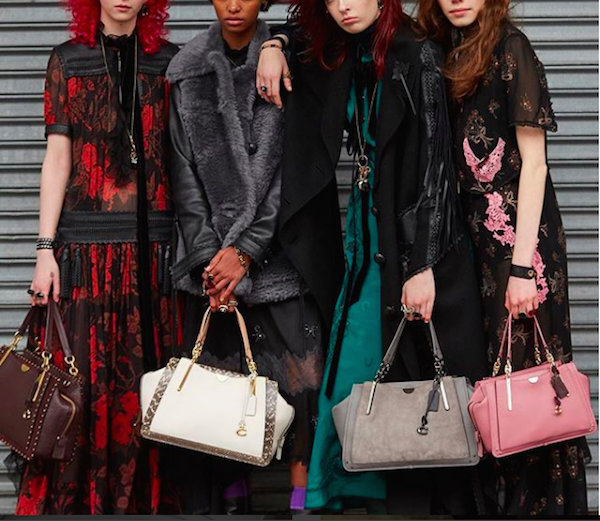 We are making our way right on into the new season and you know what that means! Time to treat yourself to a new handbag! Our favorite luxury brands know this and have treated us with some pretty spectacular styles in their Autumn/Winter 2018 collections. Some styles are brand new and others are paying homage to their label's history, but all are sure to wow when you break them out this Fall!
Chanel
From the snow to the streets, Chanel came out with not just one but two Fall bag collections this year! Handbags from the A/W 18 collection offer a high-fashion feel, with the classic Chanel tweed, animal skin and vibrant colors. The design house also debuted a new winter-forward collection, Coco Neige. This line is all about ski-wear, with each bag covered in wool to keep your personal items just as warm (and fashionable) as you!
Coach
This is SO not the Coach we all knew in the 2000's! Gone is the monotonous monogram, and here (hopefully to stay) is edgy embellishments. Going back to its leather roots, these bags are  reiterations of beloved styles. Laces, patches and pins adorn otherwise simple bags, creating a fun, yet sophisticated, air to the collection. And if you're feeling a little nostalgic for that signature C print, there is something for you, too! The brand has reintroduced the print in creative pieces, making us question why we ever stopped carrying it in the first place!
Dior
For this collection, the house of Dior drew heavy inspiration from the sixties as a symbol of female empowerment. This inspiration shows through in the heavy embroidery and patchwork designs present on almost all of the pieces. This offers a unique flair to the collection, while still keeping with the classic Dior silhouettes. Drawing again from the past, the brand has brought back the infamous 2000's 'it-bag'- the saddlebag! Available in a wide variety of designs, there truly is a style for everybody!
Gucci 
Two words sum up the Fall 2018 Gucci handbag collection: "quintessentially Gucci". From the bold tiger head hardware to the unmistakable red and green stripe, you know exactly what you are getting with this collection. Each piece is adorned with the interlocking G's, ensuring the continued reign of the brand in the street style logo game. The wide variety of styles in the collection offer you the choice of just how out there you want your accessories to be!
Louis Vuitton
New meets old in this season's Louis Vuitton handbags. Whether you desire classic or modern, they've got you covered! The brand rolled out a their New Wave collection, chocked full of bright colors and matelassé leather. With "Vuitton" emblazoned across the shoulder strap in rainbow lettering, this bag is just as playful as it is posh! Now for you old school lovers, LV has taken us back to their origins as a trunk-based company but on new-updated silhouettes! Think Alma's printed to look as if they lock, Petite Malle's resembling tiny handheld trunks, and the Crown Frame which might cause you to double-take!
Prada
Prada is taking us back to the future this season, with a handbag collection that is totally out of this world. This collection is dark, yet balanced with playful artistic designs embellished on the front. The black based bags accompanied by the neon nylon, have you questioning if were in 1980 or 2080, but thats the whole fun of the collection! These bags are definitely for the playful hearted, and are sure to be great conversation starters!
Tory Burch
Tory Burch's Fall Handbag collection is focused on two things: simplicity and elegance. With refined designs focused on the concept of effortless style, every piece in this collection is classic. Each bag is created in a ladylike silhouette in thoughtful colors and sleek silhouettes.Special note to the Lee Radziwill collection, as classic and elegant as the lady it was named for. Interesting materials such as crocodile, and color blocked leather keep the collection far from being boring.
Valentino
The theme of Valentino's Fall handbags is BOLD. Bold branding, bold colors, and bold embellishments. The brand has taken note of the popularity of branding and has given us the "VLTN" bags. With all-caps lettering across the front, these bags are near impossible to mistake. Valentino has also gifted us with even more in the Rockstud collection this season! Available with the "VLTN" logo or in show-stopping lively colors, the brave-hearted fashion girls everywhere will be scooping these up. No fear, these styles are also available in more subdued colors, so everyone can find something!
Feature Image courtesy of @Coach