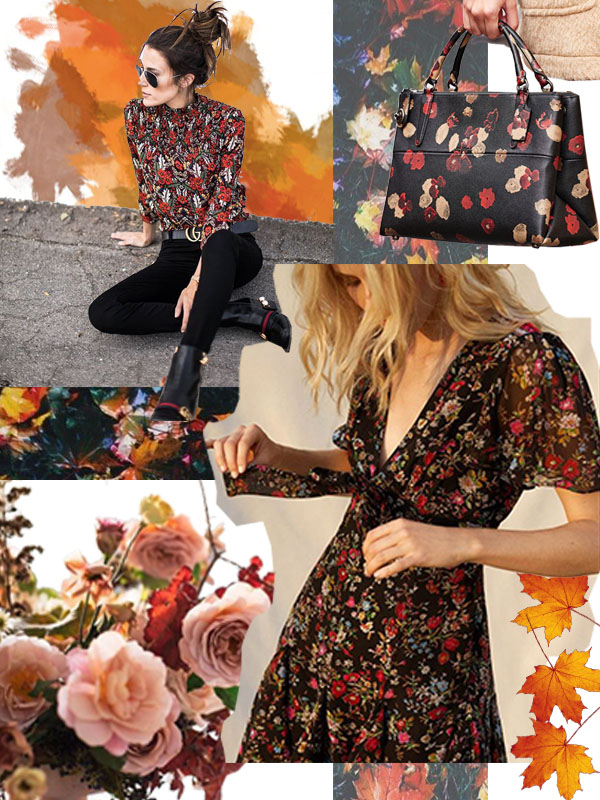 A trend Miranda Priestly will actually find to be groundbreaking…fall florals! These garden inspired gems are more than ready for the coming cool weather!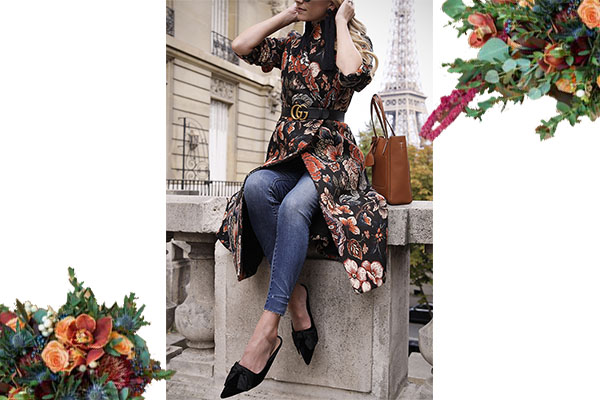 @blaireaddiebee
As the cool weather approaches, it's finally time to start perusing those coats we've missed so much. A floral print jacquard coat, like this one from Adam Lippes is the perfect piece to top off any outfit. Throw it on over a dress easy grab-and-go outfit- we recommend a solid, dark colored knit or slip dress (think one similar to this). The dark under layer keeps the florals feeling fall-y and keeps you looking chic, especially when paired with these these black bow mules! The floral coat is also perfect over jeans, either open with a top matching the coat's background color, or belted closed with no top needed, like above!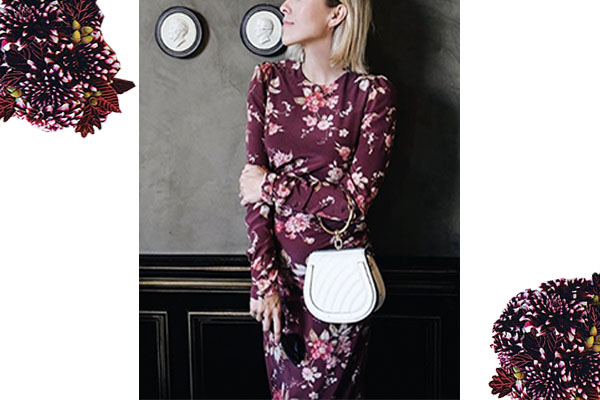 @jaceyduprie
A simple long-sleeved knit dress is anything but simple adorned with intricate floral patterns. An easy throw-on-and-go type of dress, but when worn with the right accessories, you'll have everyone fooled! A sleek white bag like this adorable one from Rebecca Minkoff instantly elevates the look, especially when paired with matching white heeled mules like these! The key is to keep the dress dark and balance with bright accessories in complementary neutrals. The contrast creates a chic look, with little effort whatsoever!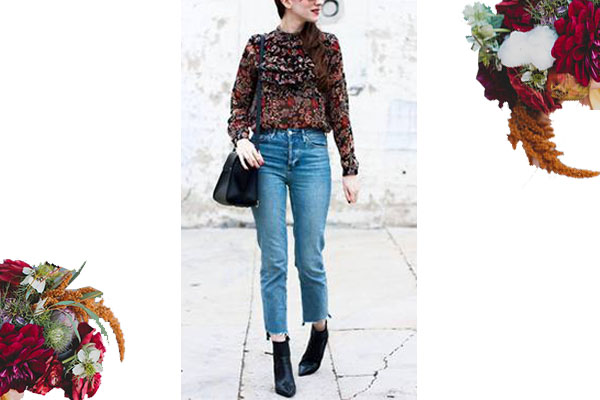 @jeansandateacup
The only thing more classic than a floral motif is denim so what better pairing than some straight legged  jeans with a flirty, frilly flower printed top! Sorry skinny jeans, you've had your time to shine- relaxed fit, straight leg jeans (think these from Everlane) are all the rage for fall! If you want to take a little inspo from the flower power era, pair your blooming blouse with some flared jeans, like these. A darker background color on the top will go perfectly with any wash of jean! The darker the wash, the more fall feel your outfit will have so the choice is totally up to you!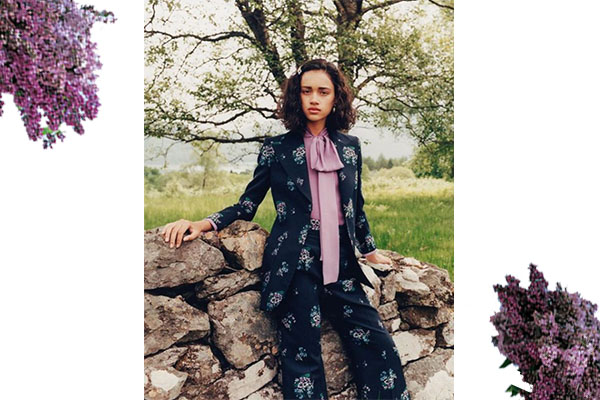 @netaporter
That's right….working or non-working lovers of the pantsuit can enjoy this fresh fall trend from the office to the streets! The sweet pattern is the perfect match for the structured silhouette, creating the ideal image of feminine, yet fierce. Leave it to botanical-loving Gucci, who knows their way around dressing strong women, to come out with this flower frenzied suit! We recommend pairing your suit with an ultra-feminine top underneath (similar to this one) to keep your outfit from looking too office-y. Throw on some closed-toe embellished pumps to top off the outfit and up the glam-factor!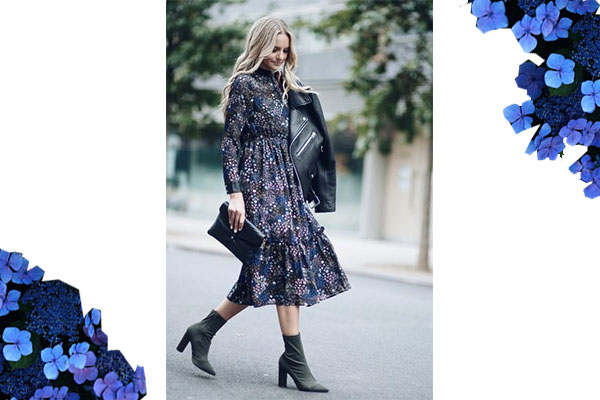 @jackiemiranne
A midi dress, booties and a leather jacket- the quintessential cool girl outfit for fall. A feminine flower-print midi is the perfect partner in crime for an edgy leather jacket and chic heeled booties. Prairie-style dresses are so in for Fall so a dress like this one from Free People and these white-heeled booties is just what you need to be ahead of the fashion curve! Layer it with a simple black, leather jacket like this one for a more classic look, or this embellished-moto for even more flower power!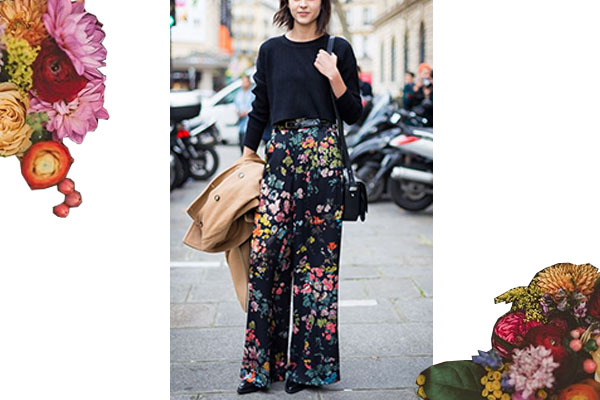 Style du Monde
A patterned pant is a surefire way to turn any outfit into a statement. A piece of your wardrobe typically reserved for denim and one-color trousers, a floral bottom is just what your closet needs! Pick a free flowing pair with an all over blooming pattern, or a more understated pant with simple flower silhouettes. Pair them with a solid colored shirt in a neutral tone, or one that matches the color palette of the pants! Keep the rest of your outfit pretty simple to let the pants have their full fashion moment!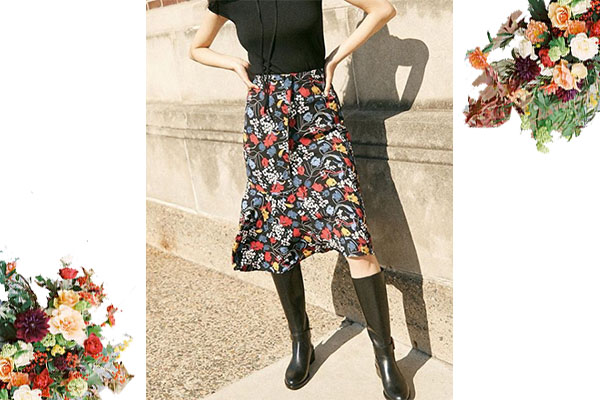 @anthropologie
A floral skirt might seem too spring-y but trust me, when worn with the right pieces, its all fall! A dark-based blossoming skirt like this one (pictured above!) from Anthropologie, is the best way to go to keep the look in the right season. Even better, pair the flowy bottom with some structured high-hitting boots, like these, for the perfect balance. To dress the look down for daytime, top it off with this adorable lace-trim sweater. A dressier occasion just calls for a simple blouse change to something a little more like this, and you're ready to go!
The fall frenzy ha begun, so its time to start that seasonal wardrobe update! Don't worry, though- we will be here offering up outfit inspo the whole way through, so keep an eye out for more fall-fashion on the way!
Feature Image Items: Top- WashingtonApparel.us, Handbag- Coach, Dress- Anthropologie