The night belonged to LaLa Land from a creative and fashion perspective… here's the talented and charismatic duo, Ryan Gosling and Emma Stone, whose performances and style were on point for the first of many big nights for this movie and its team!
Last night the 2017 Awards season officially began with my favorite award show, the     Golden Globes.  This edgier than most event took to looking glitzier than ever….the statement 'more is more' definitely was there.  There were subtleties as well but they were definitely in the shadows.  Metallics have been a fashion trend that has been carrying over from Fall and it was there in high-style last night.  My take away from the night was that glitz dominated, followed by a lesson in contrast…….the other style bearers of the evening  either took the plunge with deep-V silhouettes or went in the opposite direction with lots of long sleeves and high necks, which on occasion included a backless silhouette.
LaLa Land, a movie which I have seen and loved, loved, loved dominated the night from the Jimmy Fallon opening to the many awards it garnered for the evening. It was an unusual night…..filled with diversity, non-predictable wins and speeches and innuendos made by many that left everyone talking.  However, my focus was on the fashion and some great looks that were there….many more than we can show you here, but we are sharing some of our favorites and what we feel to be the most important trends of the evening.
See our highlight below, Golden Globe Red Carpet, 2017…..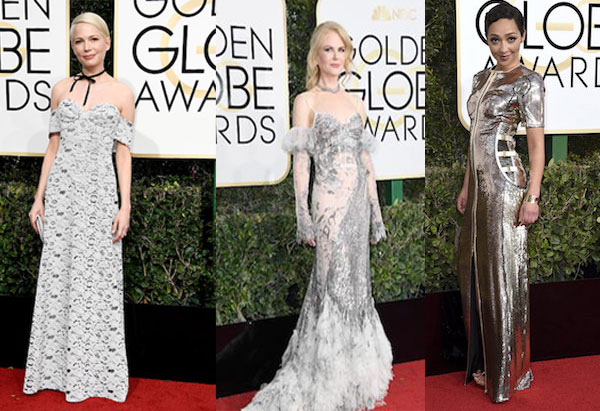 Metallics
Michelle Williams in Louis Vuitton, Nicole Kidman in Alexander McQueen and Ruth Negga, Louis Vuitton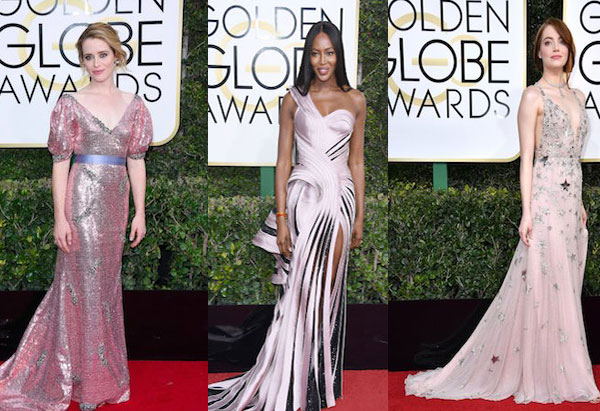 Shine and Embellishments
Claire Foye in Erdem; Naomi Campbell in Versace and Emma Stone in Valentino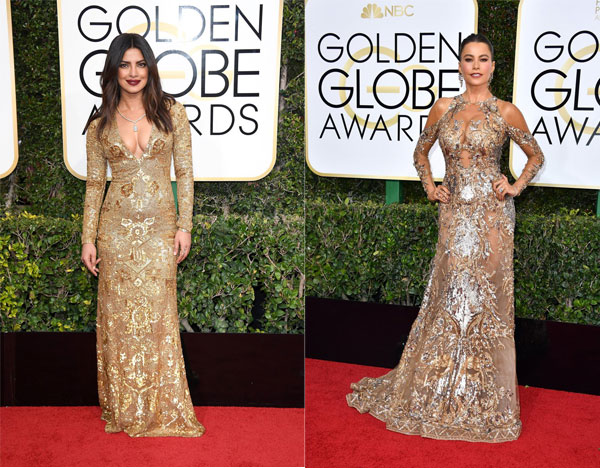 Metallic Gold
Priyanka Chopra in Ralph Lauren and Sofia Vergara in Zubair Muard, Lorraine Schwartz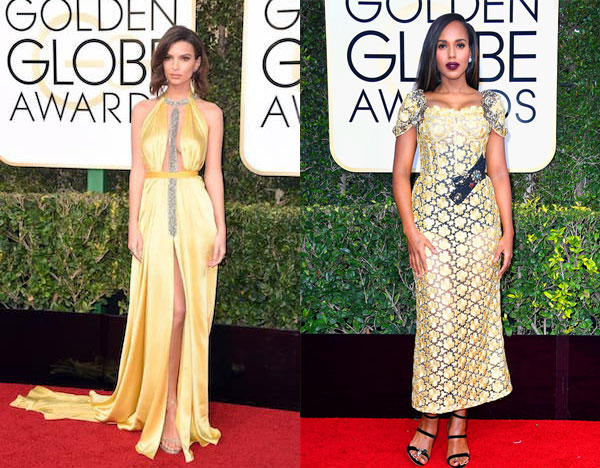 Shades of Yellow/Gold
Emily Ratajkowstic in Reem Acra; Kerry Washington in Dolce & Gabbana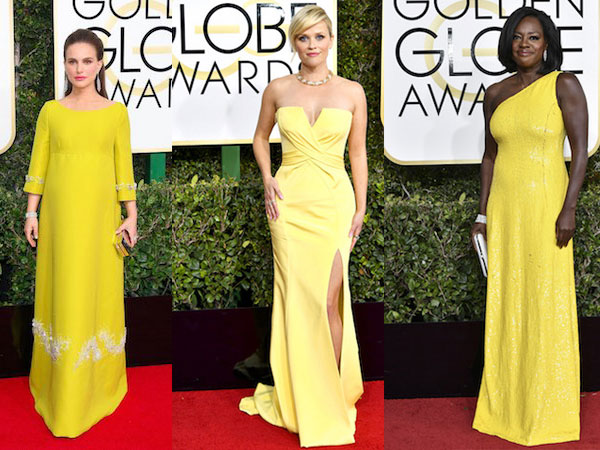 Bold Yellow, the #1  Color of the Night
Natalie Portman in Vintage Prada; Reese Witherspoon in Versace; Viola Davis in Michael Kors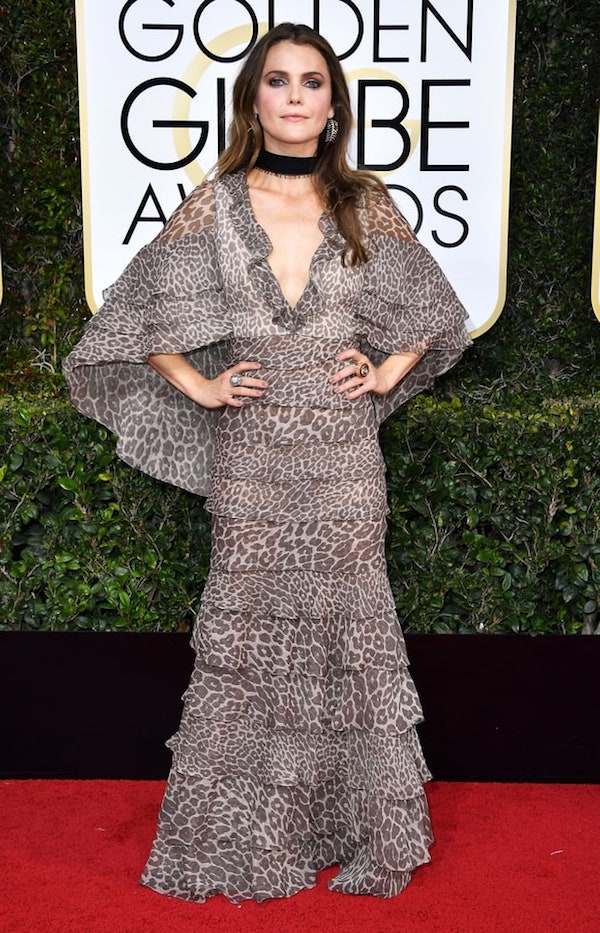 Plunging neckline in Leopard sheer on Keri Russell from J. Mendel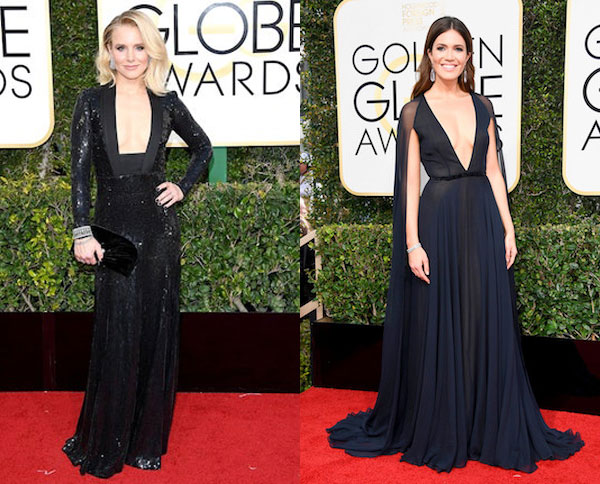 Plunging Necklines
Kristen Bell in Jenny Packham and Mandy Moore in Naeem Khan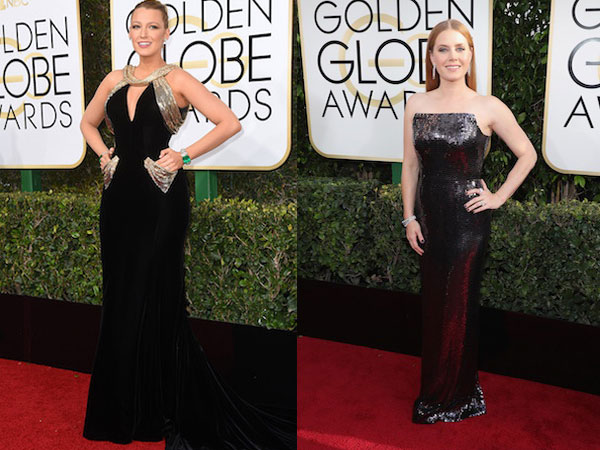 Black….always right!
Black velvet with metallic trim from Atelier Versace; Black sequin from Tom Ford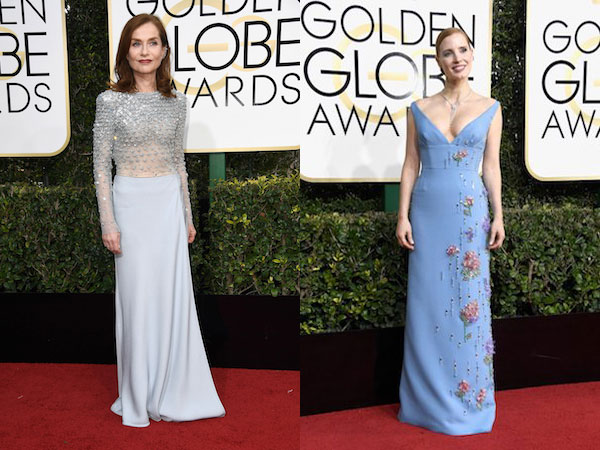 A Touch of soft Spring Blue but also with embellishments
Isabell Huppert in Armani and Jessica Chastain in Prada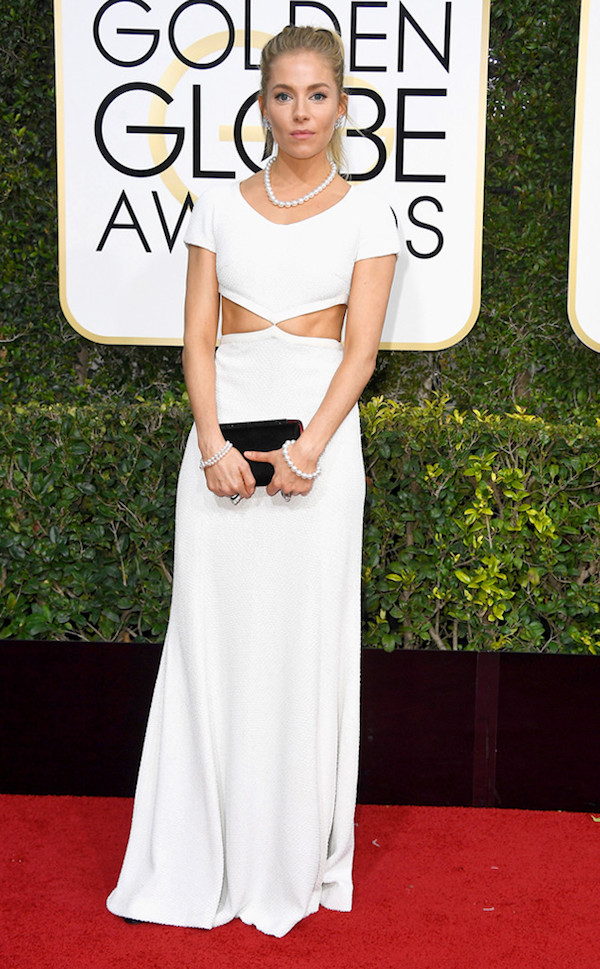 White…..always a favorite of mine!
Sienna Miller in Michael Kors gown 
Tiffany & Company Jewelry Adds Its Own Glitter and Glam to the Evenings Fashion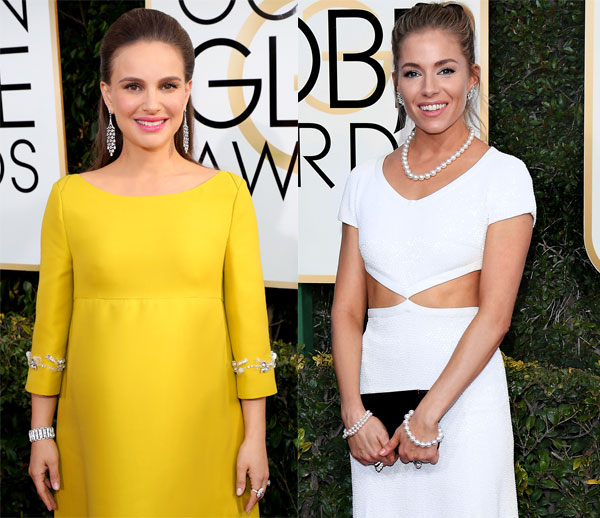 Natalie Portman wearing Tiffany's fringe diamond earrings, white and yellow diamond ring and Tiffany archival platinum and diamond bracelet. Sienna Miller sports the Tiffany classic pearls and diamond earrings.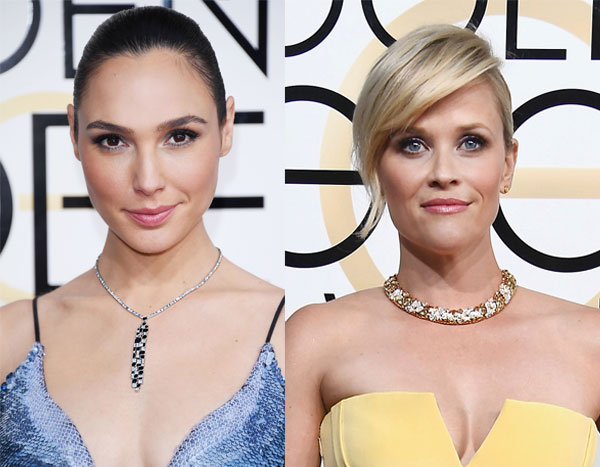 Jenny Remmer wearing Tiffany & Co. CT60 dual time watch with stainless steel finish; Reese Witherspoon wearing Tiffany's Archival necklace, yellow diamond earrings and selection of rings.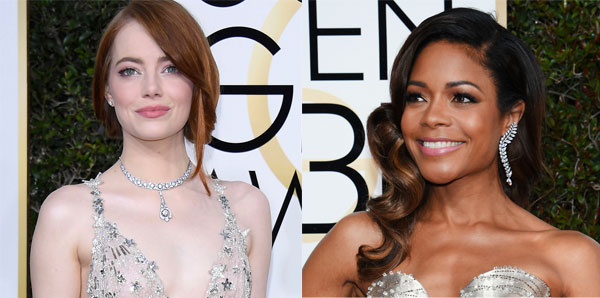 Emma Stone in Tiffany's Archival statement necklace and diamond earrings and rings; Naomi Harris in statement diamond earrings and a selection of platinum and diamond rings.
WHAT A NGHT TO REMEMBER!!