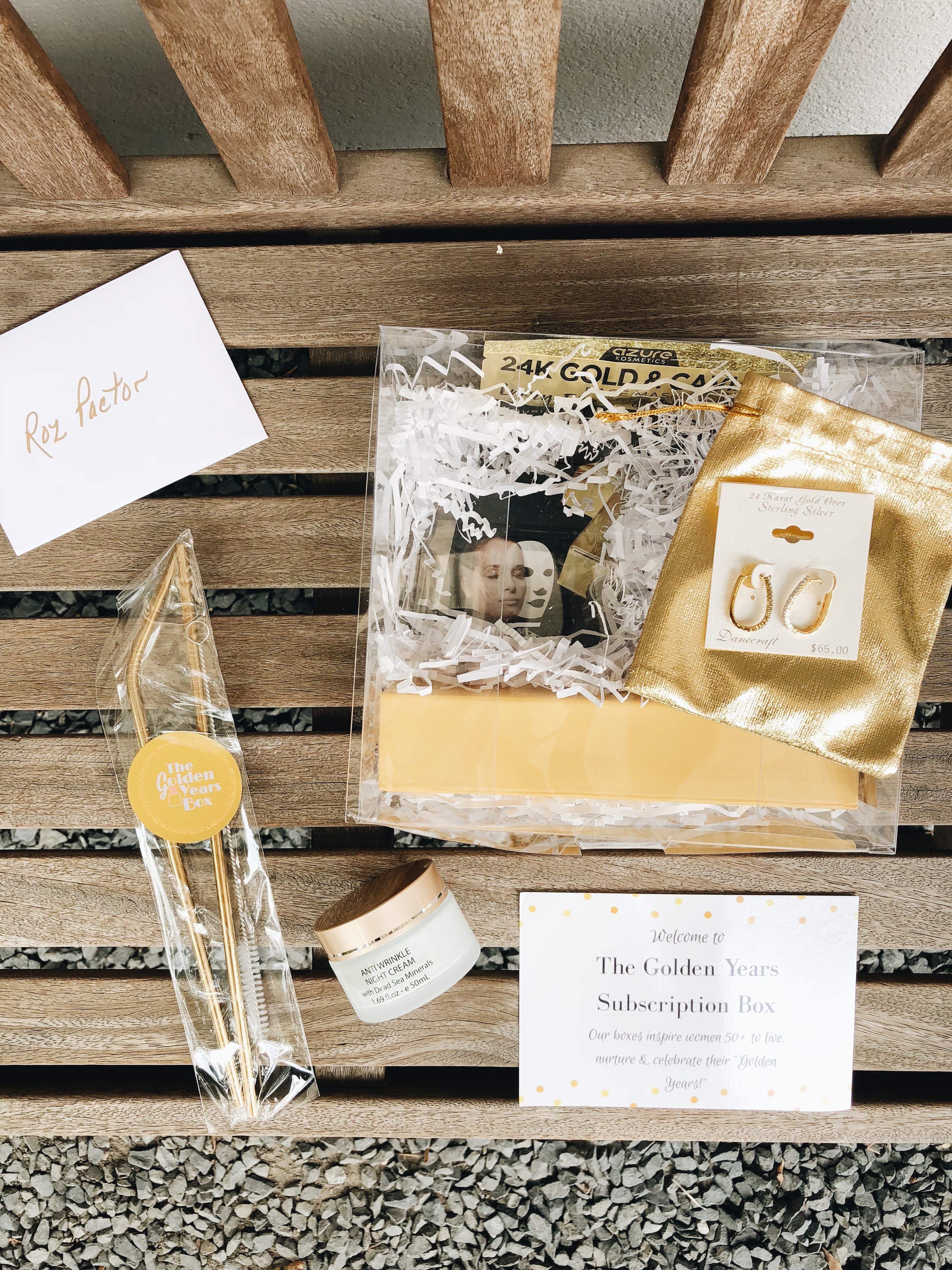 The Golden Years Box…..a special subscription box carefully curated for women tipping the age scale at 50+ featuring many products that will enhance your life!
 The Golden Years Subscription Box for Women Over 50
We have all been enjoying Subscription Boxes ever since the first, Birchbox, began and now they can be found for everything from beauty to style to pets and now The Golden Years Subscription Box of luxe items and all that's in it  for YOU, because you deserve it!
The Golden Years Box offers the best in self care for women over fifty. Each product is curated for the wellness & changing needs of women in their Golden Years. The Golden Years Box founders are our town's Dawn Bell, with her sisters Angel and Darlene. The three sisters are loving living out their "Golden Years" in New Orleans with a certain joie de vivre.
The Golden Years Subscription is a monthly subscription box that is full of curated luxury goods and delivered right to your door for $36.95 per month. You will receive 5-10 unique items per month that will help you live the golden life. All boxes ship 3rd – 5th of each month and inspire women to live, nurture and celebrate their Golden Years.
Boxes are themed appropriately for each month. You will receive boxes featuring items like: Energy Beauty Bar, 24K "Gold" Pulse Firming/Derma Skincare, Facial Roller/Massager, Natural Plant Extract Collagen Gold Eye Mask, Dead Sea Collagen. Anti-wrinkle cream, Crystal CV 24K Yellow Gold over Sterling Earrings, Earring Support Patches.
Plus with first of the launch boxes being sent out next week you can get a discount when this box launches here: 
http://eepurl.com/dBZHET
Created by Three Sisters from New Orleans, One of the Sisters is our town's Dawn Bell…
Dawn Bell is a Houston based Wardrobe/Fashion Stylist, and the Founder and Director of Houston Vintage and Fashion Camp Houston. Her work has been featured in many publications, including TIME, More, WWD, Country Living, Gloss, The Houston Chronicle, 002, and Outsmart. She is an avid collector of vintage clothing, amassing an enormous collection which is archived in her 2,000 sq. ft warehouse in The Houston Heights. Under the label Coronation Vintage, Dawn redesigns vintage and produces fashion shows frequently. Hailed as a Vintage expert, Dawn is often called on as a consultant, including clients such as The Houston Chronicle, and Janie Bryant, Wardrobe Designer of the AMC series, Mad Men. Using her knowledge of fashion history, Dawn has co-instructed a "Fashion in Film" course at Rice University, as well as Style workshops.