Pool parties, boat trips, lake weekends, and beach house vacations – the invites started rolling in and weekends got filled up when summer first arrived! Good guests know the rule…don't show up empty handed. Come bearing gifts! A bottle of wine is always a nice gesture, but what about something a bit more creative?  You can always thank your friends and family who have opened their home (or boat) to you, this summer and hopefully future summers  with a gift that you can't find on the shelves of a grocery store!
It's Alyssa here, and I've rounded up 10 gifts that are sure to get you a return invitation for many summers to come!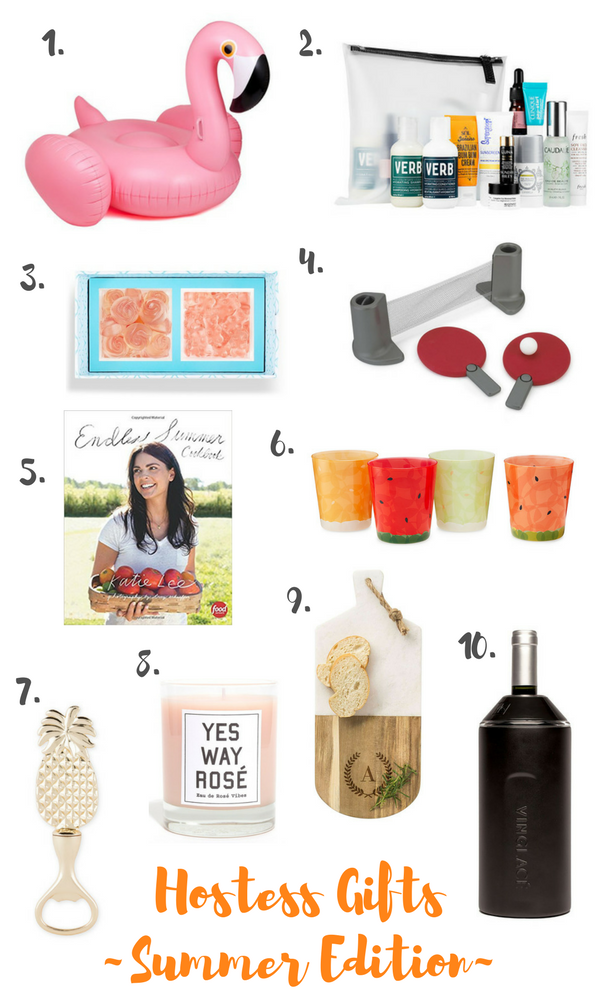 1. Inflatable Flamingo Pool Floatie – Anyone can be the life of the party with an over-the-top pink flamingo pool float!
2. Sephora Favorites The Ultimate Travel Bag –  11 must-have products for face, body, and hair curated by Sephora. Everything your hostess needs for their next summer vacay (in travel size)!

3. Rosé All Day Candy Bento Box – For the lover of all things Rosé!
4. Pongo Table Tennis – Turn any table or surface into a ping pong table – perfect for guests to enjoy the day of and in the future!
5. Endless Summer Cookbook – A collection of "summer soiree" recipe staples!
6. Fruit Slice Glasses – Glasses designed like a watermelon, cantaloupe, honeydew, and papaya – the fruits of summer.
7. Pineapple Bottle Opener – The perfect addition to your hostess' bar cart.
8. Yes Way Rosé Candle – The quintessential summer drink…in candle form.
9. Monogram Marble & Wood Serving Board – Show your appreciation with a one of a kind gift.
10. Vinglacé – Nobody likes warm wine in the summer. Vinglacé is essentially the Yeti for bottles of wine – it keeps it cool for hours!
Shop my picks below!