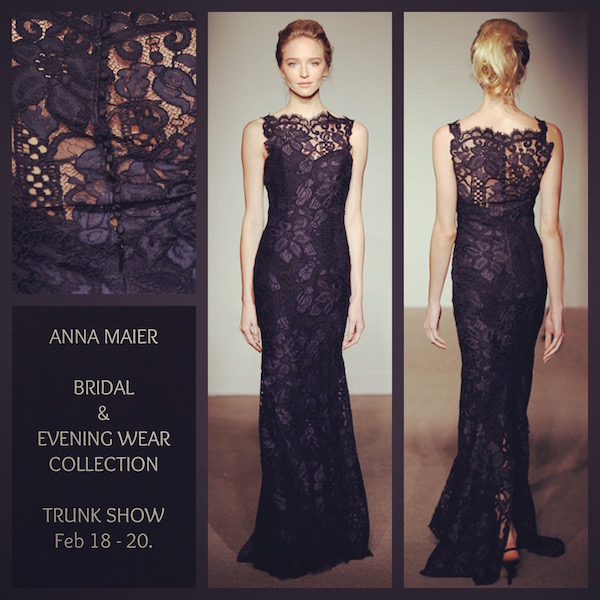 Joan Pillow Bridal Salon Launches Anna Maier Bridal Weekend by Previewing the Designer's Evening Gown Collection for a Select Few at a Friday Afternoon Tea
How many of us walk into beautiful bridal salons, such as Joan Pillow's and pick the gown of our dreams or our daughter's dreams for that special day  and look around at all of the magnificent gowns that we are surrounded by?  We've even gone so far as to say that in this haven of beautiful gowns, there must be something there that I can wear to the next Gala…..The Ballet Ball, The Opera Ball, The Heart Ball and many others.  Well, the answer is YES, there are many bridal designers that have made the plunge into evening wear and are so right on in doing that, as it only makes sense….who knows how to do this better than they do?
One of the designers, Charles Bunstein II, who designs for Anna Maier, did a collection for his Bridal showing that was exclusively for Evening Wear.  For a man known for his beautiful laces that we have seen many a bride wear in Ivory or White….imagine it in Black, Navy or for this season, even in Red…..two trends Red and Lace that are so hot for Spring.Tthey fill the bill of giving you the utmost in sophisticated style to wear out for that special occasion that does not necessarily include a sharing of vows!
As someone who has encouraged Joan to make a bold step in this direction I took pride and owernship in co-commentating, along with Joan, this selection and pointing out the many beautiful details that made these evening gowns so special.  I was absolutely in awe of the collection as were the select group of women that were there to observe.  They even embraced the select evening boleros and beautiful embellished cover ups that added a special touch to the existing dresses that were being shown but can also  be purchased alone to add to dresses that hang in your closet.  Stay tuned on this trend as it is one I continue to explore with Joan going forward!
It should be noted that this 'creative exchange' between Bridal and Evening RTW Gowns is not new but gaining seasonally in importance.  After all, as you will see on our posting today, Monique Lhuillier and Jenny Packham are two that have built a RTW collection after building very successful bridal businesses.  In reverse, how many RTW designers have now tested the water in Bridal……..Naeem Khan, Zuhair Murad, Oscar (has always), Marchesa, Zac Posen, Carolina Herrera and many, many more……it just makes sense. As I said to the ladies on Friday at Joan's lovely tea party/fashion show. Is there anywhere you can go and see more beautiful gowns than in a Bridal Salon….Bridal knows how to do magnificent gowns and they just need to be tried, purchased and worn to other special occasions and the compliments are sure to follow! So don't forget the next time you need a spectacular Gala Gown to think to check out the Bridal Salon, such as Joan Pillow, you will be amazed at what you will find.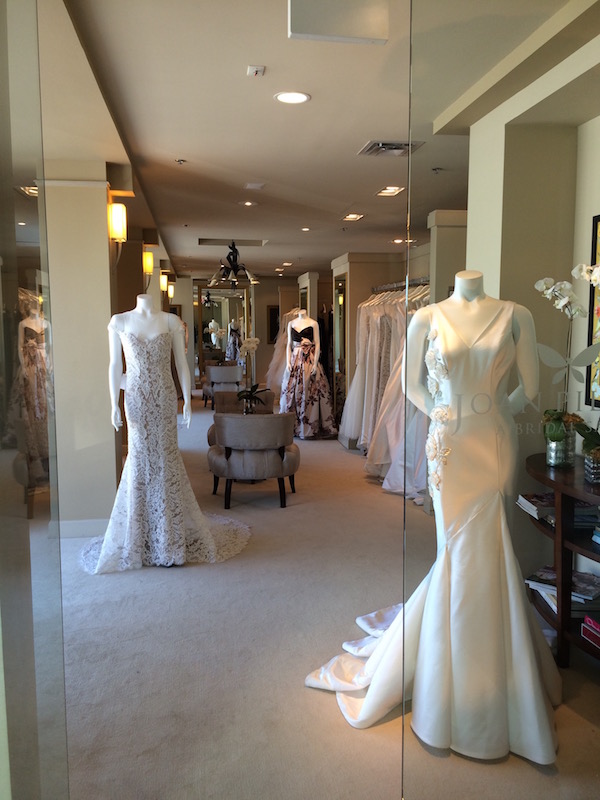 Lace is such a major fashion trend this season and as you can see from the gown on the left, Charles does it exquisitely and is also very proud of the appliquéd floral detailing, produced in Chanel factory for these gowns…..a real coop for Charles.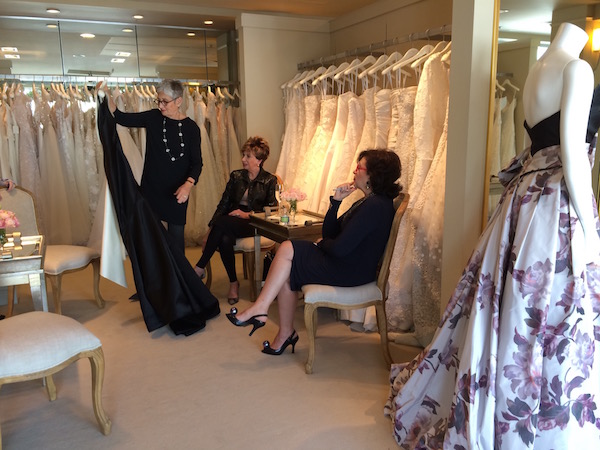 Prints like the gown you see to the forefront have been very popular and in many RTW evening collections.  Joan was showing myself and Vicki Rizzo, the detailing of the sophisticated Black and White gown that you will see later in nude and ivory as well.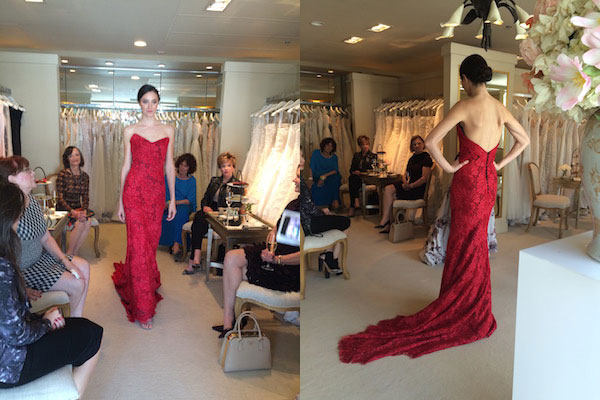 Now this gown, is an entrance maker…..beautiful shade of red and lace with exquisite train.   It screams for but not limited to American Heart Ball, as Red is a color of the season and lace makes it exquisite.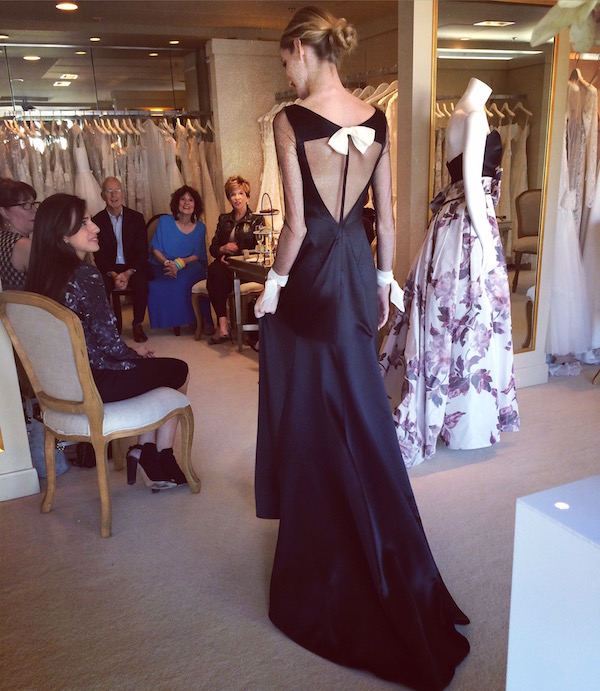 We all agreed that this gown channelled Audrey Hepburn, couldn't you just see it…the simple elegance and the sophisticated sheer back interest with contrasting white detailing!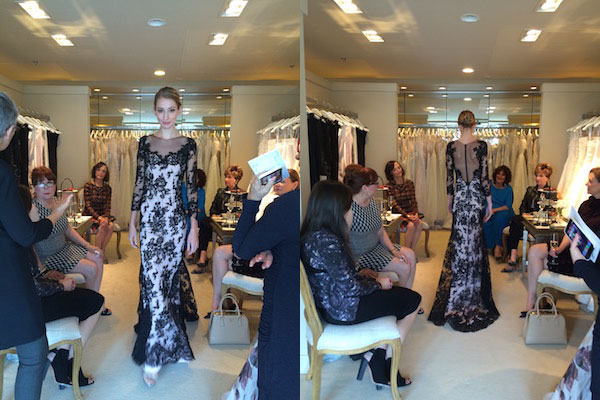 Black lace with sheer back is stunning as shown over ivory but is also exceptional over silver and I saw it in NYC and loved it as black over black!  The beauty of working with Charles is that all options are yours!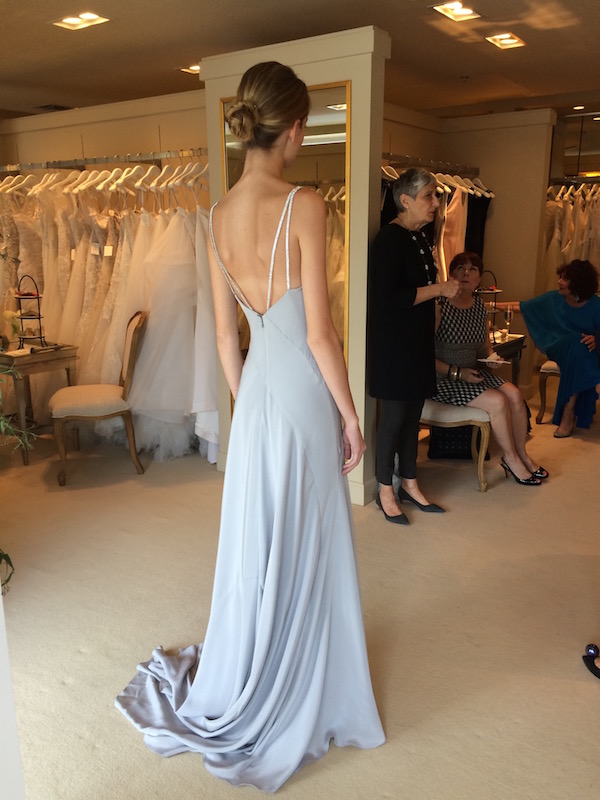 Another big trend this season is the return of the slip dress…..they are in editorials in all magazines and the simplicity of this gown is highlighted by exquisite seaming that did much to flatter all body types.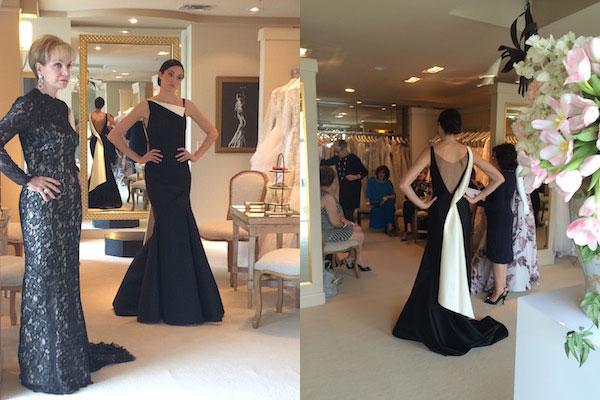 Black and white at its best……black lace over ivory and this exquisite gown with the sheer backing and swish of ivory fabric that literally brings the black gown to life!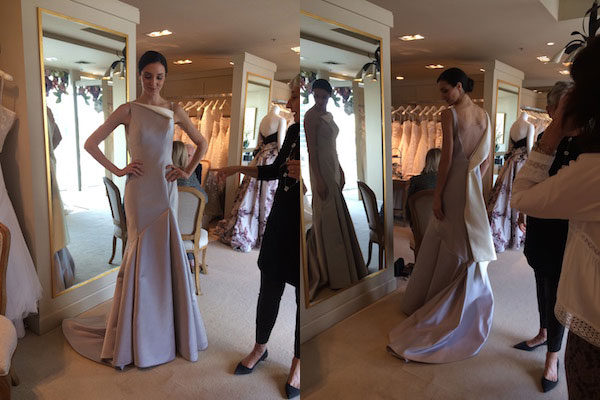 As mentioned earlier the same gown shown in black with a swish of white, is shown in a very light lilac, which I took to be nude with an ivory swish to add to this sophisticated look!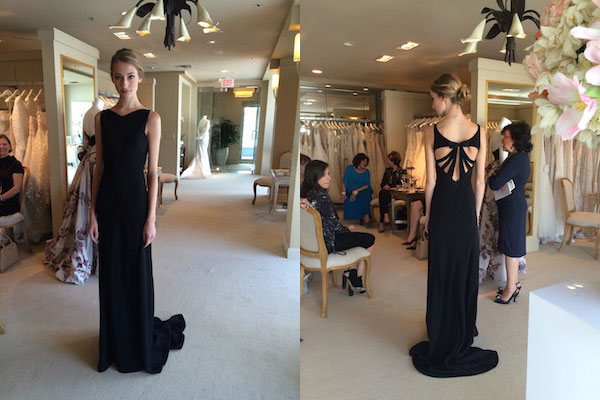 A favorite of mine was the simplicity of this black gown with a criss-cross back interest to make it another entrance maker or a delight to watch as your dancing with your man on the dance floor!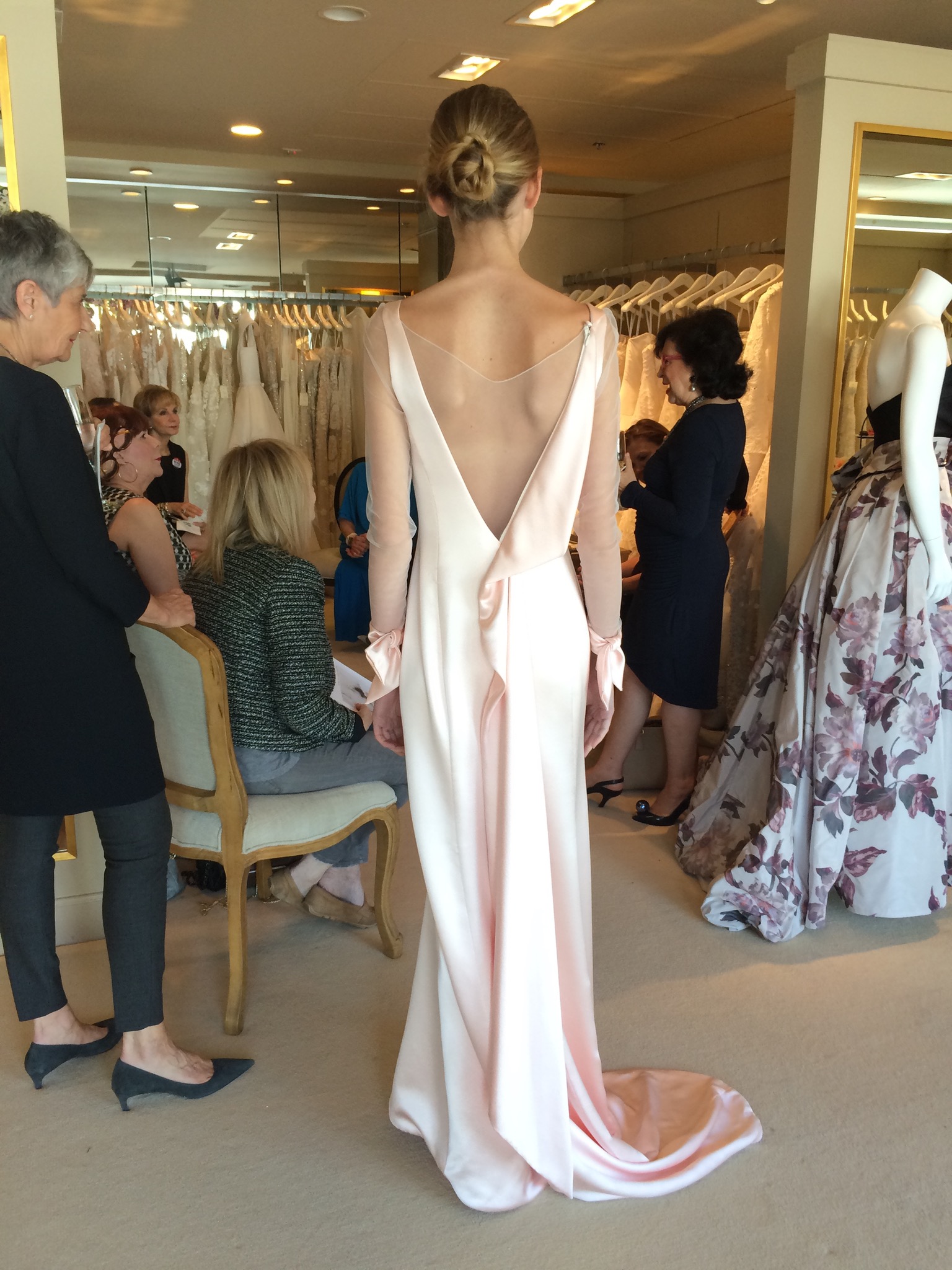 In closing everyone present waned to see this luscious blush pink version of our Audrey gown on the model…..the take-away was this is younger and offered a little less drama but was beautiful and so in trend with the 'Power of Pink' that is happening…..loved it!
photos courtesy of Joan Pillow