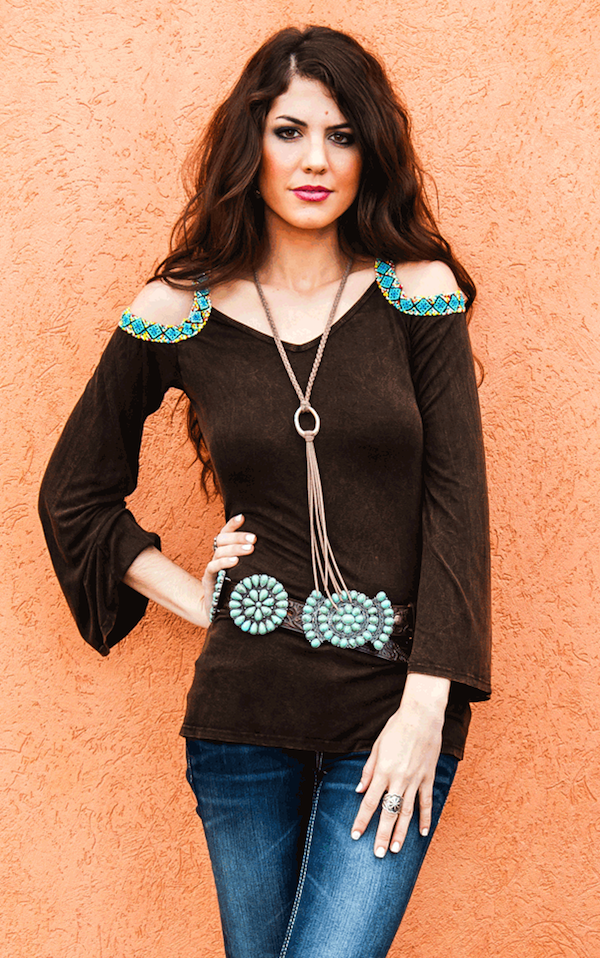 The hottest looks on the fashion scene find their way to Rodeo-wear such as this 'cold-shoulder' top trimmed in turquoise….perfect with a pair of jeans or maxi skirt. Check out Pinto Ranch online and in store to see all of the fashion offerings for Go Western Day!
It's Rodeo Time in Houston and there's nothing quite like it in this town…..it consumes the city unlike any major event that happens here.  The cook-off began last night, it's Go Western Day at many work-places today, tomorrow is the big Parade through downtown and the official entertainment kicks off on Tuesday night, March 1.  It's not too late to look for just the right outfit or in many cases, just a new top to wear with your jeans, a hat, (which btw, retailers are telling me that they have never sold as many hats as they are now, women are loving wearing hats to rodeo again!), got to have a pair of boots, or just accessories like the many choices in Jewelry you will see from Houston's own Christina Greene or Tuya Jewelry from Austin, or handbags from Julie Beth Handbags, all available online and at Pinto Ranch. One of my favorite little novelty items is from Minnie Baird at Baird & Baird….the ostrich badge holder that she has designed especially for this special event, as we all know if you have earned a committee badge, you're proud of it and must wear it everywhere at Rodeo.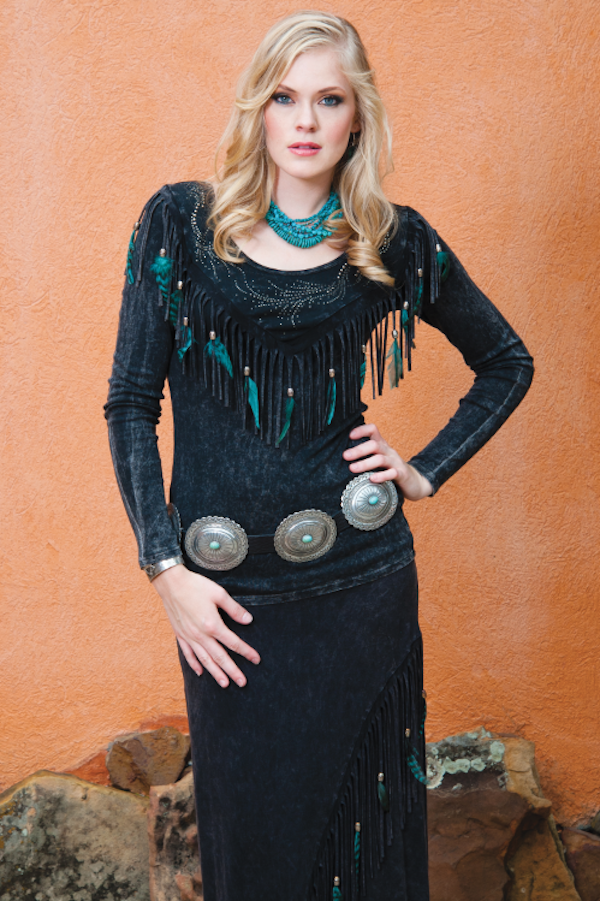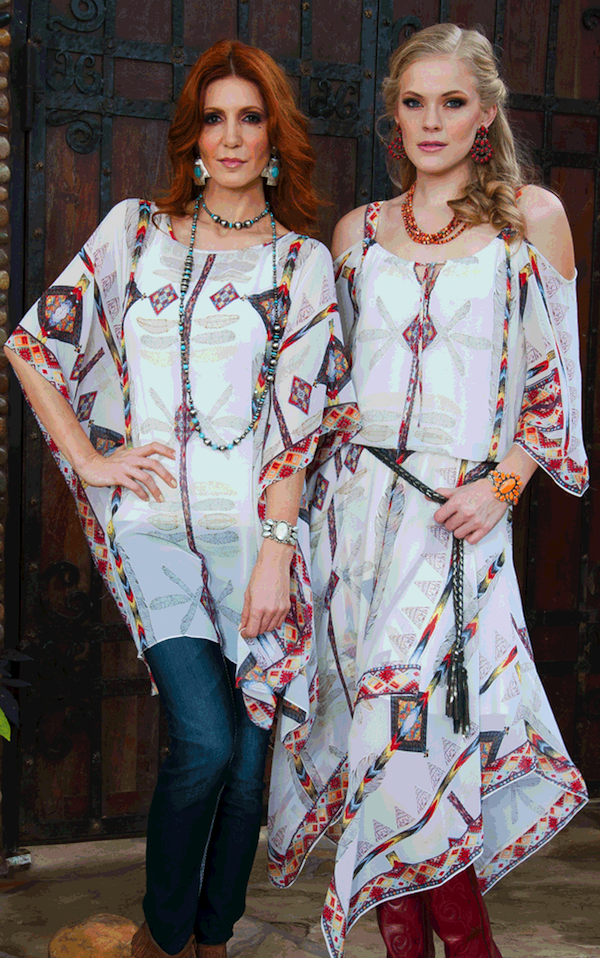 Getting dressed up, Rodeo-style, can be as simple as purchasing a new top to wear with your favorite jeans, or purchasing head-to-toe gear to give you "the look" that says Rodeo is your time to shine.  Whichever way you go, let me suggest that the easiest and simplest way to work this into your busy lives is one-stop shopping at Pinto Ranch where they can cover all of your needs in the most stylish ways.  In apparel, they carry such women's collections at Waller, Texas' own Pat Danke or Vintage Clothing. If a new pair of boots, is your biggest purchase, then just stop into Pinto Ranch where they carry the largest inventory of Lucchese Classics in the U.S. and other styles from that famous brand as well as other exclusive boot brands that are made just for them.
My favorite way to get "the look" is through accessories, many of which can be worn year round in this city.  Turquoise done in every way imaginable which you would think we all own enough of, right, until you go and shop and find another item or design that you've never seen before.  Also, if you have a friend coming to town and they are going to Rodeo  for the first time, accessories are always a great purchase to make them feel like one of the crowd.  One of my favorite items that I've seen this Rodeo season is the 'Hat Bands', which designer Christina Greene tells me has become one of her top items that she literally sells out of each year. The one we've featured below is Mother-of-Pearl oval beads that will add some glam to your outfit!
We have curated below a few items from all of the many, many that are out there. You just simply need to click on them and know exactly where and how to purchase. Anything to make it easy for you because let's face it…..it's here!  Rodeo Houston has begun in our town!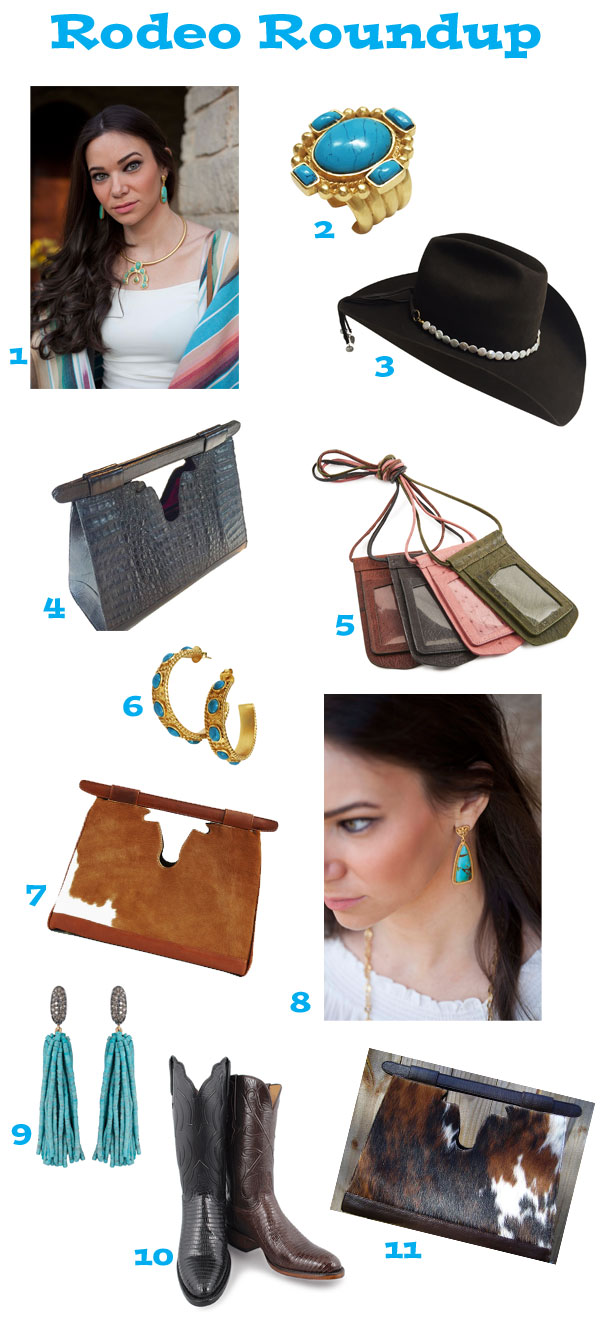 1. Christina Greene Earrings and Choker  2. Christina Greene Cuff 3. Christina Greene Hat Band 4. Julie Beth Handbags 5. Baird & Baird Rodeo Badge Holder 6. Christina Greene Earrings 7. Julie Beth Handbags 8. Christina Greene Earrings 9. Tuya Jewelry Earrings 10. Lucchese Boots 11. Julie Beth Handbags