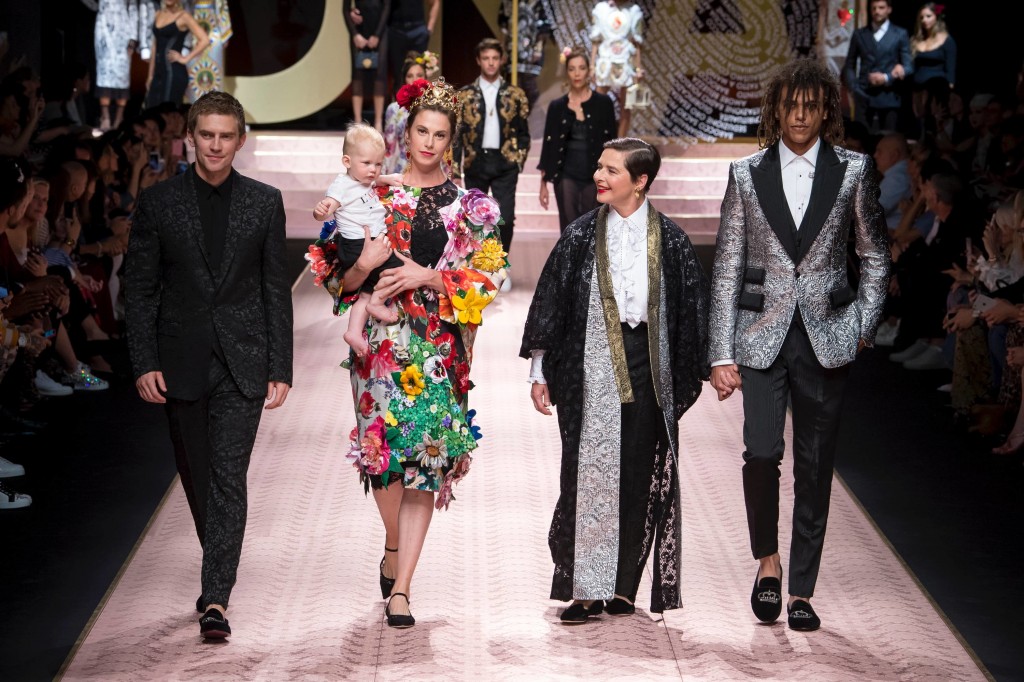 Milan Fashion Week can be summed up by one simple word…bellissima! With so many iconic designers showing praiseworthy collections, we just couldn't get enough!
As most of you know Italy has a special place in the heart of MRG, so we were anxiously waiting for Milan Fashion Week! Italian designers are proving to be so hot right now, and the  Spring/Summer 2019 collections they sent down the runways were all the explanation we could need!
Keep scrolling to check out our favorite looks from some of our favorite Italian creators….we'll share a tip, click on the names in RED and link to the complete runway show to see all of the beautiful offerings.
Versace

(Big News at Versace today……Iconic Italian Design House, purchased by America's                Michael Kors)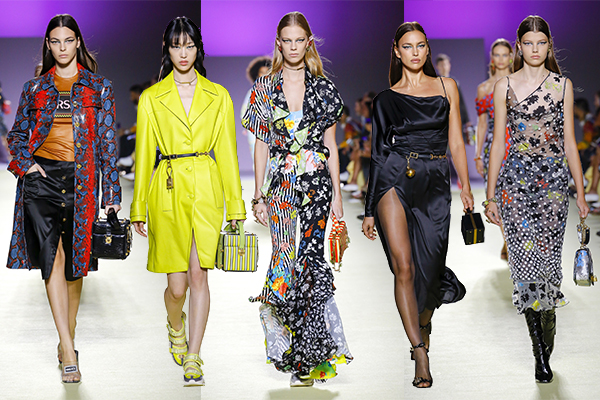 Never one to shy away from the brightest of colors and boldest of designs, Versace stayed true to their label's legacy. Donatella Versace created a collection that was for any one but the faint at heart. With models of all shapes, races and ages, Versace proved you can always rock this timeless brand! Cinched waists, plunging necklines and hip hugging silhouettes made for a runway show that was just as sexy as it was sleek!
Fendi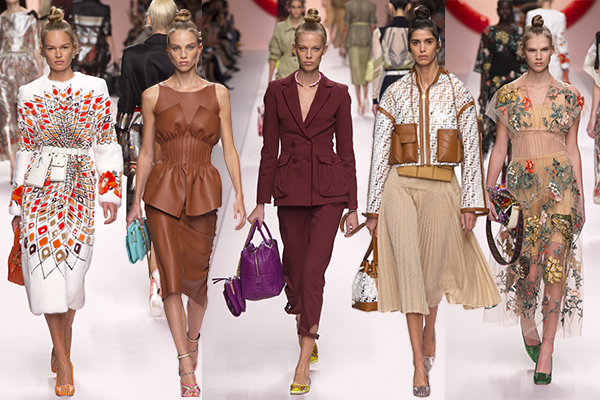 Creative Directors, Karl Lagerfeld and Silvia Venturini Fendi, set the theme of the Fendi show- utterly utilitarian! Pockets on top of pockets and totally chic tool belts took control of the runway, but in the true Fendi fashion. The unmistakable monogram has taken over street style as of late, and this collection showed it is here to stay for a little while longer. The edgy utility mode and bold branding was balanced with softer fabrics, feminine silhouettes and whimsical embellishments creating an all around magical mix!
______

Prada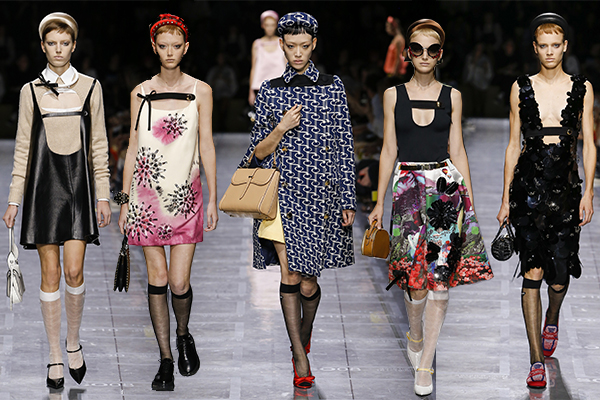 Held at Fondazione Prada, an art museum co-chaired by label namesake & head designer, Muiccia Prada, this Prada collection was a work of art itself. Muiccia wanted "to discuss a wish of freedom and liberation and fantasy, and, on the other side, the extreme conservatism that is coming—the duality out there." This was visible on the runway with a slew of 60's and 70's inspired pieces- the decades of fierce female empowerment!
______
Emporio Armani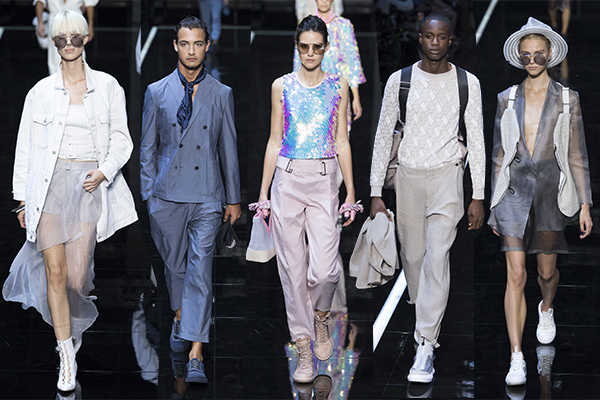 After having shown in Paris and London for the past few years, this was Emporio Armani's Italian homecoming! With the show welcoming the brand back home, it was only fitting for it to be held at Milan's Linate Airport (security and passport checks included!). The show consisted of an amazing 170+ looks, with a mix of female and male models strutting in classic, mostly gray,  Armani styles, which landed itself a place in our hearts!
______

Giorgio Armani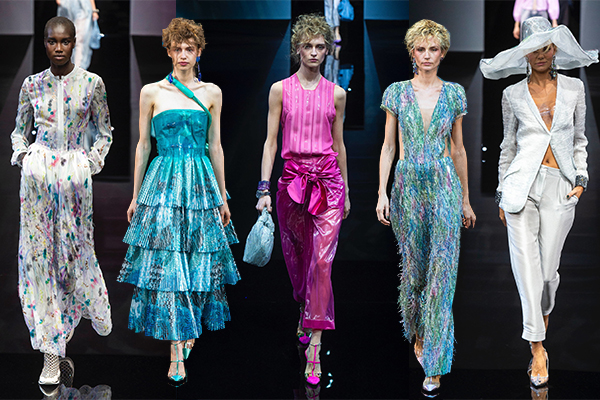 Held in it's own dark teatro, the bright, eye-catching outfits that Giorgio Armani sent down the runway was the perfect pop! Shiny fabrics and fluttering styles seemed to float down the runway, giving the feeling of some sort of chic deep-sea parade. The mixing of lighter textiles with heavier ones, made each look multidimensional and delivered us an overall whimsical-yet-tailored wonderland!
______
….and closing out MFW with a big bang…..
Dolce & Gabbana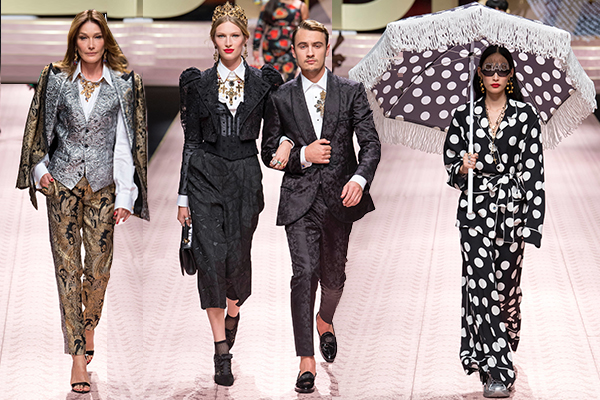 Domenico Dolce and Stefano Gabanna know their way around empowering women in the most artistically beautiful of ways. The D&G duo gave us more than we could have ever asked for in their two signature styles: elegant black and gold ensembles alongside the brightest of brights in crazy prints and designs. Classic catholic iconography, which has come to be expected from D&G collections, was seen throughout proving this was a Dolce & Gabbana show through-and-through. The theme of the show was DNA, with icons walking the runway, such as Carla Bruni (first from left in image above) and Isabella Rossellini hand-in-hand with her family (feature image). Both of whom have been essential in Stefano and Domenico's inspiration in building their brand. In true D&G fashion, this show gave us so much, but left us wanting oh-so-much more!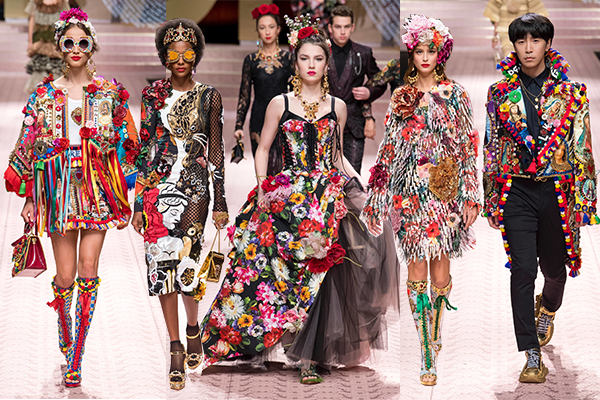 Feature Image and runway images courtesy of Vogue.