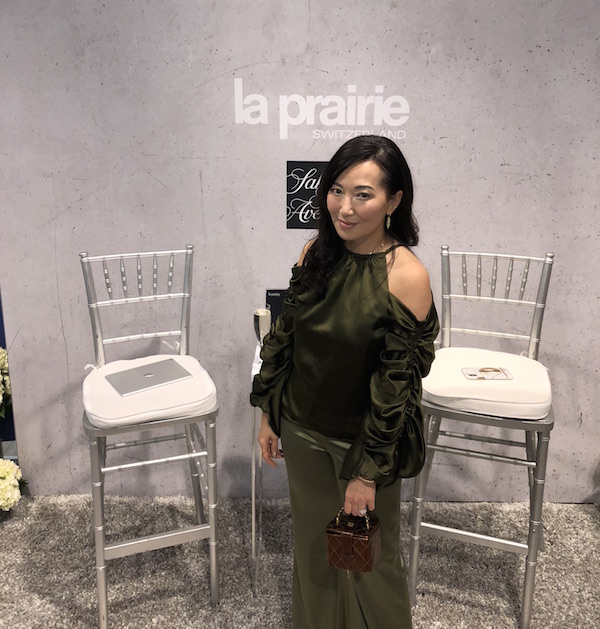 Tina Craig, aka @bagsnob, was one of the original fashion bloggers and has since built a resume as impressive as her Instagram following! She sat down with La Prairie at Saks to talk all things beauty, bags, and everything in between!
Rachel, here! I had the unbelievable opportunity of spending the evening at Saks Fifth Avenue to listen to Tina Craig chat with La Prairie's VP of marketing, Elizabeth Lamont. They are traveling to Saks' across the country for a series of conversations to promote the lavishly remastered La Prairie Skin Caviar Luxe Cream. The duo poured out their knowledge to the crowd of long-time @bagsnob followers, loyal La Prairie customers, and those of us with absolutely no clue where to start in the skin care game (which was where you could find me!). Craig's vivacious personality and witty comments made the sit-down session feel less like a talk, and more like a conversation with old friends!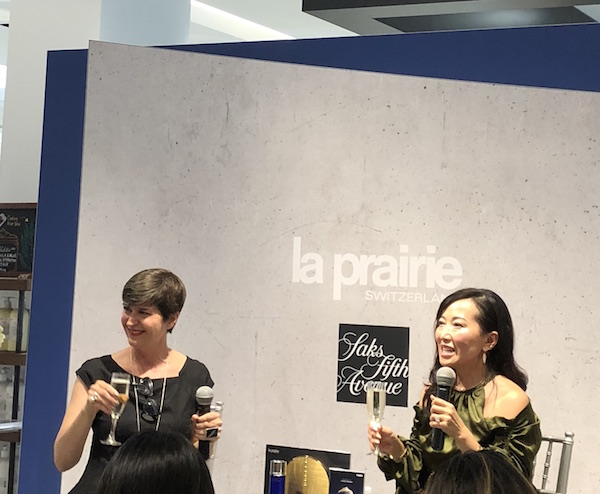 Elizabeth Lamonte (left) and Tina Craig (right) toasting the crowd
Craig's earliest memories of skin care revolve around her childhood growing up in a Chinese home. Chinese culture focuses heavily on the idea that "beauty starts from within". Craig's grandmother always told her confidence was the key to beauty, but that can be hard when you don't feel the best about your skin. You need to feel beautiful to be confident in order to look beautiful- may be a little easier said than done, but Craig believes good skin is truly the way to this state of mind (so much so that she's already teaching this to her own 13 year-old-son)!
The bag-and-beauty loving blogger eats and sleeps beauty…literally! She has a strict Rule of 8 that she lives by. Eight hours of sleep each night and eight glasses of water each day (2 glasses at room temp in the morning, one glass at noon, and a few others throughout the day, & NEVER with meals). Keeping with the aquatic theme, Craig swears by a simple morning face cleansing with some cold water and a muslin cloth. "It changes EVERYTHING" she quips. Hot water strips the face while cold water tightens it, so keep that water icy!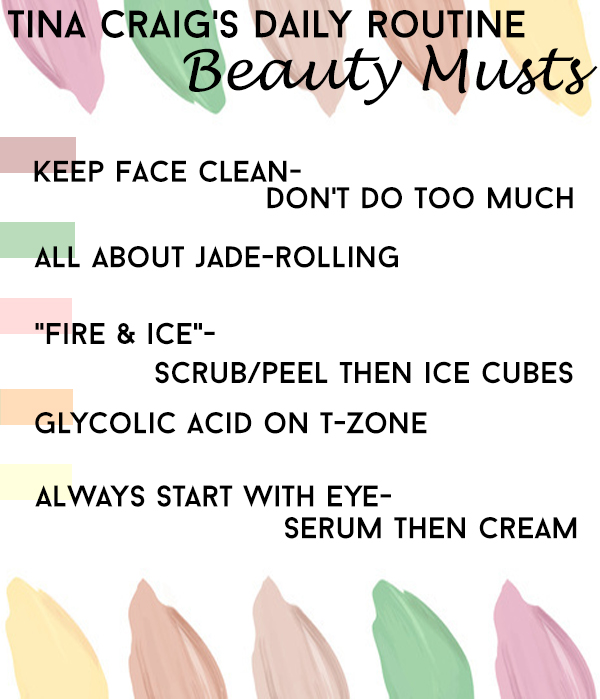 When she brought up the "fire and ice" at-home treatment, Craig's eyes lit up and you could tell this was going to be something good! Start with some sort of treatment that will inflame your face- think a scrub or acid peel. This opens the pores and makes them more receptive to the product your about to put on. Follow the heat up with some serum-infused ice cubes (Craig uses La Prairie's White Caviar Illuminating Eye Serum) for a soothing cooling feeling that will also make your pores appear smaller! This treatment is done at spas around the world, but this allows you to get spa-level results without ever even having to put shoes on!
Though her Instagram name is @bagsnob, Craig is anything but a snob! She gave us her list of her four fave drugstore finds that she swears by (all under $15)! "Masks, cleansers, scrubbers…they don't stay", she said, "so don't spend your big bucks on products that you just wipe or wash off!"  Check them out and if you feel inspired, just click on the item image and it will take you straight to purchase it!

So the theory is skimp on the things that don't last…okay, but how do we decide what to spoil ourselves with?! There are two main luxury-level categories Craig swears by- eyes and overnight. Our eyelids and area right around eyes don't have any pores, so there is nothing keeping them hydrated. This means they need serious moisture that you know will stay on your face- hello, long-lasting eye cream! Speaking of staying on your face, no explanation is needed as to why you would want that in an overnight cream. High-end products wont make a mess on your pillow, and will actively sink in through the night. This allows for a deeper penetration of the product- and all you have to do is sleep!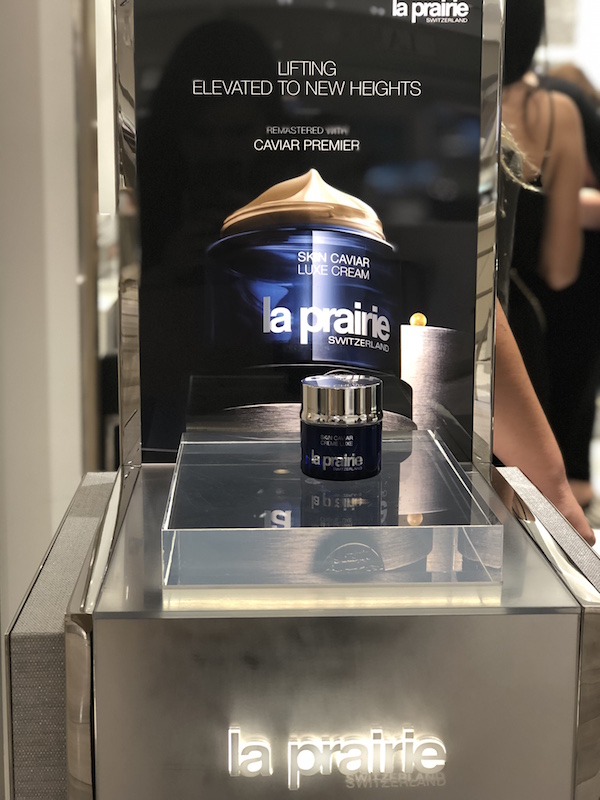 The newly re-masted La Prairie Skin Caviar Luxe Cream is more than worth every penny! Not only does it address 7 types of aging, but it doubles as amazing eye-shadow primer as well! Interested in checking it out? Click right here to head over to Saks.com to get more info!
And make sure to follow Tina on Instagram by click right here- @bagsnob – to keep up with all her adventures and even more beauty wisdom!