Milly's founder and creative director, Michelle Smith in front of the Neiman Marcus pop-up shop of her designs at the Children's Assessment Center Luncheon at Royal Sonesta. Michelle was there to personally assist customers with their selection of her colorful, spring-ready fashions following the runway show.
It was a great time for me to catch up with founder, owner and chief designer/creative director of the contemporary collection, Milly, Michelle Smith, at the Neiman Marcus sponsored luncheon benefiting Children's Assessment Center.  Her newest collection for Spring 2016 was called Modern Romance by the designer as she conceptualized the 'mood' of this collection.  She wanted a romantic feeling, done in a more modern way.  She selected a masculine palette (borrowed from your boyfriend) of Italian washed linens, that started with lots of blues and ended with the colors from sunrise to sunset, yellows to oranges and popped with citron and of course, lots of white!
When I asked Michelle what some of her favorite looks were from Spring that she represented in her collection, she quickly acknowledged the trend that is dominating Spring clothing everywhere, the off-the-shoulder looks, which we both admitted was our favorites and one we can't seem to wear enough of!  Another look that we both love and agreed that once you started wearing you could be totally hooked, is the culotte….they are back in a big way and are so comfortable, can look so chic and can take you just about anywhere from very casual to dress-up.  Her bold color in great, simple styling made for stand-out pieces that you could wear forever. Her prints were joyful and colorful. Another favorite of mine were the chevron stripes on several garments.  All together making for a very wearable, buy-now collection that many women there found to be great additions to their wardrobes.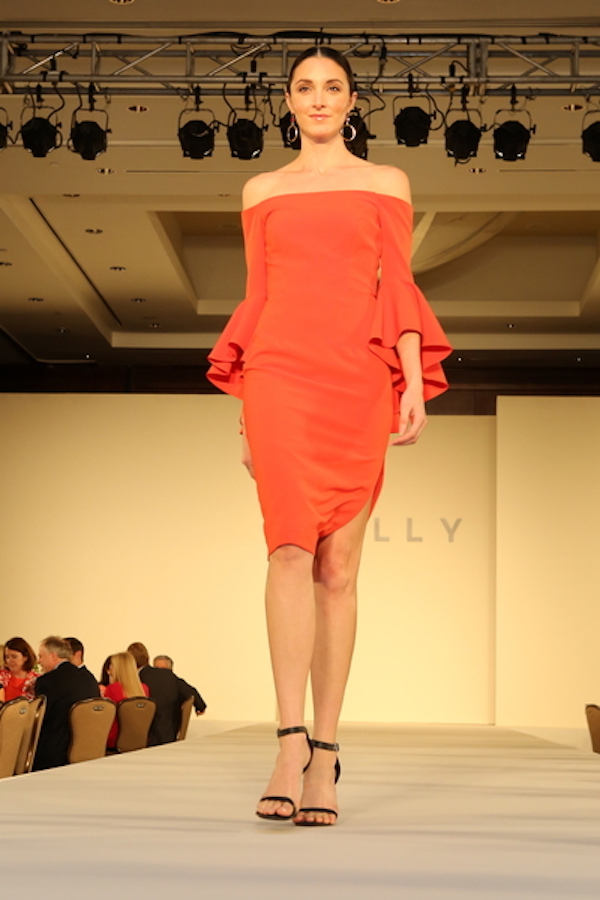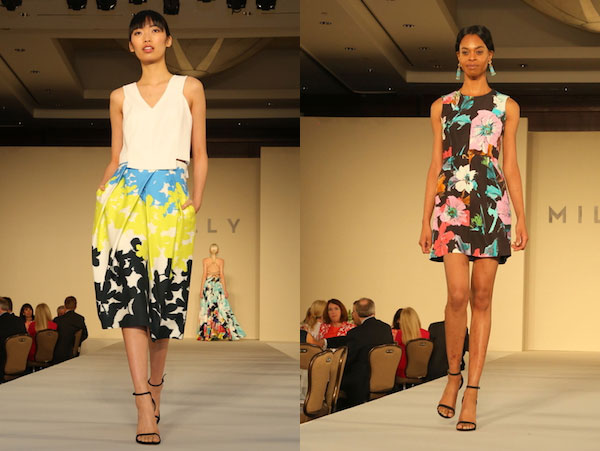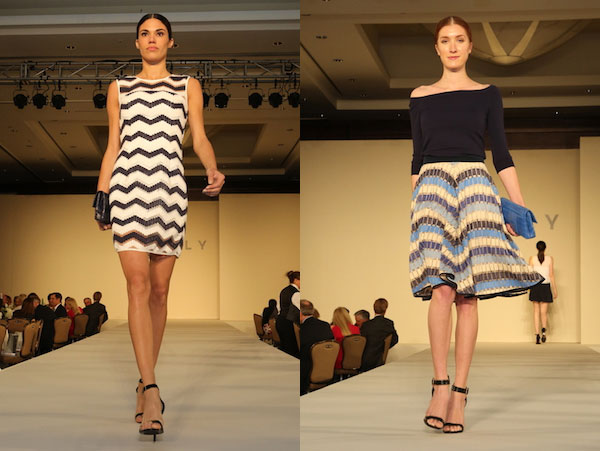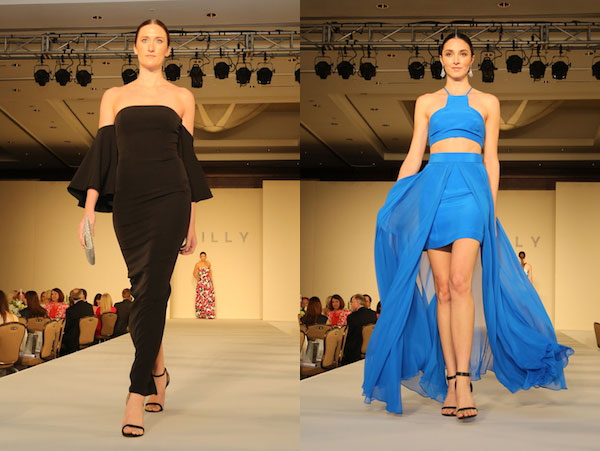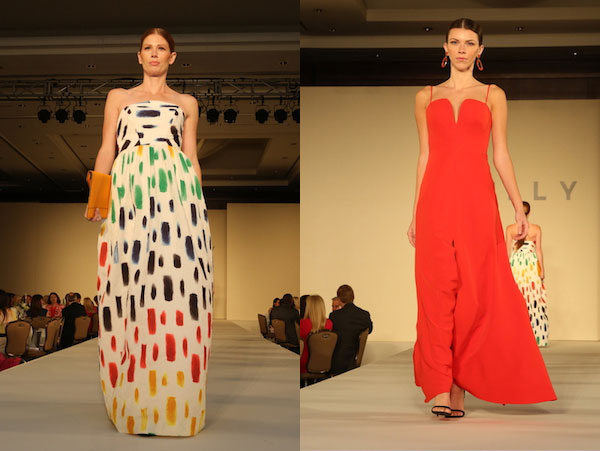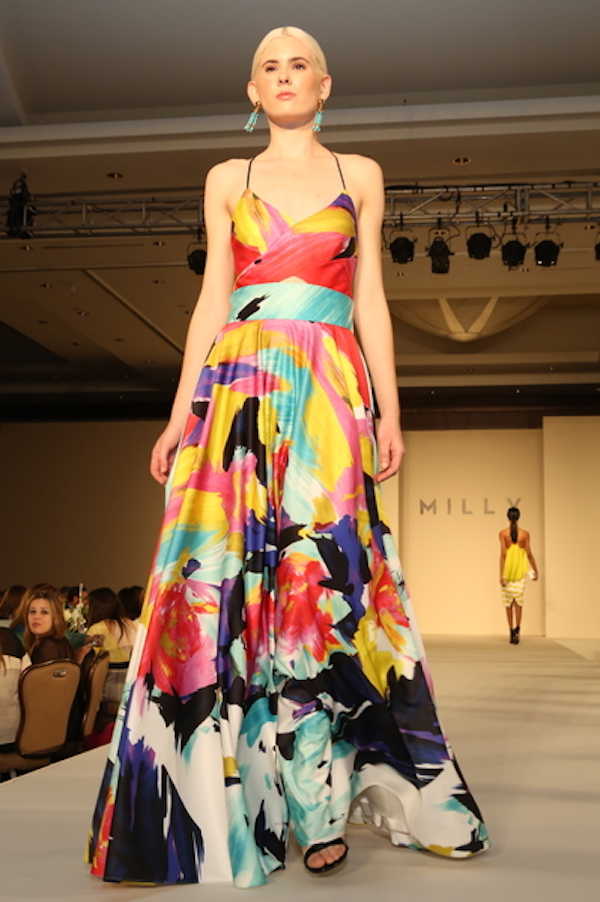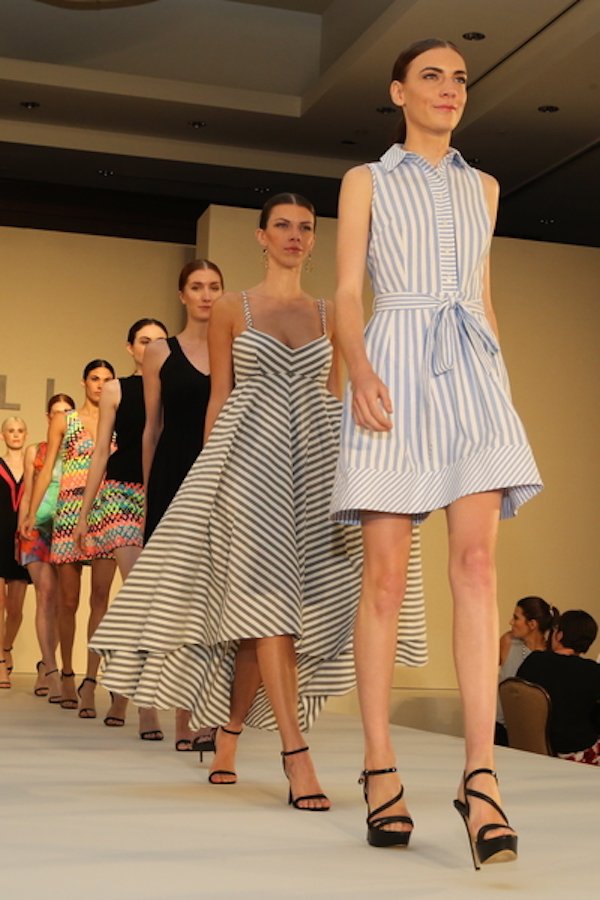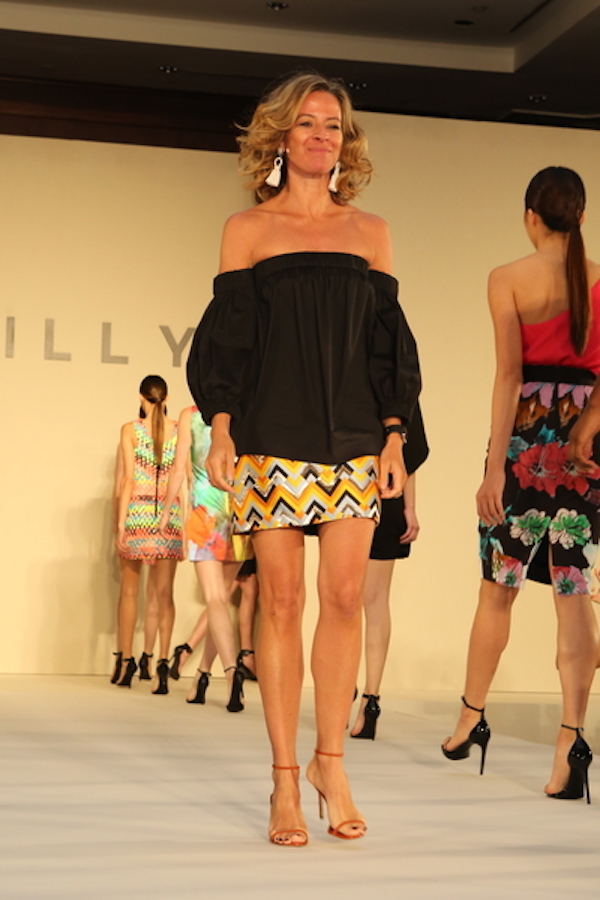 An added special:  it should be noted that when I asked Michelle about what her take was on the ever-growing sportswear trend of 'Athleisurewear', which is quickly becoming stylish women's  answer to many of their casual wear needs.  She said that she has done quite a bit of sporty in the past and is working on a separate collection which will be led by her very fun graphic t-shirts, which are available on her site now, just click here to take a look. However, her plans are much bigger and this concept is being expanded to include the t-shirts and tanks, jog bras, running tights or leggings, hook-ups and much more in that very popular trend.
She also is very excited about her handbags and accessories that she sells now, would love to expand into footwear at some point (Manolo Blahnik makes her shoes currently) and her biggest dream is to open more retail stores. She has two in Manhattan, one on 73rd and Madison which she urged me to visit when next in the city, five in the Middle East and four in Japan.  I would say that in this era of fashion uncertainty when designers are playing musical chairs from one brand to the other and things are a little unrestful that this designer who is secure in doing it all…..she is designer and sole owner with her husband of this 15 year old company, she feels it to be all good for her Milly collection and knows just where she is headed and her styles have never looked better for it!  Stop in and take a look, the prices are right and the selection at Neiman's could not be better. I know that I am!
The Luncheon's Key Players
Kelli Weinzieri, Designer Michelle Smith, Emcee Dominique Sachse, Keynote speaker former Miss America Marilyn Van Derbur and Co-chairman Kelley Lubanko; also not pictured, honoree, Mark Wallace, President & CEO of Texas Children's Hospital