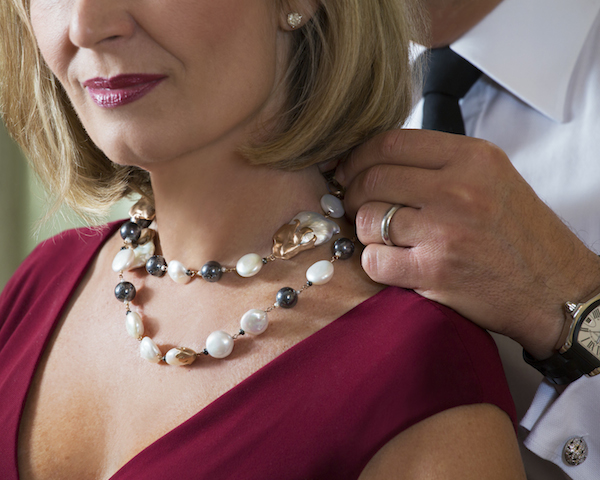 Cathy Borlenghi Debuts one of her Signature Exclusive Italian Made Jewelry Pieces from her MRS. B Collection, Designed by Cathy and made through her collaboration with  Italian Designer and Made in Italy.
About Cathy Borlenghi…
When we take a look at our city and think high-end style, one couple comes to mind that have added their touch of international style to Houston and that is the Borlenghis. Together they have brought the finest of Italian aesthetics and design to H-town through their many creations. It is a fact that their name has become associated with exquisite style, fashion and design.
So there is no wonder, that when Cathy Borlenghi decided to make her very own feminine mark on our town and beyond, she chose the thing that most women love….jewelry, as an entree to the fashion world. After all, says Ms. Borlenghi, what do women love more than jewelry and within those jewels, is there any woman who does not love Pearls!  So Pearls, not in a typically classic style, but a signature style pearl, in Italy known as SCARAMAZZA,  a baroque, highly imperfect fresh water pearl became the base of her line of jewels known as     MRS. B Collection.
About the MRS. B Collection…
So what happens when a successful and elegant Italian woman, who can easily be described as a naturalized Texan with a unique drawl, meets a young and creative Italian Jewelry designer….the answer is many beautiful things!  This dynamic duo met here in Houston and connected immediately.  Cathy realized that in meeting Antonella, she had found the designer who could create the jewelry she had been designing in her mind!
The resulting collection is a product of the collaboration of these two talented women who appreciate beautiful quality and design.  Cathy's knowledge of the Texas woman is recognizable throughout the collection.  Antonella Aquilino, the Italian designer, has gold running through her veins as the fourth generation in her family to continue a long tradition. An added feature, she works in Barri, an area of Italy that is dear to me.
 Highlights of the MRS. B Collection…
(Currently available online at mrsbcollection.com and Hotel Granduca)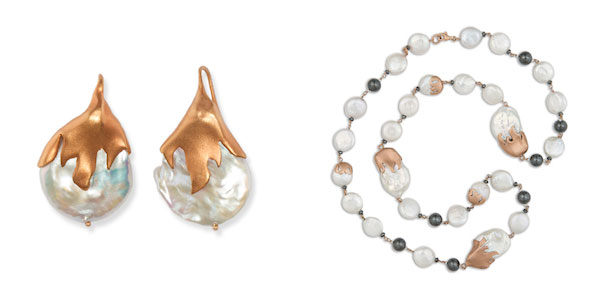 SCARAMAZZA, a baroque, highly imperfect fresh water pearl is the basis for the MRS. B Collection. Each pearl has a unique shape, color and size inspiring the final earring ring or necklace.  Because the shape of each pearl is so unique, the gold (satin 18K rose in color, which I loved) is done by hand using a technique called "lost-wax casting".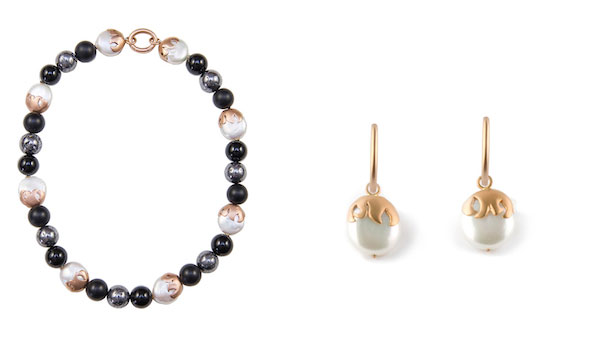 Necklace, part of MRS. B Signature Collection features a combination of eight Coin pearls with beads of Galaxy, polished and honed Onyx, accented with 18k rose gold; Natural Coin pearl earrings set in individually cast satin finish rose gold flame motif on satin finish interchangeable ring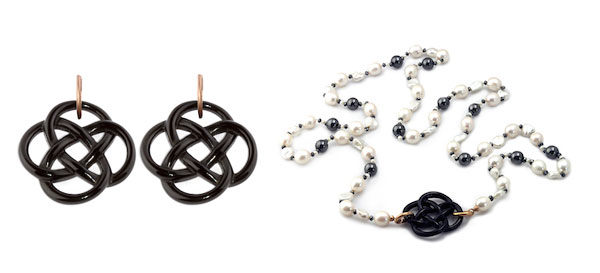 Large Onyx Love Knot Earrings accompanied by versatile gold drop earrings that could be worn alone; this unique long necklace features pearls interspersed with Hematite beads and finished with 18K rose gold. Centerpiece of necklace is the large black Onyx Love Knot, approx. 1.75″ in diameter.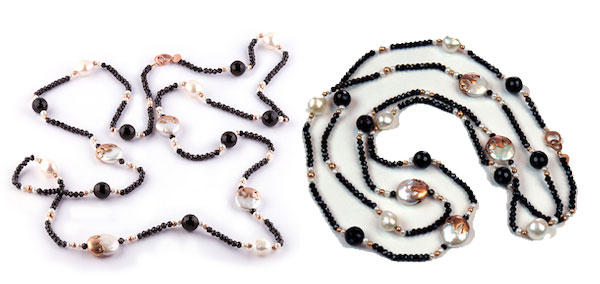 Long strand of black Spinel and faceted black Onyx, interspersed with four Coin pearls and finished with 18k rose gold; Long strand of semiprecious grey spinel, four Coin pearls and polished Hematite beads embellished with 18k rose gold
Please come to Hotel Granduca for a Private Showing of the MRS. B Collection and have a great time visiting with friends, having a splash of Prosecco and trying on some of this beautiful jewelry.   PLEASE NOTE:  For only those attending the Sept. 17th event, you can sign up for the raffle of  a $300 MRS. B Collection Gift Certificate  to be applied to any fabulous piece you select!                   
(Invite below)