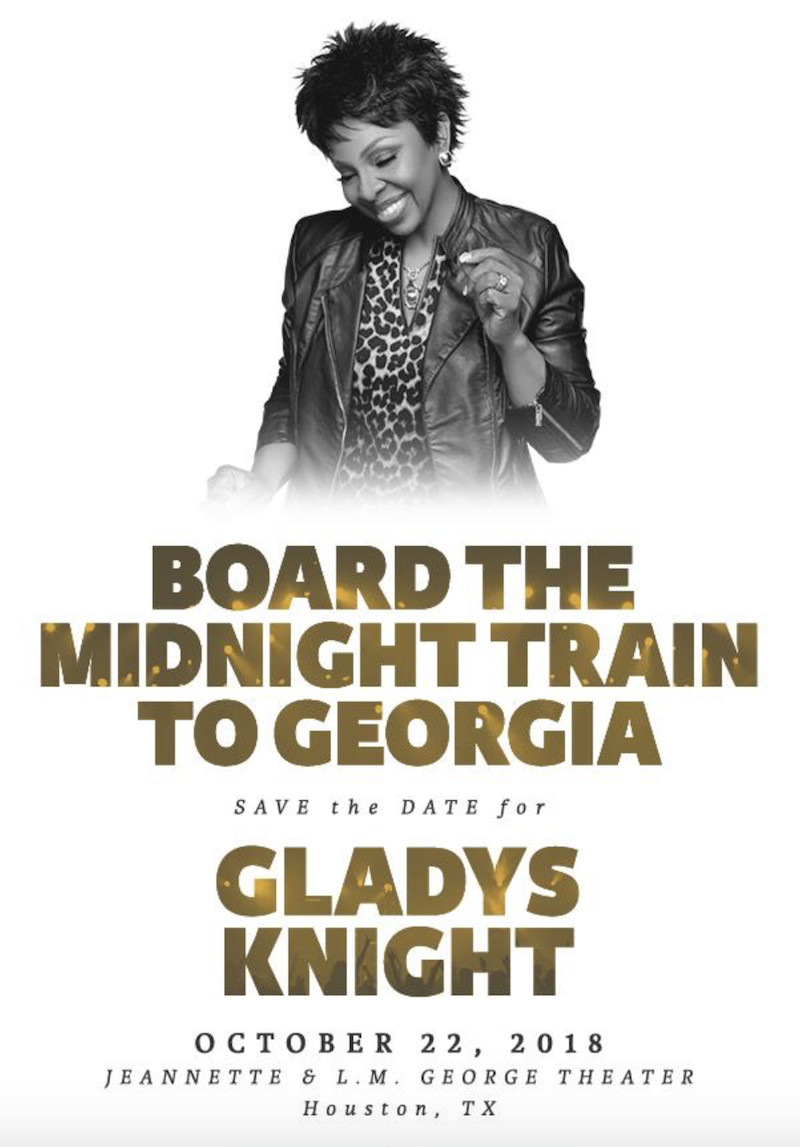 MUSIC WITH FRIENDS…Exclusive Club for Music Lovers bringing Gladys Knight to Houston, October 22, 2018
Gladys Knight will be bringing her special taste of high energy to the acoustically superb Jeanette & L.M. George Theater stage with many of her famous songs such as "Midnight Train to Georgia", "I've Got to Use my Imagination", "That's Why they Call It love" and many more.

Music With Friends Members be ready for another fun evening of…….

Cocktails With Friends (fully catered by Cordua & Brennan's)

6:30 till 8:00 p.m. in Grand Lobby

Performance

8:00 p.m.

After Party

9:30 till 11:00 p.m. in Grand Lobby
About Music With Friends:
In case you are not aware of Music With Friends, let me share with you what it's all about and why it's so cool to be a part of.  If like me and so many others that have loved music for years and have been seeking a special experience that's not just a large concert where you share the entertainment with thousands of others but are instead searching for that unique musical evening , in an intimate setting, where you can enjoy a much needed date night with friends. Making it even more special would also be the chance to hear legendary entertainers, like Diana Ross, Tony Bennet, Earth Wind & Fire and of course…..Gladys Knight.
That is what Music With Friends is about. It is an exclusive club providing unforgettable performances for a select audience. As a subscriber to this private members-only club you are invited to attend three performances per year.  Each of these performances is happening this season within the new Jeanette & L.M. George Theater in the Galleria area. A venue so intimate that only holds 460 seats.  You will be entertained at each performance by a beautifully catered cocktail pre-show reception, a 90-minute performance and then followed by a fun after party where you can share with friends and possibly the entertainers, the excitement and fun you just experienced.
If you would like to find out more information about joining this unique, exclusive group please contact Karen DeGuerin at karen@musicwithfriends.com. She can answer any questions and more specific information on the great group of music lovers and all that they have planned for the coming year.
The biggest news right now from Membership is the excitement of the upcoming performance of the fabulous Gladys Knight exclusively for the members. In anticipation of this very special event as a way to attract new members that have been pondering over the choice to join, MWF is making a special limited time offer for this season……
 For Club Level PSL (Personal Deal License, your one time 'initiation fee' that secures you your seat) is being offered at $500.00/per seat or 2 for 1.  Two seats for $1000.00 PSL, with annual club dues remaining the same. The Club Level gives you extra room and a private bar with a great view….a very good deal if you've been planning to join, this is your time!