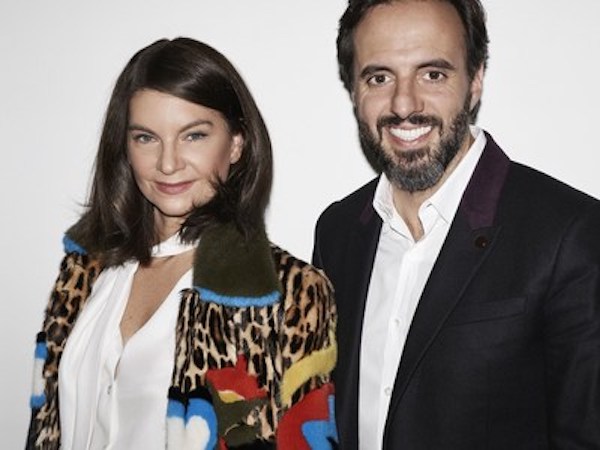 Dame Natalie Massenet, new non-executive Co-Chairman of Farfetch, and Jose Neves, CEO, Founder, and executive Co-Chairman of Farfetch
The fashion industry is abuzz right now with the news that Dame Natalie Massenet, who founded Net-a-Porter and left upon a merger which took place over a year ago, has been named non-executive Co-Chairman of fashion e-commerce platform, Farfetch.
In case you're not familiar with Farfetch, it is a luxury e-commerce platform, which is the online arm of local retailers, such as Tootsies and Forty Five Ten.
Massenet will be helping develop the Farfetch brand. She will bring her proven business acumen, intuitive feel and passion for the way technology can transform the consumer experience to the Farfetch business. She will have a particular focus on growing the global brand and strengthening its partnerships with the fashion industry.
Jose Neves, CEO, Founder, and executive Co-Chairman of Farfetch, said, "I have, since Net-A-Porter launched, been a huge admirer of Natalie, she really is THE undisputed pioneer, paving the way for the rest of us by demonstrating that not only could luxury be sold online but also that the internet would eventually become the primary way consumers engage with brands, globally."
"I am honoured and excited to support José and the Farfetch team as they continue to build a unique vision of what the future of fashion and technology looks like. What Farfetch has done to rewrite the rulebook on how technology can work alongside bricks and mortar to elevate the customer experience stands out in the industry – when José asked me to come on board it was an opportunity I couldn't turn down. José is a true innovator, and I am thrilled to join him as he grows Farfetch into the online platform of choice for luxury fashion," said Massenet.
We're looking forward to seeing what happens with Farfetch. With Massenet on board, it's sure to be an exciting time for them.
Image and information via PR News Wire