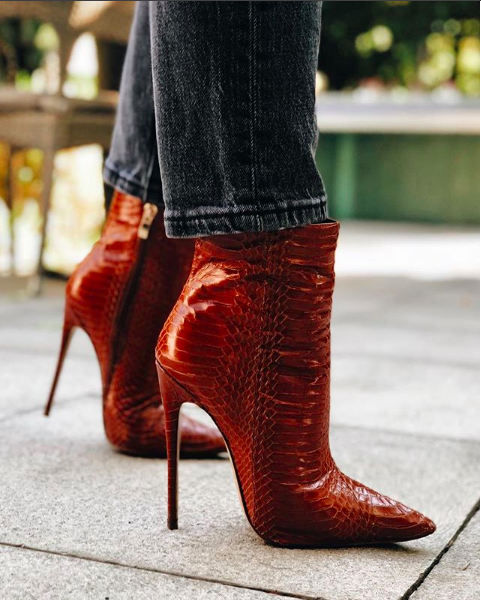 It's hard to believe…but Houston, it's actually cool in OCTOBER! Since we never get chilly weather this early, its time to treat yourself (& your feet) to some boots that were made for walking in lower temps!
Even though it has technically been Fall for a few weeks now, we are finally getting that unmistakable autumn feeling! While most gals have their go-to pair of boots, it is essential to build a perfectly-stocked boot wardrobe. This means more than one style, more than one heel-height, and more than one silhouette!
With so many options available in your closet, you ensure that you will never be left having to compromise your outfit because you are missing the right shoes. We all know the two main categories of our beloved full-coverage footwear: boots and booties, but my dear ladies…there is FAR more to them than that!
With a new season comes new trends and we've got Fall 2018's hottest ones below! Read through the list and if you find one you need to stock up on, no fear- each style is 100% shoppable! Check out the sets of five buyable boots below each description, available in five different price points- so there is a boot for every budget! Just click on the style you love, and it will take you straight to the retailer's page to purchase!
Booties
Kitten Heel
Tiny heel, BIG style! All the look of a high heel, with the warmth of a boot…what's not to love?! Kitten heeled booties show you mean business all while keeping it fashionable and even more importantly… comfortable!
Image courtesy of @netaporter
---
Low Heel
Love to keep it low-key? These are the perfect boots for you. With little to no heel, these booties are ideal to slip-on and go- all the while keeping you looking effortlessly fashionable!
Image courtesy of @thefryecompany
---
Animal Print
This fall is calling for a forecast of fierce and fabulous animal print EVERYWHERE! Animal prints are quickly proving to be one of the hottest trends this season, and skin-inspired booties are the best way to jump right in!
Image courtesy of @jeffreycampbell
---
Lace-Up
Lace up, soldier…it's time to battle the cold weather one step at a time! The utilitarian trend has shown it's not going anywhere this Fall, with combat style boots flooding the stores. A style just as cute as it is practical making it perfect for wintery weather!
Image courtesy of @neimanmarcus
---

Bright White
There's no question why these boots as white as snow are all the rage as we move into cooler weather! The eye-catching color will add an instant chic upgrade to any outfit. Simplistic design lets these boots will go with literally anything….and yes, it is ok to wear WHITE all year long. Also- these white boots look especially chic with an all black outfit!
Image courtesy of @nordstrom
---
Boots
Knee High
The boot that has been around for ages…the knee high! The word "classic" is the best way to describe this go-to wintery-weather footwear. Ideal over a pair of jeans, or with tights and a dress…the perfect staple in any girls wardrobe!
---
Western
Western boots are no longer just for the ranch or rodeo! The cowboy classics have made their way front-and-center in the fashion scene this season. So saddle-up partner, because we see this trend sticking around a while!
Image courtesy of @freepeople
---
Over-the-Knee
The fashion set simply cannot get over this over-the-knee look…but hey, we aren't complaining! The perfect way to keep wearing those shorter hemlines into the colder months. Keep your stems nice and cozy, while keeping your look as chic as can be!
Image courtesy of @bergdorfs
---
**For more inspo and info on the Western Boot Trend, check out our story From the Rodeo to the Runway!**
Feature Image courtesy of @silviamateishoes