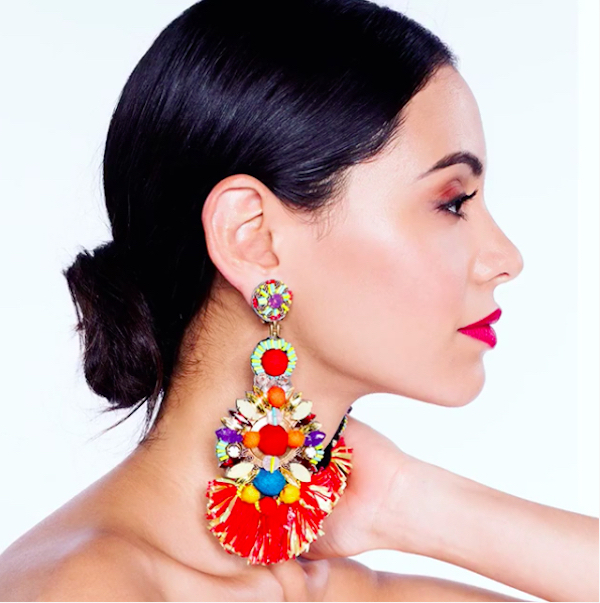 Ranjana Khan, wife of designer Naeem Khan, has proven that her distinctive Jewelry designs stand on their own, especially here in Houston where her following at Tootsies is large and based on this past trunk show, rapidly growing!
Having met Ranjana Khan in NYC at her hubby's Bridal Show a few seasons back, where the theme of his collection and her accompanying statement earrings were inspired by artist Frida Khalo, Ranjana left quite an impression on me. You could not leave that presentation of beautiful gowns without thinking about those spectacular earrings that pulled it all together!  So hearing that she would be at Tootsies for a Trunk Show in conjunction with last week's ROCC Tennis Tournament, and statement earrings being all the rage this season, I could not wait to see her expanded collection.
Ranjana, a true delight and spirited, fun lady was filled with excitement as she spoke of all of the designs which she had already produced…..four collections, Frida Khalo, Shades of Grey, Garden Party, and The Jewel in the Crown, named for the recent cable mini-series and much of its opulence. She also has great plans going forward to detach herself somewhat from the design partnership with her hubby Naeem Khan and build toward her own stand-alone design business for her jewelry.  Next week, when the Bridal show for Khan is happening in NYC, his magnificent gowns will be shown with baubles from another designer and not his wife's. A break she felt was due that will enrich both collections as their design approach for each is so over-the-top that they will show better separate than together.
About Mrs. Khan.…Rajnana was born and raised in India where she left behind a very prosperous career as a model to come to America and do more.  She met her husband of now 36 years in 1979, when he was working as an assistant for Halston and lived the glam life of Warhol and Studio54 in its prime.  Design became a focal point of their lives and her history in the field includes working for such great design houses as Lanvin, Balenciaga, McQueen, Valentino and Armani. Designing accessories for these greats gave her the inspiration to develop and create her own style, which led to the launch of her own label in 2008. That was followed by a Bridal collection in 2014. Celebrities from Beyonce to Taylor Swift have worn her pieces.
As stated on Khan's website, "Ranjana Khan's eclectic jewelry is inspired by her innate sense of style. Her designs are bold statement pieces, handcrafted using the most rare and unusual materials. Vintage beads, semi precious stones, burnt crystals, vintage coins, snake skin, feathers….anything and everything comes together to create each exceptional piece of Ranjana Khan Jewelry."  In fact, speaking of feathers, Ms. Khan says that her next collection is inspired by feathers and birds and described some very unique pieces that you will have to wait to see.
For now, below, are highlights from her current styles, available at Tootsies and online.