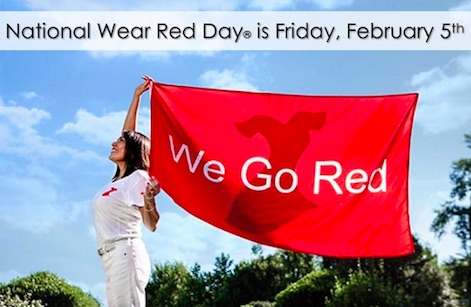 February is Heart Month and it officially kicks off this Friday, February 5, with      National Go Red Day across the U.S…….Wear Red and show your support, please!
For those of you that know me you know that my true passion in life has been to find a cure for Heart disease, the number one killer of women and men around the world.  What I have learned over the years by being so involved with the American Heart Association is that unlike how I was raised to believe, it is not just a hereditary issue but can be prevented (80% preventable) with simple things like proper nutrition, exercise, regular preventative visits to a cardiologist for testing (got to know know your numbers!) and some medications.
The facts are there, things are looking better…….Since the first National Wear Red Day in 2003, we've made tremendous strides in the fight against heart disease and stroke in women. Through research and education to healthy lifestyle changes, women are learning that they can make the right choices and see a difference in their health.  Heart mortality rate has decreased nearly 30 percent over the past 10 yearsin and it's because of a few things that this Go Red For Women movement has brought to them….
*Here are a few things that have changed…(as per www.goredforwomen.org/wearredday-about/)
Nearly 90% have made at least one health lifestyle change
More than one-third have lost weight
More than 505 have increased their exercise
6 out of 10 have changed their diets
More than 40% regularly check their cholesterol levels
One third see their doctors regularly about a heart healthy plan
Today, nearly 300 fewer women die from heart disease and stroke each day
As we approach this Friday, we must acknowledge our continue support from our partners from the beginning , Macy's Department Store and the great work they have done to raise awareness of heart disease in women. "Macy's helps fund life-saving research and education that no doubt impacts many lives." says Martine Reardon, Macy's chief marketing officer
Macy's is the presenting sponsor of the American Heart Association Go Red For Women Red Dress Collection, kicking off New York Fashion Week since 2003 in support of women's heart health. The Red Dress Collection will be unveiled on February 11 at Moynihan Station   in New York City.
So much going on in February as it is Heart month and Go Red For Women is our primary focus.  So please show your support this Friday…….wear it, tell your friends and family to wear it, ask your businesses to promote it…….make a statement, you can make a difference by just making the right choices…….WE WILL BEAT HEART DISEASE, our No. 1 killer"!!!