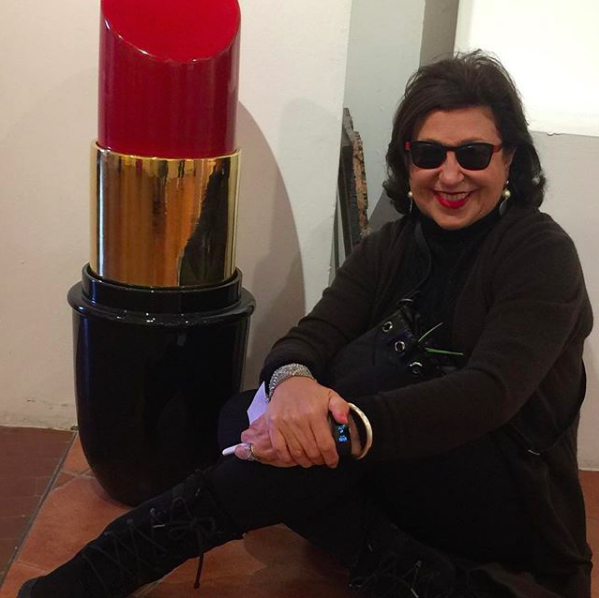 Image taken in Art Gallery in San Gimignano, Tuscany, Italy
Okay so anyone who knows me knows that I am overly enamored with the color RED…..I have my glasses, of course, and usually wear a pop of that scarlet hue somewhere else on my body such as a handbag, shoe or a wrap. However, one thing that I do obsessively, that I am questioned about the most is that I ALWAYS wear Red Lipstick. I say obsessive as like the great Lipstick Queen herself, Poppy King, creator of that line (can be purchased at Kuhl-Linscomb, Barney's NY,. Ulta, as well as part of the Nordstrom Anniversary Sale, to purchase, click here )….I will leave my home with no make-up on but always wearing my red lipstick. Whether its running a weekend errand, exercising early in the a.m. at the gym or walking Rice (University where I have walked around their exterior 3 mi. track for years!)….it is the one make-up item that I never leave home without. I always wondered why the obsession, so I actually did some research on this wonderful crimson lip obsession that I have.
What I know is that when I apply it, it makes my face glow, look younger and feel more confident that I can take on anything.  Well, history has proven thru my research that that is all a fact.  Your lips and eyebrows lose color as you age so that touch of color brightens your monochromatic, often dull,  face color.  People perceive you to be younger than you are. (!!!) It immediately give the wearer a look of gracefulness, confidence, strength and power and celebrities such as Taylor Swift, Gwen Stefani, Debbie Harry and others have Queen Elizabeth I to thank for elevating this shade of lip color from sleazy to regal!
I could go on and on on why RED LIPS are just a part of who I am, however, I decided to share with many of you who ask me constantly which colors I wear and like the most. Below are all current colors straight from my make-up tray and bag that I use frequently. Believe me, Red Lips are HOT right now so there are many more colors out there to choose from. Your first decision has to be whether you like an "orange" red or a "blue" red and once you tell your Cosmetic sales person that, you will find limitless choices. (It should be noted that although I happen to not be using a Chanel red right now….they are known for their Reds and should always be tried!)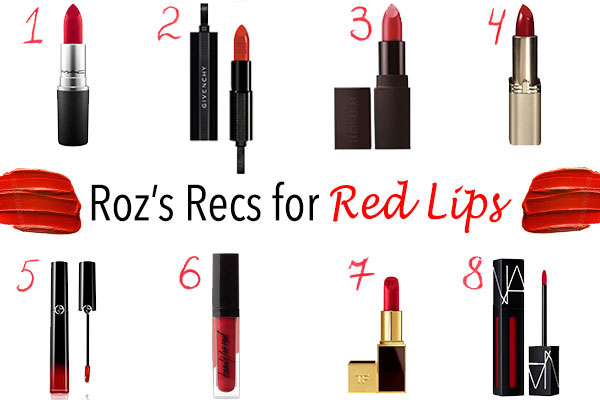 1. Mac Lipstick in Ruby Woo//2. Givenchy Rouge Interdit Satin Lipstick in No14 Red Light//3. Laura Mercier Creme Smooth Lip Colour in Red Amour//4. Loreal Color Riche Lip Color in True Red 315 at Target //5. Armani Ecstasy Lip Laquer in Red to Go//6. Beauty for Real by Leslie Munsell & Houston's Tonya Riner's Lip Cream + Color in Really Red//7. Tom Ford Lip Color in Cherry Lush//8. Nars Powermatte Lip Pigment in Don't Stop