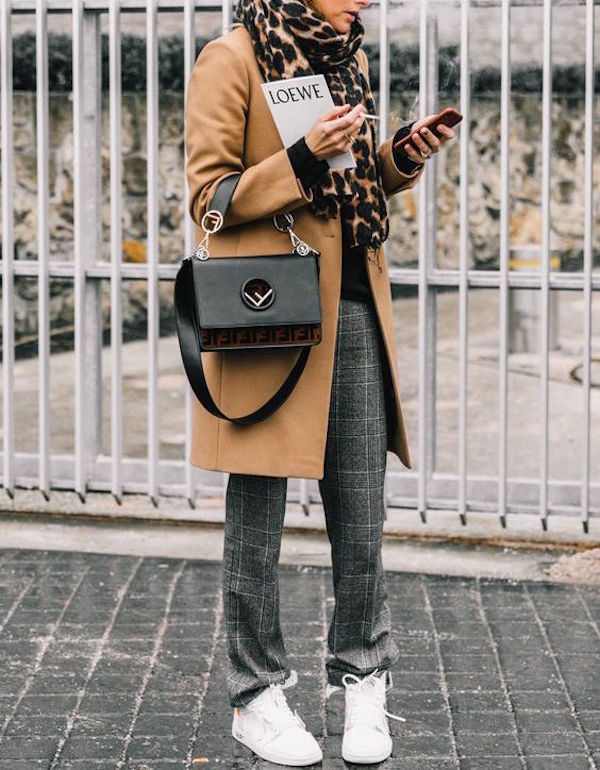 There's no question this sneakers craze has walked itself right up to the top of list of trends and we don't see it leaving anytime soon! We're breaking down all of the exciting things that are happening in this footwear frenzy for Fall!
From the runways to the real world, we can't seem to get enough of this sporty chic trend! Street style shots from fashion weeks around the world are filled to the brim with sneakers paired with just about any outfit possible. Its safe to say this athletic footwear trend has kicked any rule discrediting fitness gear as fashion, to the curb.
Fashion has found its solemate in comfort, and we are not complaining! Now that pairing comfy sneaks with elegant ensembles has become fashion forward, the old saying of "fashion is pain" is just that….OLD! With so many styles and designs, you no longer have to sacrifice your taste for the sake of your toes.
So on your mark, get set, get ready to SHOP! We've rounded up what are looking to be the hottest styles for Fall available to shop at every price point! Just click on your favorite shoe and you can order it right from your computer…..how easy is that!!!
Logomania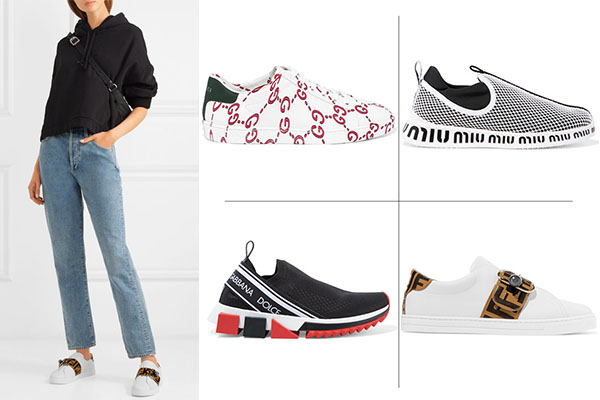 *Listed clock-wise by appearance*
Gucci New Ace Logo-Print Leather Sneakers (top-left) – Adorned in the now infamous #guccighost logo created by Brooklyn street artist, Trevor Andrew these sneaks have Gucci written all over them (literally!). The signature red and green heel tab have helped the Ace sneaker develop a loyal cult following waiting for you to join!
Miu Miu Logo-Print Neoprene & Mesh Slip On Sneakers (top-right) – Made of Neoprene and mesh, these Miu Miu kicks are just as cooling as they are cool! They were created with comfort in mind, but do so without sacrificing their style. The subtle logo on the sole of the shoe fits seamlessly into the design offering a sleek silhouette.
Fendi Logo-Embossed Leather Sneaker (bottom-left) – A laceless top and silver buckle closure give this shoe an effortless sophistication. The low-top allows for a perfect peek of ankle when worn with jeans (as seen in the feature image above), and are versatile enough to go with just about any outfit! Added bonus- the Fendi logo is proving to be one of THE most coveted logos at the moment by celebrities and street style stars, alike!
Dolce & Gabbana Sorrento Logo-Print Mesh Sneakers (bottom-right) – Decorated with bold branding and sporting a chunky sole, this sneaker has trendy written all over it. Even better, the sock-like fit makes the shoe unbelievable comfortable and the chic design makes it just as equally photogenic!
Slip-On & Go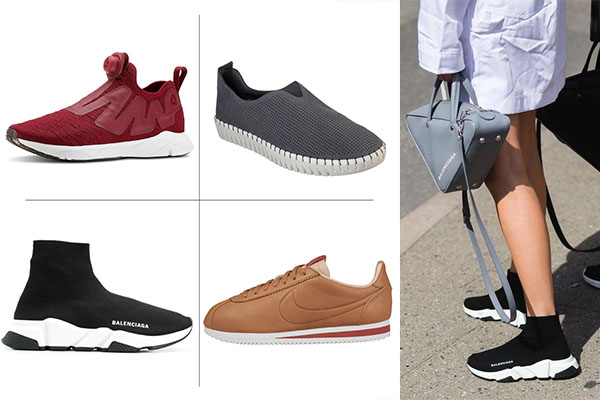 *Listed clock-wise by appearance*
Reebok Pump Supreme (top-left) – Equipped with a laceless system, this sneaker is the poster-child for easy on-and-off footwear. The style is unisex, allowing for even more color options (and the possibility of making your S.O. match with you)! The top is made of breathable fabric and sits on a lightweight sole, allowing for maximum movement and comfort!
Skechers Sepulveda Blvd Slip Ons (top-right) – When designing this slip-on sneaker, it was all about comfort. The top of the shoe is perforated, allowing for a consistent cooling system. The cushioned insole is made of Air Cooled Memory Foam, so not only is there another cooling factor, but also cushioning! Add in the shock absorbing insole, and you're sure to never want to take these off!
Nike LA Cortez x Maria Sharapova Premium Sneaker (bottom-right) – Released August 23rd, these new-kid-on-the-block sneaks are already proving to be HOT! This is the second release of Nike's collaboration with Maria Sharapova and was inspired by New York City in Autumn. Sharapova told New York Post that she chose the palette of "earth-tone color [she looks] forward to wearing in the fall. The satin laces and leather upper add an extra elegance making the design as dreamy as it is easy!
Balenciaga Speed Knitted Sneakers (bottom-left) – The undisputed ruler of street style these days, these knitted sock sneakers are EVERYWHERE! The glittery stretch knit and spongey sole have become unmistakable to the watchful eye. You can just tell how cozy they are from looking (or in our case, gazing wantingly) at the sock-like fit. These babies seem to always sell-out fast, so get them while you can!
Sustainable AND Stylish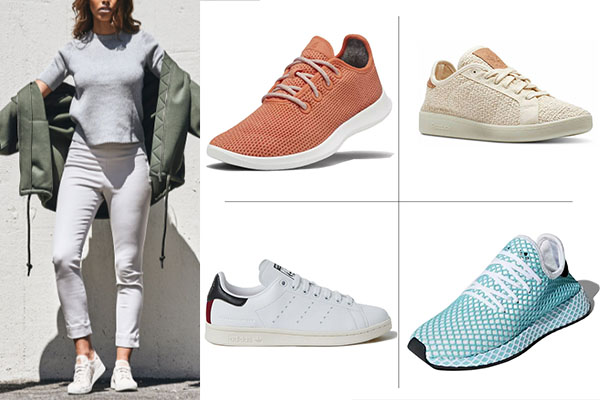 *Listed clock-wise by appearance*
Allbirds Tree Runners (top-left) – Inspired by natural materials and a self-declared mantra of "creating things a better way", Allbirds has created a whole different type of shoe. Offering shoes made of wool, tree fibers, or sugar, these shoes are rooted in sustainability. But, they definitely do not sacrifice style for the sake of their cause. Available in a number of sillhouettes, these sneakers are perfect for everywhere from the beach to the bar!
Reebok Cotton + Corn (top-right) – Talk about innovation! Reebok is diving head-first into the world of sustainable fashion by trying to "clean up the entire life cycle of shoe making: from what shoes are made of to where they end up" according to Bill McInnis, VP of Reebok's Future Team. The top is made of cotton, and the sole originating from corn. These environmentally friendly sneaks sold out quickly, but you can sign up HERE to be notified on the next drop!
Adidas Deerupt Runner Parley Shoes (bottom-right) – These sneakers are just as cute as they are good for the environment! Adidas teamed up with Parley for the Oceans, an organization that works to keep beaches and coastal areas clean of plastic. Instead, they collect this ocean plastic and use it to weave into usable yarns. Plus, the stylish webbed overlay, is for more than just looks- it offers subtle compression to keep your foot stable while wearing them!
 Stella McCartney x Adidas Vegan Leather Stan Smith (bottom-left) – Stella McCartney is known by many as THE cruelty-free designer, and this is just another jewel in her crown. She is partnering with Adidas for a completely vegan rendition of the infamous Stan Smith sneaker. The shoe is quickly becoming one of the most hyped sneaker drops of the Fall season so far, which is no surprise at all!
Whole Lotta Sole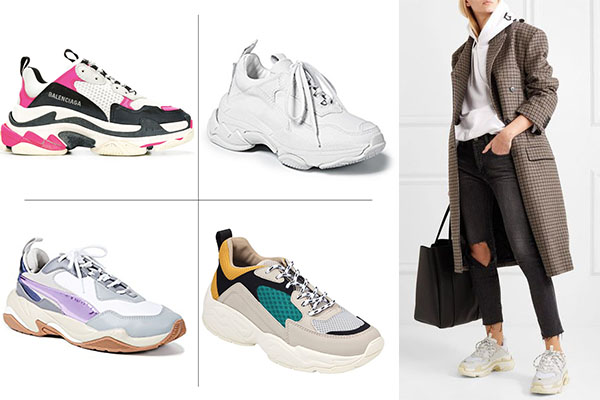 *Listed clock-wise by appearance*
Balenciaga Triple S Sneakers (top-left) – One of the first ever stylish "Dad Shoes", Balenciaga knows the way to make a quality chunky sneaker. The black, white and pink design, with the brand name boldly printed on the side, make this flashy footwear near unmissable.
Jeffrey Campbell Lo-Fi Sneakers (top-right) – These all-white, extra chunky sneakers are really, truly going full force for the 'Dad' look. The extra chunky heel allows for extra height, giving the illusion of longer legs, and who doesn't want that?! The style also has a flared sole and wedge heel for comfort.
Kendall + Kylie Dad Sneaker (bottom-right) – Love'em or hate'em, there is no question Kendall and Kylie Jenner know their way around Instagram. They created these shoes for the optimum "instagrammable-factor". The bright yellow and teal make the shoe pop, while the sporty silhouette of the top compliments the chunky bottom sole providing the perfect balance.
Puma Thunder Electric Sneakers (bottom-left) – As trend-centered as they look, these sneakers are actually meant for jogging! Atheletic as they might be, the metallic detailing on the side adds a touch of glam to the otherwise subdued design. And if the super-chunky soles aren't for you, these offer a more reasonable bottom just for you!
Classic Sneakers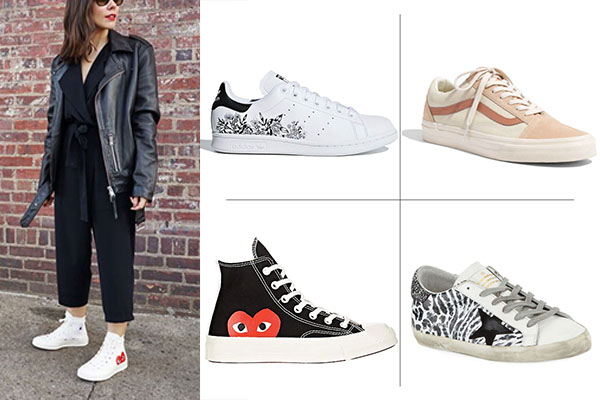 *Listed clock-wise by appearance*
Madewell x Vans Old School Lace-Up Sneaker (top-right)- A style previously reserved for the skateboard and surfer sets, the Old School sneaker from Vans has made its way to the forefront of street style. Though the shoe has made its way far from its origins, the style is still true to its roots. The suede and monochrome color palette add a fashion-girl feel to the classic kicks. Even better, they are made in the USA!
Golden Goose Superstar Smudge-Print Leather Sneaker (bottom-right)- Adorned with the signature star and distressed leather look, these sneakers are impossible to take as anything but the It-Girl sneaker of the moment. The glitter backstay on the shoe adds a touch of glam that elevates the appearance of the whole shoe. The design brings the chill of the West Coast with the craft of Italy…what more could a girl want?!
See a sneaker you just have to have? Treat yourself with a little shoe-therapy and get ready to take on fall with your best foot forward…….and please let us hear what you like, we'd love to know!
Feature Image courtesy of Vogue España