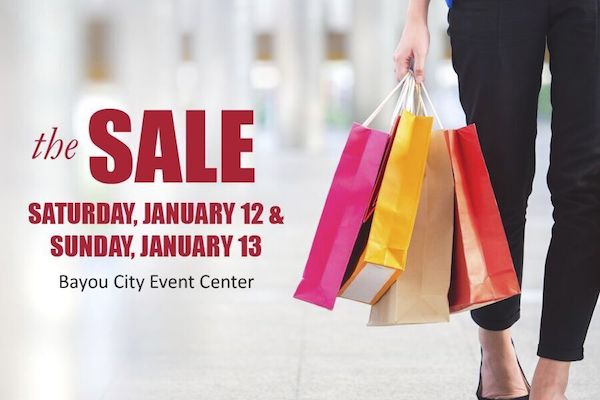 Houston's Tri Delta Alumnae Present the SALE, the ultimate shopping experience
Chairs:  Johnnie Skalla Taylor and Libby Scott Sims.
WHO:   Houston Tri Delta Philanthropies, Inc., the fundraising arm of the Houston Tri Delta    Alumnae Chapter, are presenting the SALE, an annual event spotlighting local vendors and sought after merchandise offered at a discount in an effort to raise funds for pediatric cancer research.
 WHAT:     It's a One-stop Shop for a unique offering of some of Houston's best jewelry, decor and clothing boutiques at great discounts. This coming weekend, January 12-13, the SALE is coming back to the Bayou City Event Center.
Special events include a pre-Sale Breakfast & Bubbly event for upper-level underwriters and will be emceed by Nan Kelley. A Delta Delta Delta alumnae herself  is a familiar face to viewers of Discovery's Great American Country (GAC). This ticketed event that begins with early sipping and shopping on Saturday morning and followed by Sunday Funday, which will feature a panel that will include Caroline Harper Knapp of House of Harper, Estela Cockrell of Switch2Pure and Marla Murphy of The Blonde Pantry.
The beauty of all of this is that the proceeds from this "shop to cure childhood cancer" event are used to fund pediatric cancer research at the University of Texas MD Anderson Children's Cancer Hospital.  Alernating the donation from Texas Children's Cancer Center and MD Anderson Children's Cancer Hospital, the SALE has donated a total of $740,000 for pediatric cancer research.
WHEN:   Saturday, January 12, 2019; Champagne Shopping Preview 10:30 – 12:00pm; Open to the Public, 12:00pm to 5:00 pm
Sunday, January 13, 2019;  Sunday Funday, 12:00pm – 4:00pm
WHERE:   Bayou City Event Center; 9401 Knight Road, Houston 77045
TICKETS: Saturday Champagne Shopping Preview Tickets; $150/person in advance;  Saturday General Admission; $25 in advance, $30 at door
Sunday Fun Day (including panel access) | $20 per person
in advance, $30 at door
Weekend Shopper | $30 in advance