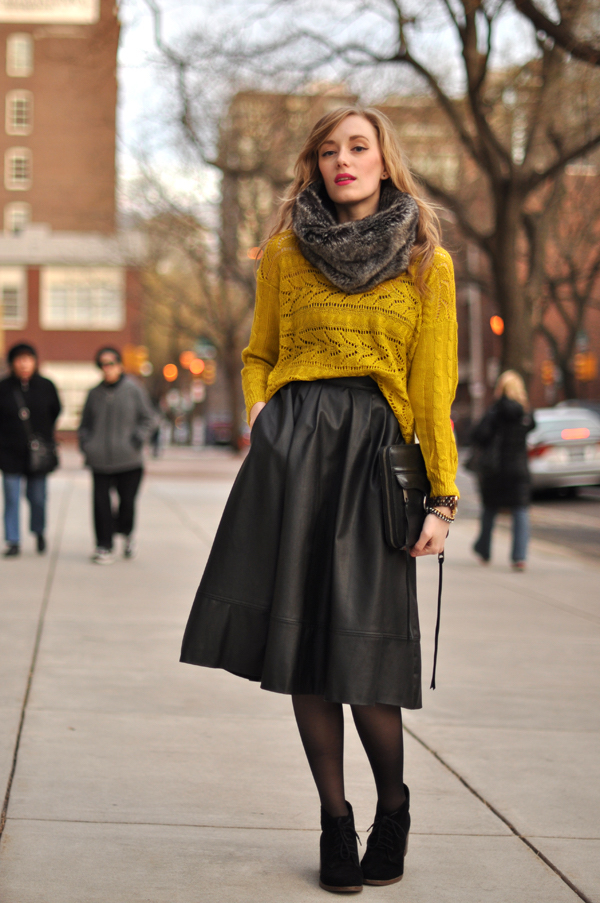 Houston – you really need to decide whether or not you are heading into spring or back into winter. I'm constantly carrying around a cardigan (thankfully and conveniently I found a gorgeous leather sleeved black cardigan in Zara which has been filling this role perfectly) because the weather is so unpredictable at the moment.
I went for a little bit of a window shop last week and may have found myself in Zara and then H&M (my two go to high street stores for quality bargains). I quickly noticed a couple of mustard sweaters standing out in the shop floor, along with gorgeous dresses which were dotted around the store. They grabbed my attention and I couldn't resist the purchase!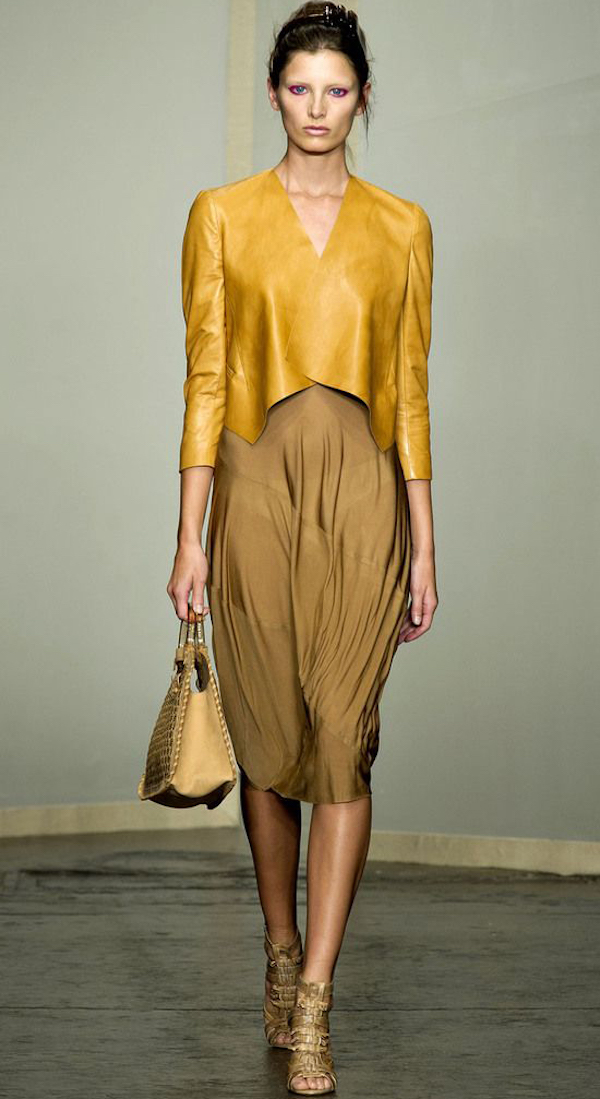 This year, we are seeing the color on the runway worn from head-to-toe including accessories and shoes. The idea of wearing the color as a neutral may seem a bit overwhelming but when you break it up by wearing a variety of textures and prints, the look can be quite flattering. The best shades that work hand in hand are lighter shades like grey, pink, blue, cream as well as black and white. Don't be scared to pair up with another bright colour; bring back the contrast colour blocking trend for spring.
Pair mustard with dark pieces. Whether it's a pencil mustard skirt or a mustard yellow shirt that you want to style, team it with something dark to create the contrast of the bright colour. A mustard skirt will look great with a gray/black sweater while a black skirt will complement your mustard top.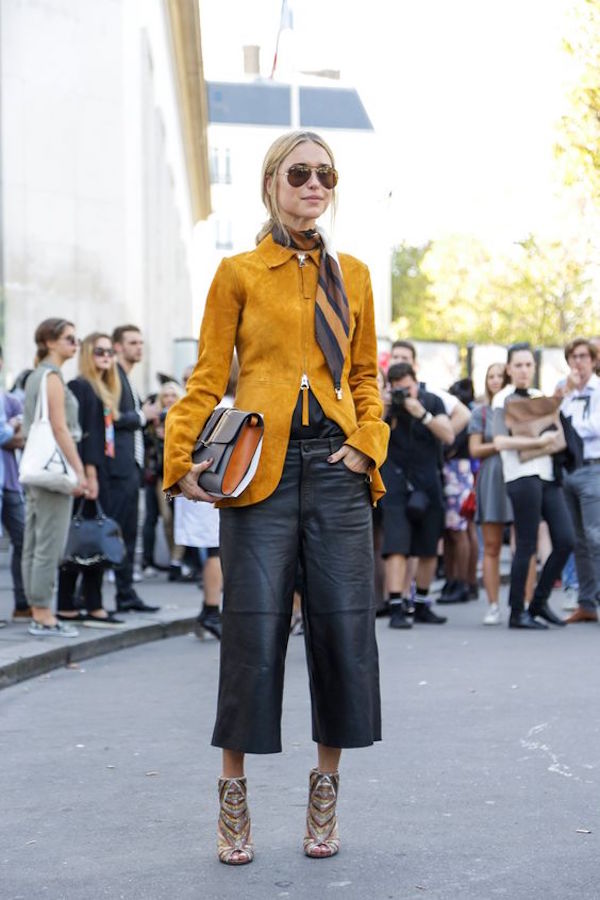 Mustard with nude prints. I have adapted the signature look of a leather skirt and tight top tucked in; in my closet currently I have a beautiful tan skirt and mustard top that I love.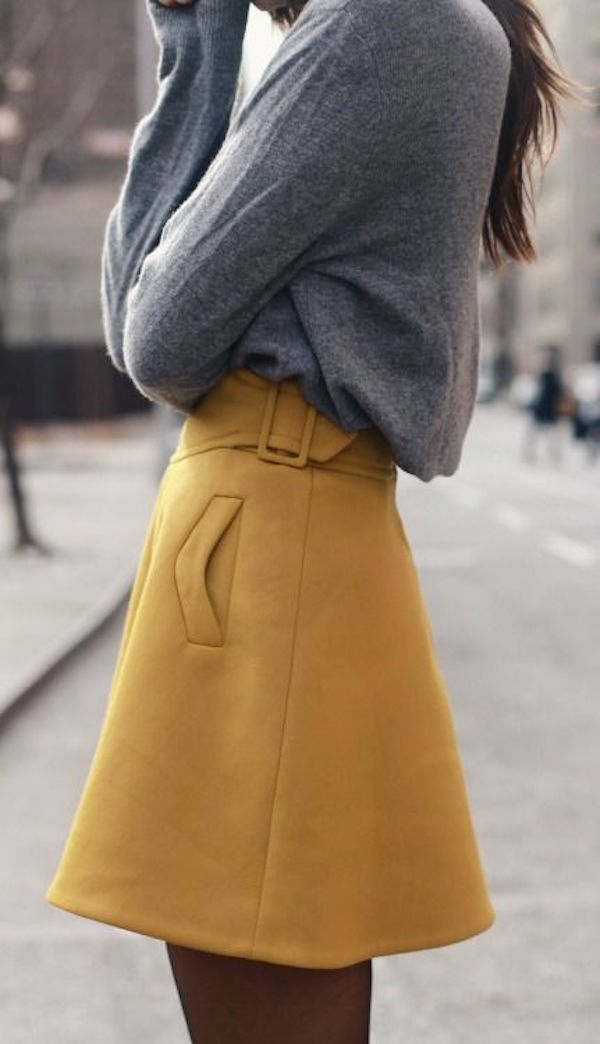 Simple mustard dress. Whether it a peplum style, an A-line, an empire waist dress wearing a mustard coloured simple dress is a confident way to go all the way with this trendy colour. Pair up with a cute blazer and cute boots. Dress it up with gold accessories, keeping the vibe warm opposed to going with cooler silver accessories. Plus, gold is very hot right now!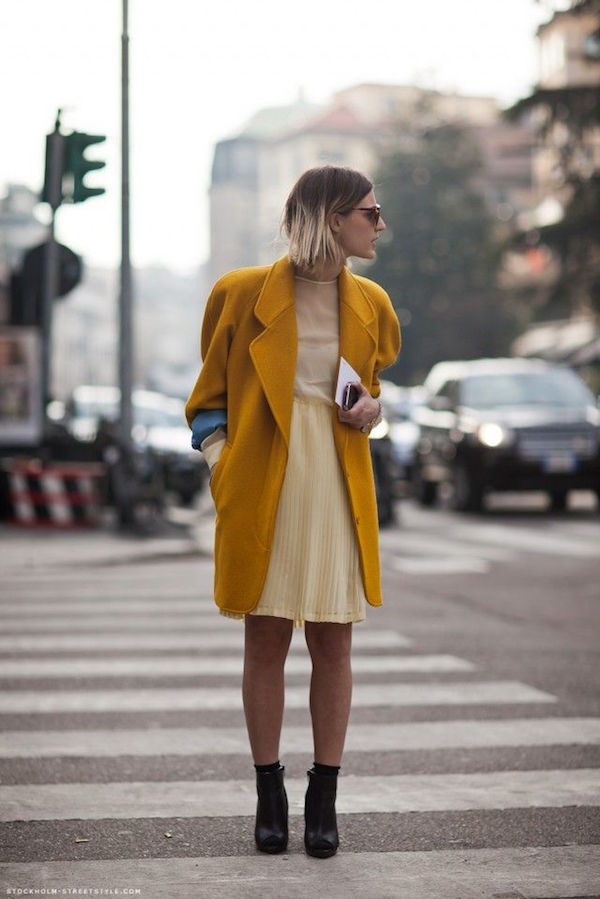 Subtle mustard. So you aren't ready to fully commit to this trend. Maybe you haven't worn this colour before, or you just can't escape black?! Try experimenting with accessories in this colour such as cute pumps or sandals or maybe a clutch or handbag. Feeling more confident? Purchase a vest or plain top which you can wear under a blazer or jacket.
There must be something hypnotic about the mustard color which causes its regular comeback every fall and spring. I for one couldn't be happier. From someone who has a wardrobe filled with blacks, nudes and khaki colors, mustard fits into my life perfectly!
Images borrowed from: Harper's Bazaar, Just a Pretty Style, FASHION Magazine, Pretty Designs, and Elle Canada
Shop mustard pieces below!