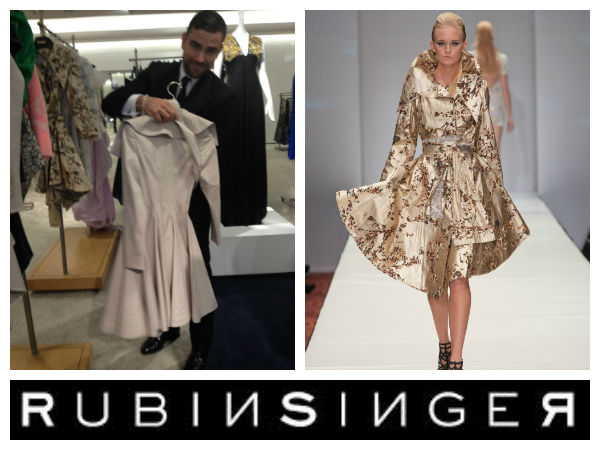 For Rubin Singer, recently in town showing his Spring 2013 collection for Fashion Houston and Neiman Marcus, it could be said that designing beautifully crafted garments was in his DNA.  His father, a gifted designer in Russia, produced his creations for the Bolshoi Ballet and his grandfather, for whom he is named, was the most celebrated designer in the Soviet Union designing for Russian royalty, political dignitaries and social elite.  His lineage of master craftsmen is apparent in his couture approach to his collection. The final garments, which he says he creates from an old world couture point of view, are modernized to empower today's woman.
After growing up in Paris, where he constantly studied under his father, who was then the designer for Chloe prior to Karl Lagerfeld, the family came to America. He attended St. Martin's Design School in London where he "dropped out" because as he says it, "he just knew it," after all he had been doing it since he made his first dress for his Mother at the mere age of five.  He opened his first store of his designs on Orchard Street in NYC at 20 and put together his first collection, scheduled for NYFW on September 12, 2001.  We all know what happened then, so he was off to find a job.  He had only one designer in mind, was persistent and landed a job at Oscar de la Renta, then Bill Blass and lastly, for Kai Milla, Stevie Wonder's wife.  After leaving there, he put together a collection for NYFW, in two weeks in 2007 and the rest is history!  The Ruben Singer line launched, was visited by key fashion retailers and publications such as Vogue and was successfully put in motion.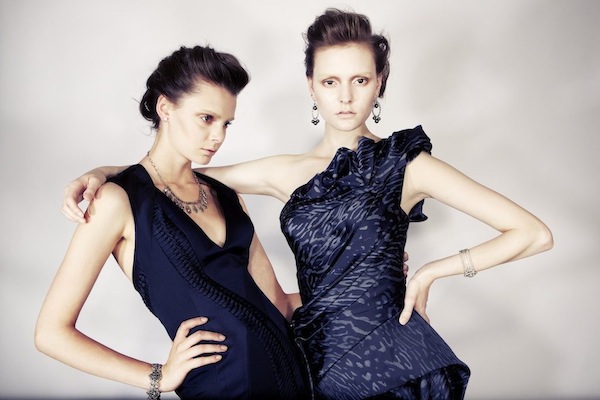 To say that Rubin puts his heart and soul into just the right inspiration for his collections is an understatement, and usually involves up to a 9-month process.  This Spring collection, which will be in stores in January and February, was based on a painting of the Death of Ophelia, the Shakespearean figure from Hamlet that collects flowers as she is dying.  Hence his collection reflects the color selection, order, prints and technique that took her from death and brought her back to life.
I found Rubin's dedication and his process very fascinating and very methodical.  He says that he still operates in many ways as an "old world couturier," making all of his garments in his New York Studio sewn by women, mostly Russian, that are trained to do fine detailing.
He was showing many styles at Neiman's the day after the show and says that there was a balance of in-stock as well as special order garments there for the customer to peruse.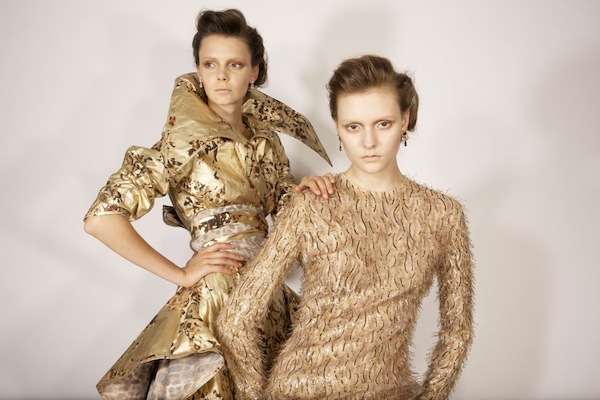 He also produces RTW for Neiman's at dresses that are stocked at approximately $800 and an exclusive evening gown collection in the $3500 to $6000 range.  He is most excited, as was I when I saw them, about his cashmere, double-faced coats in luscious colors that will be the only non-fur coats found in the Neiman Marcus Fur Salons.  He is also doing very sophisticated rainwear for the Spring Season.  You see, his excitement comes again from his natural inspiration from his father, Alik Singer, who for several years was very successful making coats for Neiman's and Bergdorf's that won him the title of the "King of Coats" in the fashion industry during the '80's and '90's.
Mr. Singer has developed quite a celebrity following with actresses/singers such as Glenn Close, Beyonce, Heidi Klum, Lucy Liu and Alicia Keys appearing in his frocks.  He can also be found in most major fashion publications such as Harper's Bazaar, Elle plus many more.  Look closely, he and his beautiful dresses are out there for your shopping pleasure at Neiman Marcus or visit www.rubinsinger.com for more info.