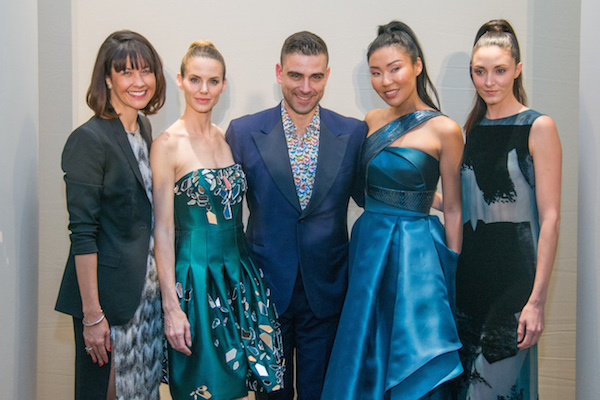 One of my favorite designer guys, Rubin Singer,  was in town to show his newest Fall 2016 Collection at Neiman Marcus for Recipe for Success' Dress For Dinner event, hosted by      Carrie Colbert; Carrie and Houston's finest models featured above with Rubin.
Gracie Cavnar, founder of Recipe for Success, was able through some collaborating with friends, to convince Rubin Singer to come to Houston for their 7th Annual Dress for Dinner Fashion Event Campaign.  Rubin is not a stranger to Houston and has, in fact, quite a following of ladies eager to buy his very special dresses.  He has been here a couple of times for Fashion Houston, each time here I have made it a point to chat with him as I'm a fan of his clothes and of the guy himself.  If you love his clothing and from the crowd he usually attracts, you do , then you should click here and take a quick read of my original story on Rubin. He is a third generation Russian couturier that does amazing things with fabrics, technique, details and trim/embellishments.  So was I surprised when I read that he had created Beyonce's sexy outfit for her landmark Super Bowl performance in February 2013. Not really as his collections were getting hotter and sexier each season but I must say I would not have won that wild guess if it had been given to me.
The Neiman Marcus show was fresh off the runways of NY Fashion week and literally being boxed that night for Rubin to take with him the next morning to Paris Fashion Week where he will be doing a salon format daily, showing to International Press, and to Retailers abroad, where he does quite a large business.
About Fall 2016 Rubin Singer:  His theme for this one was HOMOMORPHISM, which means in layman terms, an abstract algebraic function in which any set of numbers are set and then after multiplying these many times over, come out to be the same.  For Rubin, who was creating his 30th collection over a seven year span, felt that he has cemented himself as a designer, creator and businessman and reflected on all of the elements that define him and re-callibrateed them to change them and/or to make him better so that he was not just continuing to do what he has in the past.  The end result was, a glamorous, unique and creative approach to dressing that we have known to expect from this designer.
Please see the images below from the Fall 2016 Collection…..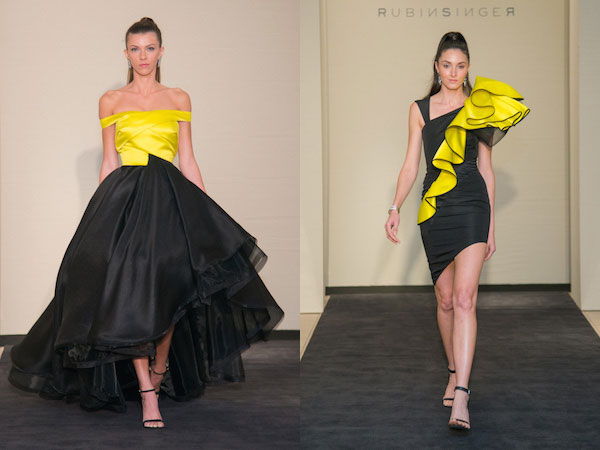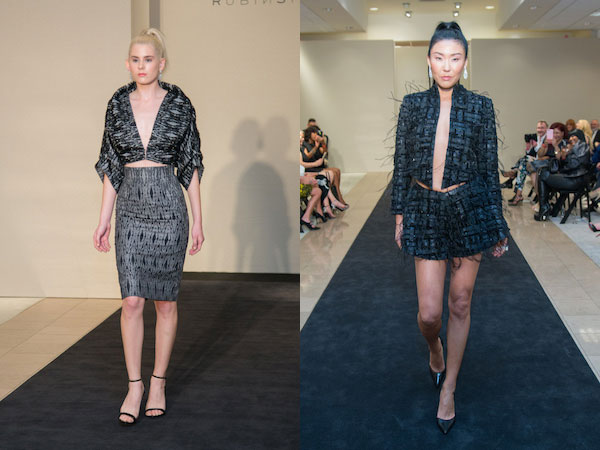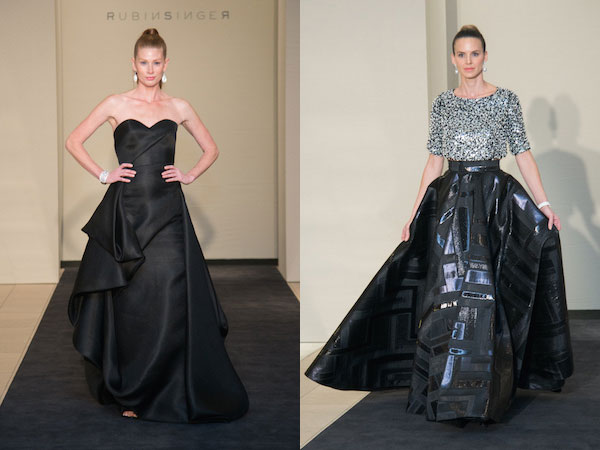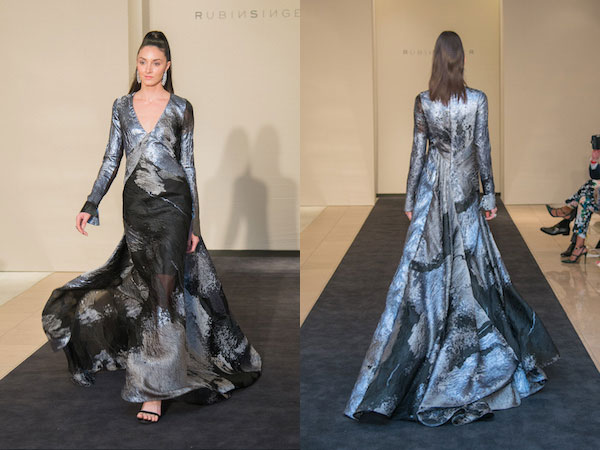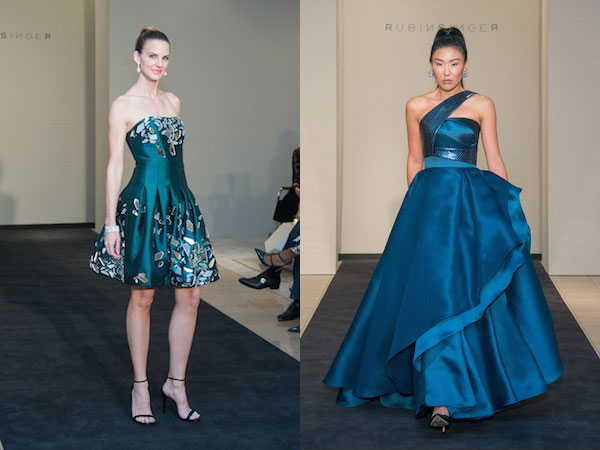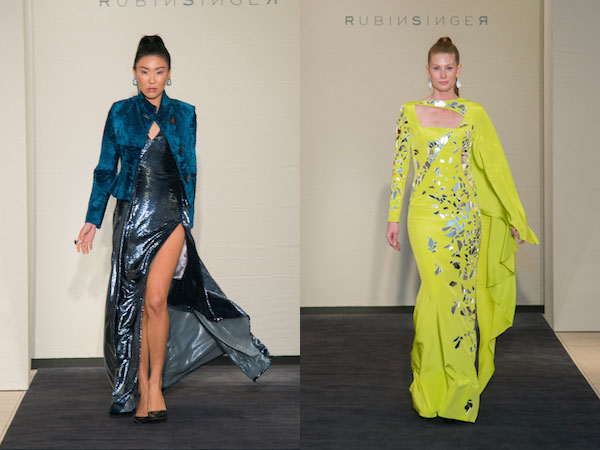 The Crowd of Recipe for Success Followers there to cheer on both, Gracie for her 10 years of success and Rubin for his stunning designs and presentation.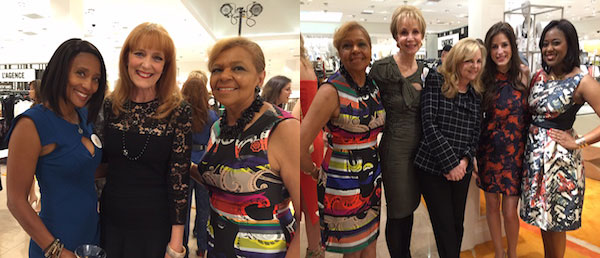 Left to right, Jackie Fair, Gracie Cavnar and Yvonne Cormier; Yvonne Cormier, Leisa Holland-Nelson, Kim Padgett, Laura Max Nelson and former Channel 13 anchor Sharon Melton.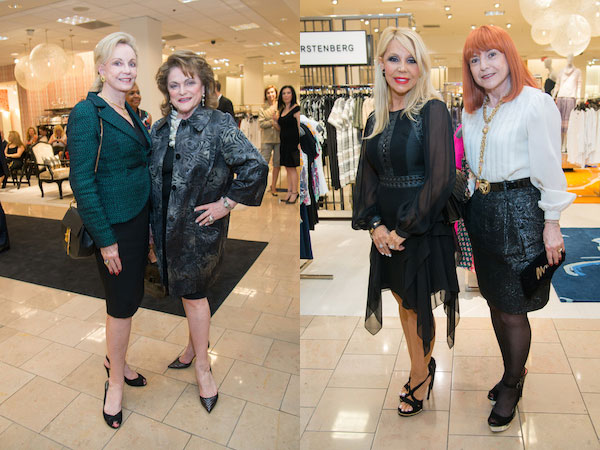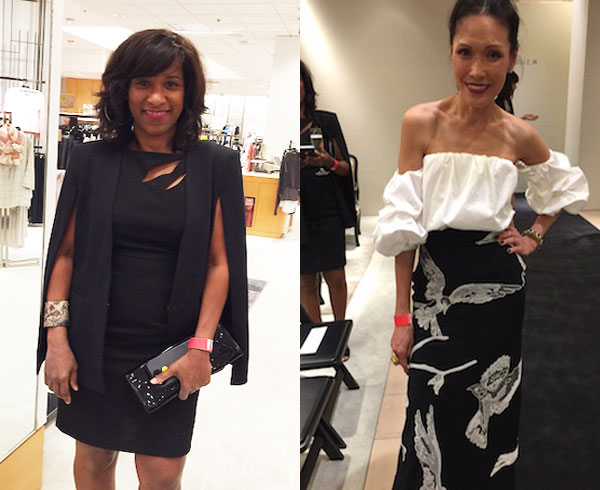 Two ladies wearing two of my favorite looks for Spring:  on the left Houston Chronicle's Fashion & Beauty Editor, Joy Sewing in a Cape/jacket style that I must have; and on the right, NM customer, Duyen Huynh in white cold shoulder Johanna Ortiz top, another must have for my spring wardrobe!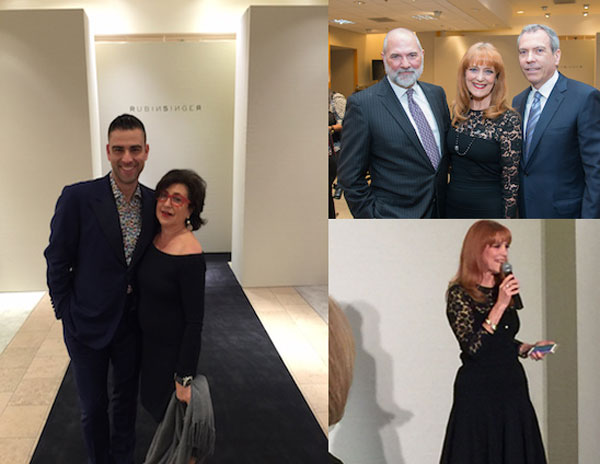 So here we are, me with many of my faves of the evening……left, Designer Ruben Singer, top right, Bob Cavnar, Gracie Cavnar and Bob Devlin, NM Store Manager, and bottom right, RFS founder, Gracie Cavnar, sharing with the crowd our 'requirement to start  the show' and to become a raffle contestant….we all had to sign up for the 'Veg Out' App, RFS big push for March 2016.  If you don't know about this, the VegOut movement is about consuming 30 different vegetables in 30 days. The second annual VegOut challenge is here to encourage Houstonians to live healthier lifestyles by helping you eat more vegetables.