Another recurring favorite at TOOTSIES that was featured at the WOW Party for Dress for Success, was Brazilian born, Claudia Lobão. Catching up and chatting with Claudia is always such great fun and I always learn something from this master of jewelry design that is always on the look-out for something new.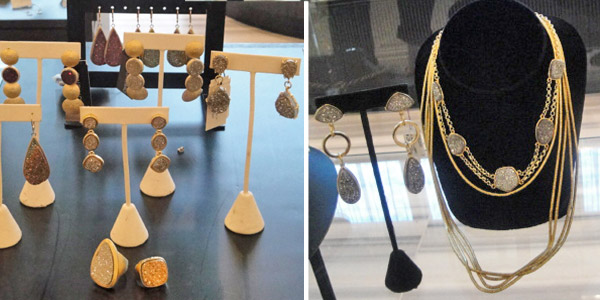 Of course, collectors of her expansive flat silver and gold earrings, such as myself, always have to stop by to see the newest shapes she's brought along for this trip, and I found some great new ones that I had to have as well as a vast assortment of cocktail rings, such a popular jewelry trend for this season!  This jewelry designer and transplanted Texan (she lives in San Antonio by way of NYC with her hubby and partner Paulo), has continued to also be popular with the "A" list Hollywood celebrities.  Most notable is her presence on Desperate Housewives as a regular provider for that show.
If you are a follower of hers, you know that she is also known for her Crochet Handmade jewelry, and for this was awarded the Rising Star award by the Fashion Group International in 2009.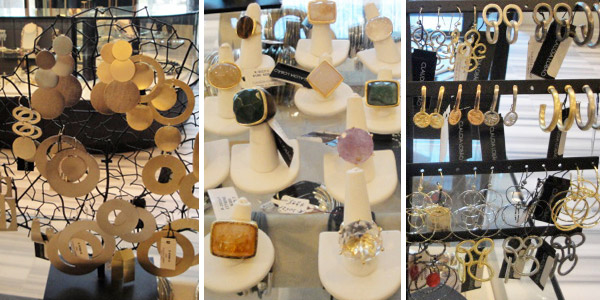 Always looking for the next thing, Claudia has developed a technique by working with the jewelry miners in Brazil that takes the inside of hollow stones and uses the geos (sparkly part) and developed a Druzy stone, which she then paints in titanium and gold and the end result is like no other.  I bought a pair from her last TOOTSIES   appearance where she had limited samples and are a huge hit and conversation piece every time I wear them.  As I told Claudia, people always ask me what they are as they look like sparkly uncut diamonds? And I never could explain….but I can now, thanks to my "druzy lesson 101" with Claudia this trip.  They are pictured here but photos do not do them justice, so you must stop in TOOTSIES to catch a glimpse.  She has done magnificent rich colors, primarily in the earrings but has Druzy pieces in all categories of her line.  Also, the price is unbelievable…..$250-$750 for most styles.
If you visit her site, www.claudialobao.com you can get all the details, but trust me on WOW night, the "druzies" were all the rage!
Click here to check out some great photos from the WOW Event benefiting Dress for Success at TOOTSIES.