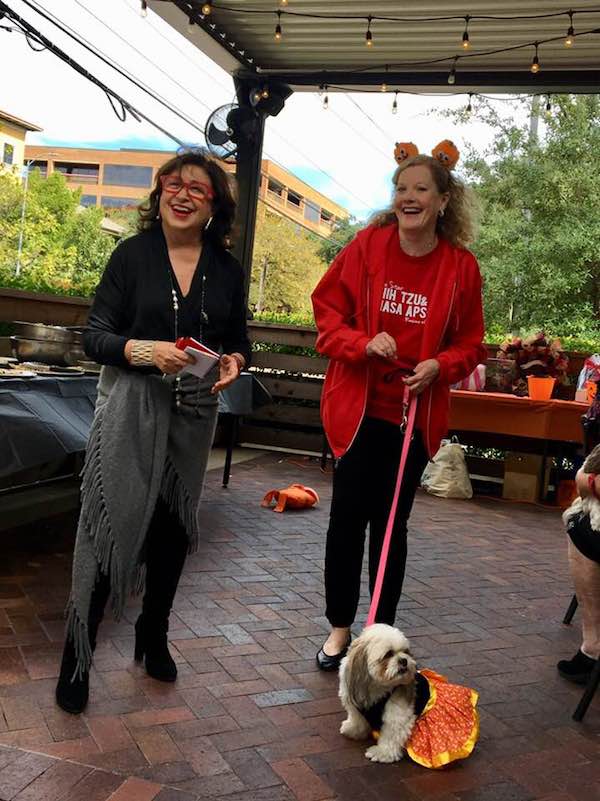 Yours truly, Roz Pactor,  M.A. Shute and LuLu, one of our model STARS of the afternoon
I must admit that when I was asked by my friend, M.A. Shute, a devoted rescue dog advocate, to commentate an all canine fashion show, I replied that while I was very experienced in talking the fashion-talk while accompanied by the fashion-walk, I was comfortable doing so with my stunning model friends. However, the cause, raising funds for rescue, was something I certainly believed in and although I had not ventured into the four-legged model arena, I'd give it a try!  Well what fun it was and what precious "models" I had to work with.
The event, Sunday Funday for Dogs and their Guests, held recently at Cane Rosso Pizzeria, was a fundraising effort for the Lone Star Shih Tzu  and Lhasa Apso Rescue of Texas and all of my models were adopted from that sight. The doggie models ranged in age from the youngest to the young at heart at age 12. Their performances were top-notched as if they had done this before and the cause is what really mattered to all that attended. Prizes were given to the "best dress" Halloween costume and fashion ensemble! Hardest part of the day was picking that winner!
As there were many rescue-owners there in our audience I know that there are many reading this that would love to contribute….if so please visit their website at Shih Tzu and Lhasa Apso Rescue of Texas for more information and contributions.