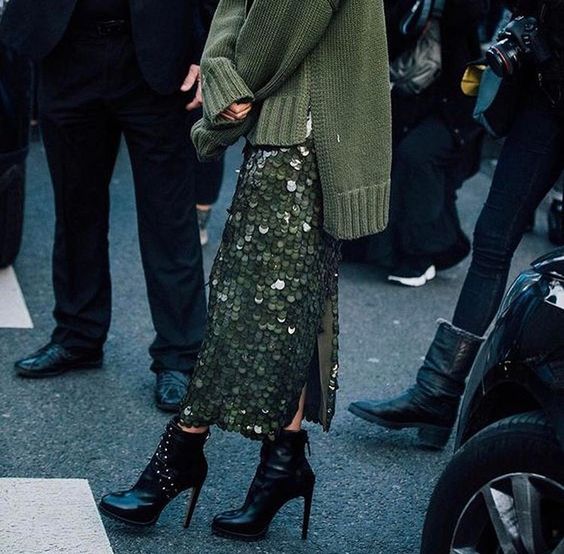 Combat gloomy cooler weather with some serious shine from sun up to sun down! Sequins are no longer just for night anymore, its time for you to dazzle all day!
As we approach the season of cooler weather, holiday parties and festive celebration, its time to find those go-to pieces for every gathering! There is just something about the dropping temps that makes us want to dress a little fancier and what better way to do that than our most trusted sparkly-sidekick – sequins!
These magical, decorative disks are the perfect way to add some pizzaz to absolutely any wardrobe! With so many different pieces available in this fabulous fabric, the outfit possibilities are utterly endless. When paired with the right accompanying pieces, your favorite glittering garb can make its way from night to day!!
We have searched high-and-low for THE ultimate sparkling staples we think every fashion-gal should have in her closet this season! Unsure of what to pair them with? No worries- all the outfit inspo you could ever need is right here AND it is all fully shoppable! If you find a piece (or outfit!) you love, just click on the item name in red listed below the image and it will take you straight to the retailers page. Keep scrolling for some shimmer and shine!
---

Skirt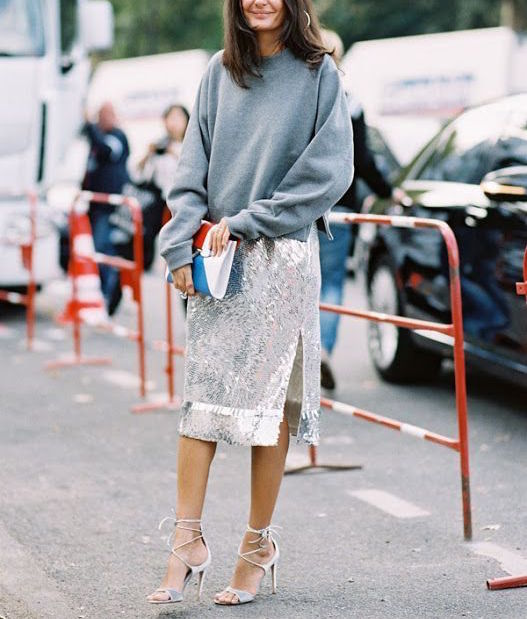 Bloglovin'
There's no skirting around it….this sequin look is simply adorable! One of the most versatile pieces in any closet is the skirt, so why not up the ante with one a little more glam? The chic shine balances perfectly with an understated graphic tee, and has an added level of edge when paired with black leather booties. And if your ready for a night on the town, swap the tee for a silky long sleeved top and slip on some star-studded sandals and you're ready to party!
Shop the outfit below!
Skirt: J.Crew Sequin Midi Skirt with Tie, $198 // Day Look: Madeworn Aerosmith Tee, $175 & Target Microsuede Slouch Booties, $37.99 // Night Look: Michael Kors Stud-Trim Chiffon Shirt, $140 & Lola Cruz Starry Mules, $228
---
Jacket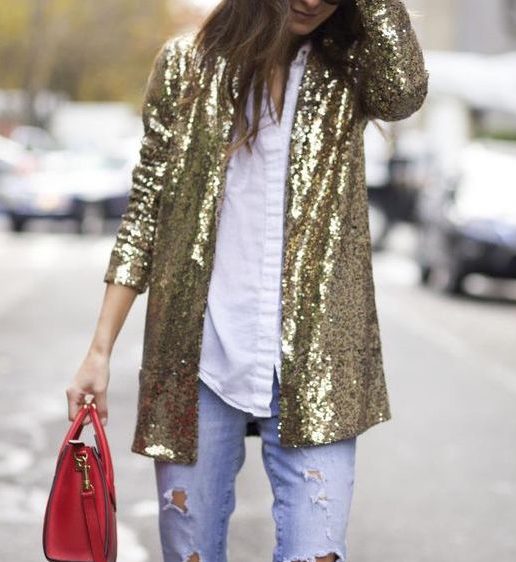 Top off any outfit with just the right amount of shine! A glittering long coat adds an instant level of umph to absolutely any look. Throw it on over a soft sweater and your go to denim for an ensemble that screams fall! Want a dressier look? Pair the eye-catching sparkle with a simple silk camisole and sleek, structured pants. Top it off with some strappy sandals and you will be the chicest chick wherever you go!
Shop the outfit below!
Jacket: Alice + Olivia Sequined Crepe Coat, $965 // Day Look: Nordstrom Dolman Sleeved Ribbed Top, $39 & Free People Frayed Skinny Jeans, $78 & Madewell The Regan Boot, $178 // Night Look: H&M Satin Tank Top, $29 & Bailey44 Boardroom Pants, $168 & Steve Madden Fico Sandal, $54
---
Pants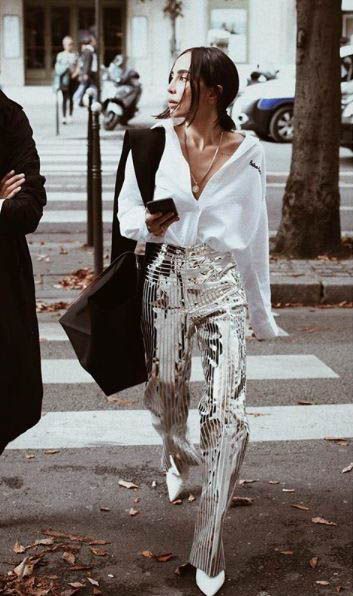 fromluxewithlove.com
Just as cozy as they are chic, sequin leggings are all any girl could ever wish for! The quintessential mix of stretch and shine, these pants will go with just about anything. Keep it casual with some sneaks and a warm sweater for those holiday season errands. At night, all you have to do is throw on a simple-yet-stylish wrap top and bold black booties for perfect evening glam!
Shop the outfit below!
Pants: Marc Jacobs Stretch Sequin Leggings, $249 // Day Look: H&M Knit Sweater, $35 &  Tretorn Perforated Platform Sneakers, $94 //Night Look: Topshop Asymmetrical Blouse, $55 & Aldo Aurella Ankle Boots, $100
---
Top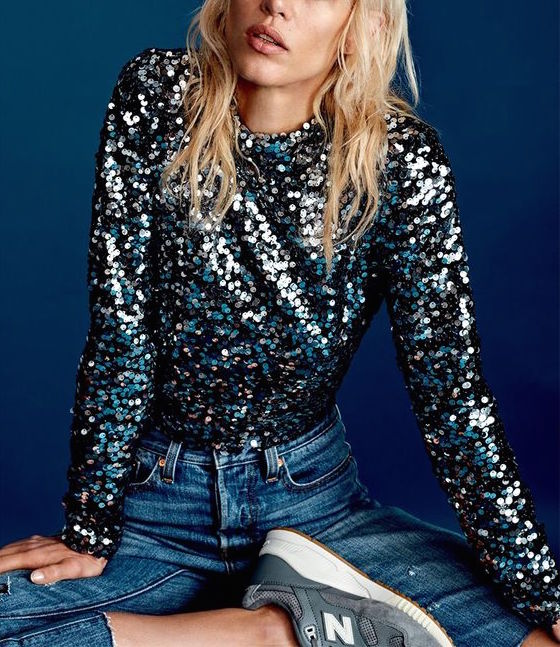 fashioneditorials.com
Here comes cool weather…which means its officially long-sleeve season! Nothing goes better with denim than glitzy silver, so there's no question this pairing will turn heads!.Round the look out with some cute bow mules, for an outfit that is casual, cute AND glam! For night, the perfect pairing to the bold sequin top is a ladylike lace pencil skirt. The fabric and silhouette of the skirt, along with glitzy heels, are the ideal partners to an already eye-catching top!
Shop the outfit below!
Top: Milly Sequined Mock Neck Top, $250 // Day Look: DL1961 High Rise Vintage Straight Leg Jeans, $199 & Jeffrey Campbell Bow Mule, $70 // Night Look: H&M Lace Pencil Skirt, $50 & Sam Edelman Ankle Strap Sandal, $119
---
Dress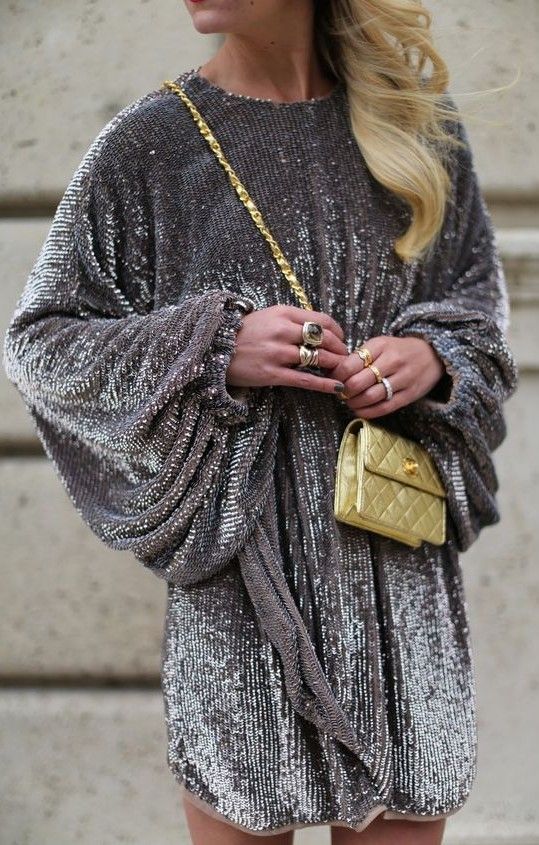 Dressing to the nines doesn't always have to be for evening events! A shiny-chic dress in such a flattering silhouette is the perfect piece to transition from day to night. Casual accessories like snakeskin booties, a bold western belt, and boho hat are the ideal way to balance the evening sparkle. When the sun goes down, slip on precious bow-heeled pumps to compliment the dressy feel. Finally, throw on a bright-colored headband for an unexpected pop of color!
Shop the outfit below!
Dress: H&M Sequined Dress, $70 // Day Look: Eugenia Kim Hudson Hat, $55 & Ecote Leather Tipped Metal Belt, $29 & Not Rated Tarim Snake Embossed Booties, $65 // Night Look: Lele Sadoughi Velvet Headband, $45 & Neiman Marcus Glitter Bow-Heel Suede Pumps, $110
---
Feature Image courtesy of Glamour