B.B.Lemon, now opened, is a true labor of love for owner, Ben Berg, a transplanted New Yorker, who modeled his newest eatery after a home-town fave!
B.B. Lemon, the cozy, casual restaurant across the street from Ben Berg's famed steakhouse, B & B Butchers on Washington Avenue has opened and I couldn't be happier. You see, like Ben, I had a favorite hang-out in New York City that was in my 'hood and was a regular stopping off spot for me after my long hours of working in New York retail at Bloomingdale's. That favorite haunt of mine, like so many of my best buddies, was JG Melon's…..known for its great burgers, top notch bar-fare, gathering of cool people and for me, silly as it may seem, it's signature matches! (more on that a little later!)
Ben Berg has accomplished his goal…..creating a neighborhood, friendly and clubby atmosphere for dining and just hangin' out that blends the best of his two favorite cities…..New York and Houston!
About the Food: The menu captures what are definitely the highlights of retro-dining, New York style. The menu speaks to so many favorites….."tavern foods" such as burgers, cottage fries, BLT's, grilled cheese with bacon and tomato, chili, corned beef and cabbage, banana pudding, A & W rootbeer floats and so many more. Simple, straight forward food that talks to cozy, comfort but not really comfort food as we know it here…….truly a medley of New York/Texas fare. There is a raw bar and a full-service bar that serves up any cocktail that you desire.
About the Look: The decor which definitely is highlighted by bright bold neon LEMONS everywhere set against a warm green backdrop seen in checked tablecloths, tufted banquettes and wall coverings. To top it off, on those days and nights weather permitting that you dine outside, there is a patio lined in potted Meyer Lemon trees and white lights. Everything about the decor is warm and invites you to just hang around for hours…..even those late, after hours as BBL is open for service until 2:00 a.m. Thursday thru Saturday.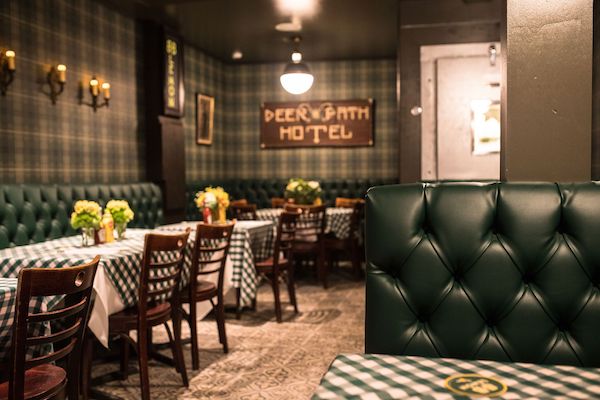 Back room featuring signature green check clothes and tufted banquettes adding to the casual, comfy decor.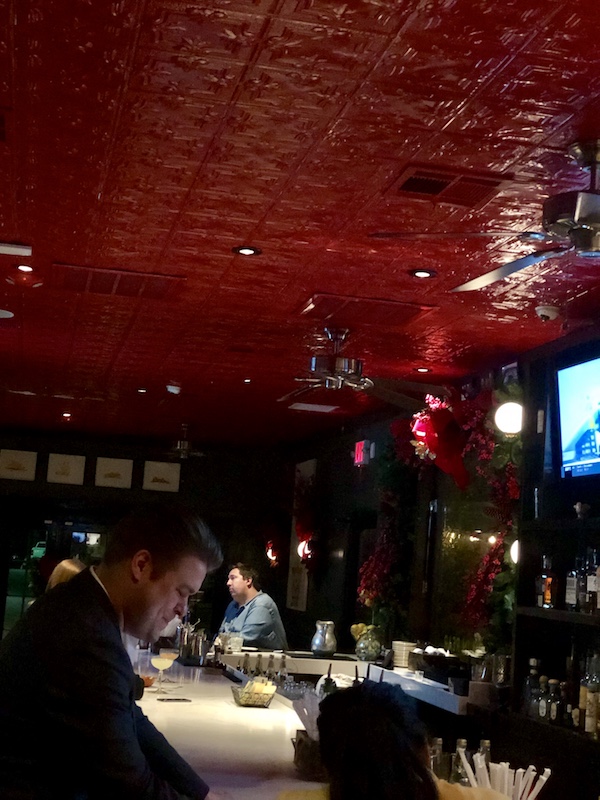 Bar area featuring red embossed tin ceiling…..such a NY decor feature, especially in RED!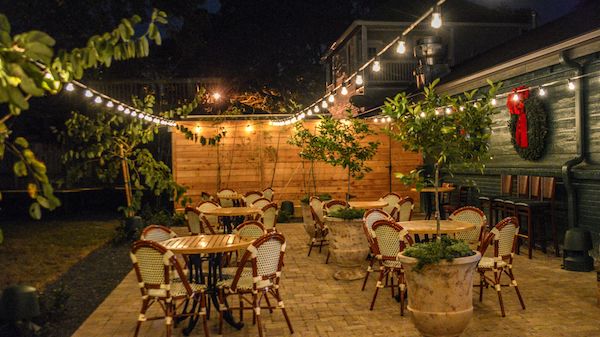 Outdoor patio featuring potted Meyer Lemon Trees
Below are a sampling of some of the delish foods that I could not wait to dig into. Topping the list were the Cottage Fries and my very favorite NY food memory which BTW, I still have to have one of every time I  make a Big Apple visit and that is Grilled Cheese with Bacon and Tomato, my every day, order-in lunch at Bloomie's that I could never get here on my return home.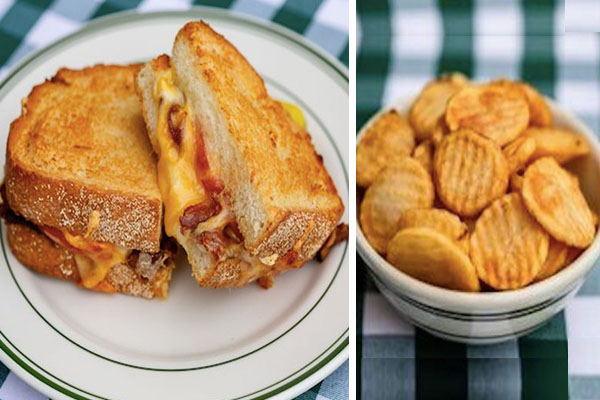 What can I say?? My very favorite things on the menu……add their divine Patty Melt and I'm truly in heaven….yes, it's the small things!!
Menu highlights….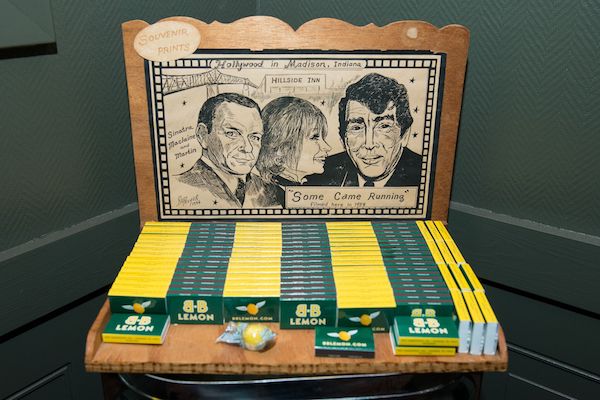 A signature of JG Melons were their matches, everyone carried them back then and in fact, on leaving NYC for H-town, I was given a brown bag full of them…..well, B.B. Lemon has captured that even better, and trust me they will be the newest 'pick-up item' around town very soon!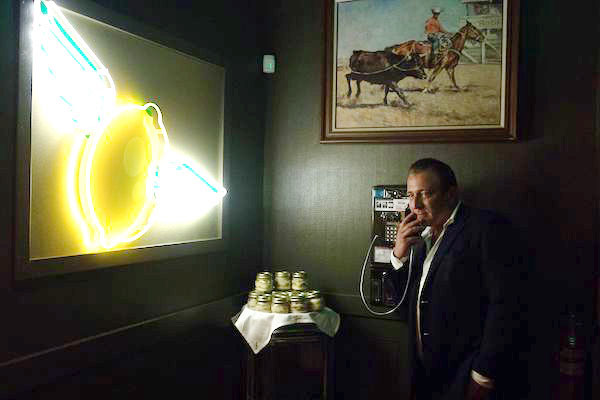 Ben Berg standing next to his retro, but familiar to many of us, wall pay phone, in his double-door entry, another Big Apple way of doing things that is rarely seen in our neck of the woods……"To us, this was about creating a fun, neighborhood sot where there's something for everyone, but it's also worth the drive for people who don't live in the area," says Berg. "Our team really enjoyed putting together the design and the menus and we hope Houston loves it as much as we do."
Restaurant details: Located at 1809 Washington Ave. (across the street from B & B Butchers); Hours of operation: Sunday 11am-10pm, Monday-Wednesday 11am-12am, Thursday-Saturday 11am-2am. For more information call 713-554-1809 or visit; www.bblemon.com or on social media at @bblemonhtx.