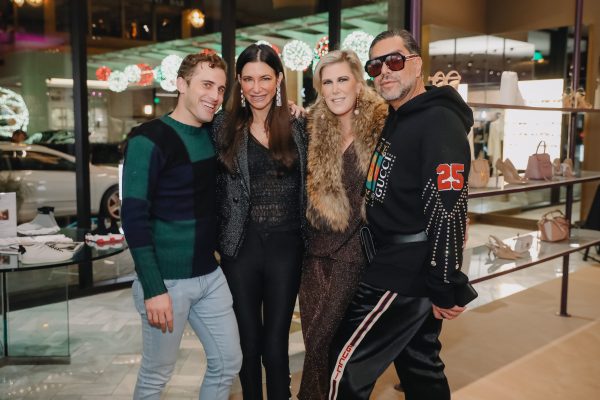 Houston's Hair stylist extraordinaire, Ceron, with party guest, Michael Mandola, Melissa Mithoff and Kirby Cohn at The Webster luxe fashion boutique
Houston's dynamic style duo, Ceron, hairstylist and party-guy-extraordinaire and The Webster, team up to welcome friends for a toast to good cheer and holiday happiness. The timing was such as it was a much needed uplift to our town who just that week were grieving some major losses to our city and could not have asked for a better pick-me-up than to gather with friends and celebrate the holiday season which is upon us.
The beauty of the evening was also  that The Webster is offered a percentage of all sales to benefit L.I.F.E. Houston. L.I.F.E. Houston, open since 1988,  is celebrating its 30th year of being the only agency in town that provides emergency food for babies. This cause is very near and dear to Ceron as he revealed in his  introduction of its Executive Director, Nicole Browning.
Such a fun way to celebrate the holidays while also helping to donate to such a worthy cause.
Below are some party pics of the evening, with Guest of Honor posing with many of his favorite guests……
---
For more information on Ceron's newest location, check out the story below:
Mark Your Calendars: Cerón Hair Studio in Memorial Green Planning Grand Opening Celebration