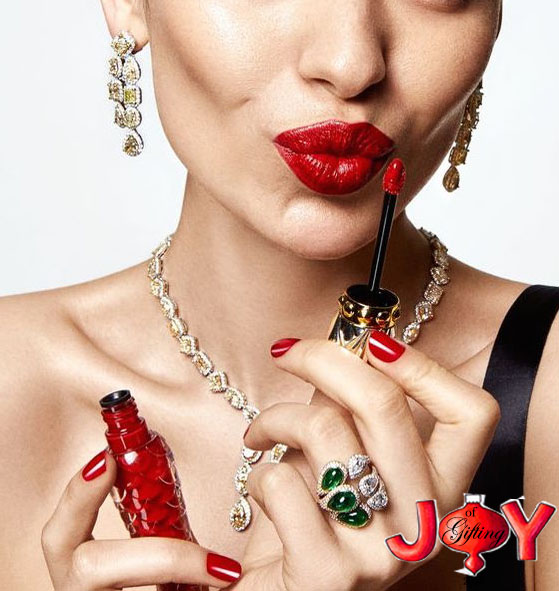 With so many Holiday parties and celebrations on the calendar, this is the season of glitz and glamour! Pamper your special ones with this years hottest beauty gadgets and goodies!
Winter weather is a nice refresher from the usual humidity we live through here in Houston, but sadly our skin cannot say the same. The dry air and busy schedules make any normal skin care routine suddenly seem insufficient or overdone. This year, give them the gift of convenience and luxury. Everything from masks, to perfumes, to makeup can truly make their holidays all that much brighter!
Whether they are into the newest anti-aging movement or just love to spoil their skin, there are TONS of beauty items on the market that they will absolutely love. Our face is the first thing people see, so help them put their best one forward! Unsure of their beauty routines? No problem- gift sets offer the best variety of product while getting the most bang for your buck! This gives them the opportunity to try out many different products and truly determine what works best for their skin!
The other top beauty gift category we recommend is fragrances! It is always fun to try out a new scent, whether it be in perfume, bath/body oil or even candles. The perfect aroma can instantly transform their mood and make any day brighter!
See the ideal gift for that beauty guru in your life? Just click on the item's name in red to be taken to the retailer's page to purchase! 
---
Gorgeous Skin
1. Switch2Pure The Wellness Kit –  Help them make the switch to all natural & pure products with this starter-line kit, giving the perfect opportunity to try it without the commitment!
2. BeautyBio GloPRO Microneedling Regeneration Tool Pack'N'Glo Essentials – Microneedling is all the rage right now, so keep them up to date with this adorable travel pack, exclusive to Neiman Marcus, so they can stay glowing wherever they go!
3. BeautyBio Rose Quartz Radiance Set – This set is a true gem for anyone in your life that wants to "feel the love, harness their chakra and enjoy the healing benefits" of rose quartz!
4. Herbivore Botanicals Brighten Pineapple + Gemstone Mask – Who doesn't want brighter, more glowy skin? Which is exactly why this mask is the ideal gift to brighten anyone's day (and face)!
5. Supernatural Body PoSHen Facial Serum – This luscious moisturizer is just what they need to fight the winter weather, all while fighting signs of aging!
---
Dreamy Fragrances
1. Le Labo The Discovery Set – Limited Edition AND deluxe set…what more could any girl ask for? Especially when this set comes with ALL 16 different scents from the line's entire collection!
2. Voluspa Japonica Pedestal Set – This set of four candles lets them match their fragrance to their mood for the day, and may even help them find their signature scent!
3. Yoke Adaptogenic Bath and Body Oil – Available in two different scents, this oil can be used in the bath or on the body and are ideal for rejuvenating the body and soul! (available locally at Abejas Boutique)
4. Jo Malone The Addictive Trio – This mini collection of scents is the perfect way to get their addiction started, and leave them smelling good while doing it!
5. Hermes Limited Edition Fetes en Hermes Twilly de Hermes Gift Set – The gift of Hermes can simply not be beat, especially when it is limited edition!
---
Gift Set Glam
1. Kiehls Collection for a Cause Set – This kit gives them a simple four step routine (instructions included!) so even the busiest girl on the go and keep her skin glowing!
2. Sephora Give Me More Lip Set – With a variety of shades, styles and brands, this lip set is the perfect way to get their lipstick wardrobe started!
3. Laura Mercier Master Class Artistry in Light Holiday Illuminations Edition – Equipped with everything they could possibly need for a glam night out, this limited edition set is like twenty gifts in one!
4. Tatcha Bestsellers Set – The name says it all! These best selling items have proven to be good, so you can't go wrong gifting them to your beauty-loving bestie!
5. Drunk Elephant Agent Ellie Day Kit- This kit gives them their whole day time skin care routine in one little package, and the packaging is just as good as the products themselves! (sold out online, ONLY available at Kuhl-Linscomb)
---
For even more The Joy of Gifting gift guidance, check out our other gift guides from this season:
The Joy of Gifting…for the Hostess
The Joy of Gifting…for the Traveler
The Joy of Gifting…for Their Hobbies
Feature image courtesy of Pinterest