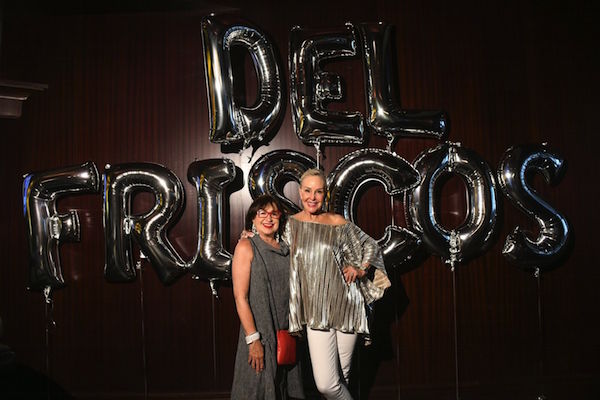 What a fun night of celebrating Summer…..yours truly and fellow blogger, Sheree Freede of SheShe Show hosted many good friends to the newly renovated Del Frisco's Steak House in Houston Galleria
What a fun time and great honor for me when I was asked, along with my friend and fellow blogger, Sheree Freede to co-host a Summer Kickoff Happy Hour at the newly renovated and updated design of the Del Frisco's Double Eagle Steak House in the Houston Galleria.  What a great way to gather friends before the whole Houston travel scene kicks in and so many head in different directions seeking reprieve from our upcoming summer heat!  Below I'd love to share with you some party pics of the night we shared and scroll a little further for some preview shots of the newly updated restaurant, designed by my friend Lisa Roth and her partner Bob Montgomery of Montgomery Roth Designs.
What is special to note is that the newly upgraded and subtle changes are spectacular but still the consistent element is the divine food……we stayed after for a delicious meal of steak, perfectly prepared and some side dishes that I still have the tastes racing in my mind. Make a visit to see the new digs, treat yourself to a delightful dining experience and say hi to their service-friendly managers such as Arthur Mooradian, Regional Manager. (comments below)
"Celebrating the 10th anniversary at our Galleria location was a special occasion for all of us at Del Frisco's," said Arthur Mooradian. Arthur who is one of the most beloved restaurant personalities in Houston, was the original general manager that opened "Dels." "The immediate Wow-factor is the crystal chandelier. Its stunning all day but at night it's the centerpiece of the restaurant. The overall look is fresh and modern. With bright pops of red that really energizes the space. Long time guests and first timers really love it and so do I."
Party Pics…..
Roz and Sheree getting warm and cozy with the extra special table decor….summertime replicas of our logos.(thank you del friscos) For Sheree the pink flamingo floatie  and for me, red sunglasses, of course.
About the remodel……..
New additions/ Updates include:
The stunning crystal chandelier that cascades from the second floor down to the first floor dining room
New plush banquets and dining room chairs add pops of red color
All staircases and flooring were updated from the former green slate to a contemporary black and white marble which gives the space a more clean and sophisticated look overall
Custom framed mirrors and red velvet booth upholstery for level 2 booths
The bar tops were updated with marble and the face of the bar is now upholstered in Italian cowhide
Private dining rooms and wine cellar updated
Images courtesy of Del Frisco's
Social photos courtesy of Daniel Ortiz photography