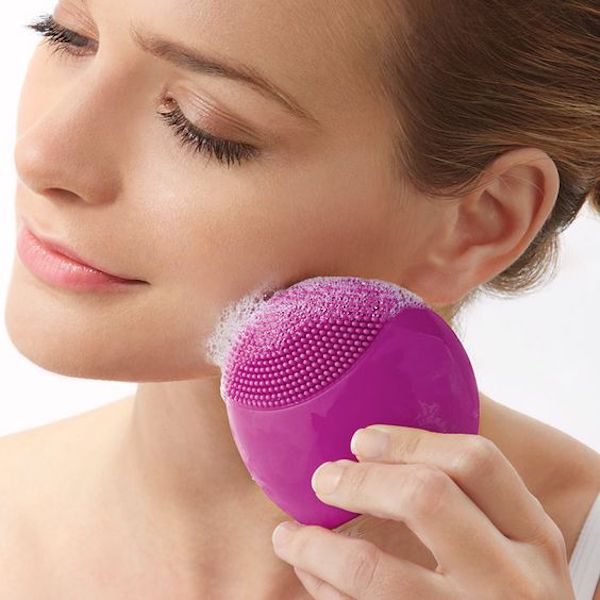 Nicole here today, and I was asked by MyRedGlasses my opinion on the newest facial cleaning tool, The Foreo vs. the tried and true one that so many of us have been using for quite some time now, the Clarisonic.
After many years of using my Clarisonic, I noticed a new device that came into the market with a very sleek design in vibrant exciting colors: the Foreo. At first, I was resistant to buying it or trying it because I had become such a loyal Clarisonic user over time but I gave in!  What I found was a much smarter design and easy to clean device. One of the biggest advantages the Foreo has over the Clarisonic is there are no replacement brush-heads, you only clean the ultra-hygienic silicone with soap and water.
I decided to buy their portable device for travel for less than $40 and it's the size of a cotton pad! It's extremely light, convenient and powerful. They have three sizes and the medium device is about $150 and fits exactly in the palm of my hand. Something important you should know is that unlike Clarisonic models, Foreo does not need charging and the one I bought is limited to 100 uses. The bigger, regular model which is almost $300 is limited to 450 uses. My face feels as squeaky clean when I wash my face with the Foreo as when I wash with my Clarisonic.
You see my history with the Clarisonic began almost 7 years ago when I saw the first Clarisonic brush. I remember saving up after my birthday and being determined to buy it. It was almost $200 and there was nothing like it out there to wash your face with. The only similar devices I had seen were at my facialist's office and as a beauty and skincare junkie I needed one on my vanity.
As years have gone by I've noticed Clarisonic has kept it's design consistent. They've only changed certain aspects of its device like speed buttons and brush heads for sensitive, acne-prone and sensitive skin among others. A very exciting design element for me is the color and even though they've introduced various colors throughout the years, it's bulky and sometimes inconvenient size for travelling has kept me from ever replacing that first one I bought. I have invested though in all sorts of brush heads to determine which one works best for my skin but I think it doesn't really matter. According to my facialist, what matters most is the frequency you use it for and she recommends only using it 3-4 times a week.  The Clarisonic can be used with any type of cleanser whether it be gel, cream, scrubs, or clay based. As long as you clean the brush with soap afterwards, the brush should last you for 3 months as recommended by them (I keep my brush a bit longer sometimes).
A couple of years ago Clarisonic introduced a different, portable design called the Clarisonic Mia Fit. The device is half the size of the original design and so much lighter which makes it perfect for travel.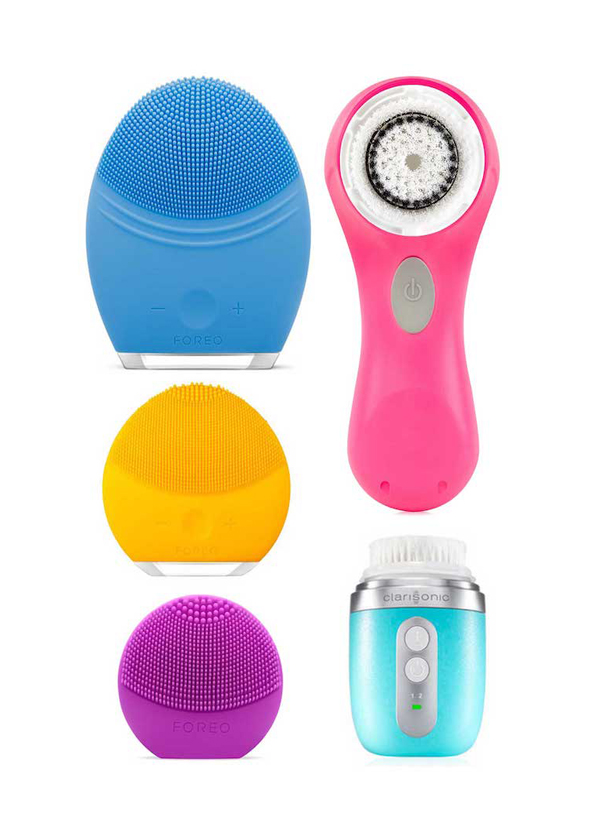 The Foreo has innovated their product line and created toothbrushes, facial anti-aging and anti-acne devices as well as a very cool eye massager called The Iris Eye Massager that I'm putting on Santa's list!
So which one should you use? That is a hard decision! If I didn't have any of these devices, I would buy the Foreo Luna 2 , which is the regular sized Foreo but still very portable and light. Also, I would keep my Clarisonic Mia Fit and you would be getting the best of both worlds. I have my Clarisonic and I'm going to keep buying my brush-heads and keeping it strictly in my shower. I love my Foreo Luna Play device that travels with me in my make-up bag all over the world too!
So, which one is on your list this Christmas? Please tell us. We want your comments and opinions and please check out all the fun devices we linked below.

Feature image courtesy of brookstone.com