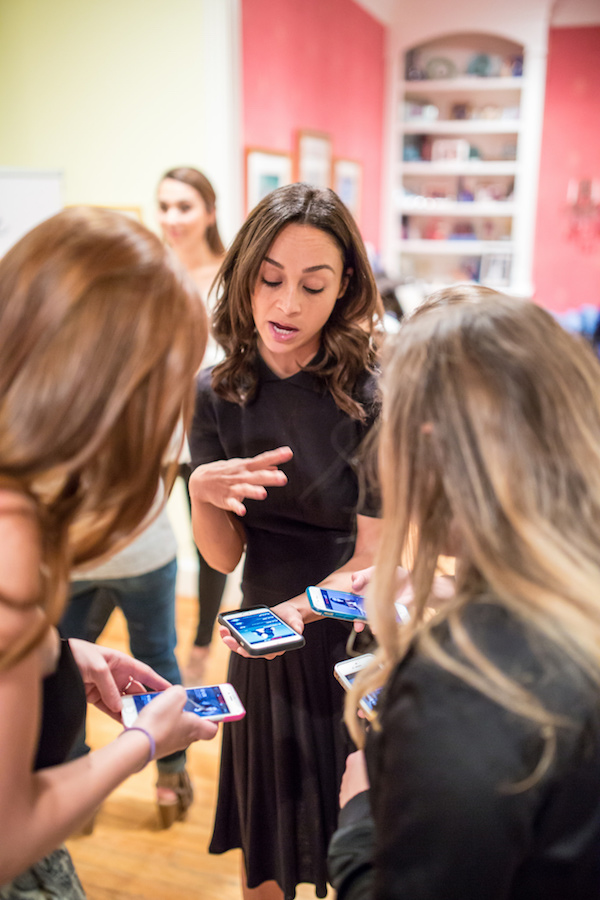 Actress/Fashion Blogger, Cara Santana, was in Houston at a fun party hosted by her family here, the Cohens, where many gals of all ages gathered to hear the buzz and actually experience the services available on her fab app being introduced to Houston….The Glam App!

What a fun night when Joan Cohen and her daughters Carolyn and Natalie opened up their West University home to hundreds of glam-seeking gals of all ages that came to meet and experience actress and fashion blogger, Cara Santana's launch in Houston of what Cara referred to as the 'Uber of Beauty Services', her on-demand beauty app, The Glam App!  She did a demo for the crowd showing the ease of joining the 20,000+ followers that she now has and brought along with her stylists from each category that she offers…..hair, makeup and nails, that spent the evening actually demonstrating  these services free to any and all ladies that were there.  (I got a much-needed manicure that was perfect!)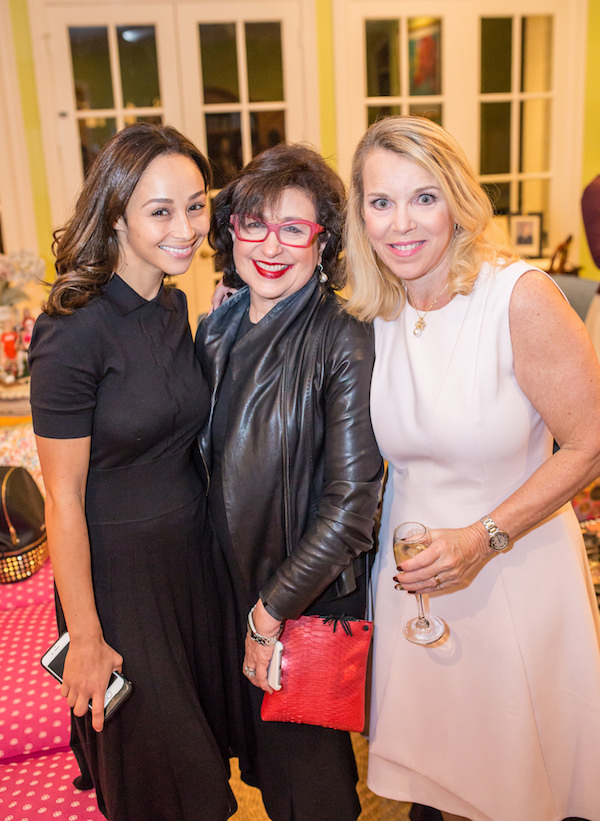 Cara Santana, co-founder of The Glam App, yours truly and Joan Cohen at launch party where we all demoed the services and were give a promo code for our first try which for me, I plan to use at my NYC hotel during Fashion Week…..a very busy time for The Glam App, according to Cara but also a great time to try it!
About The Glam App
Founded by actress(Salem TV series)  and fashion blogger, Cara Santana and popular Hollywood hair and makeup stylist, Joey Malouf, (Rachel Zoe and Molly Simms among others are his clients) in California and New York about a year ago and has made its presence known and available in 21 cities across the U.S. and London.(check out their website, theglamapp.com for exact locations/cities)  When I asked Cara, why she became involved with this her response was "Being an actress I get red carpet hair and makeup provided for me and paid for by the studios, which costs a lot. I thought that every woman deserves the 'red carpet treatment' at a price she can afford" and that is exactly what they  have done.
The Glam App is beauty-on-demand.  With just the push of a button (actually a quick and free installation from the App Store to start you off!), you can have the service that you need immediately delivered to your door by a beauty expert in that field. You can get one of the many services it provides instantly (Cara says within 30 min to an hour). Whether you want a blow-out, a make-up application for a special night out or just a nail polish change, they can do any or all of that…..you just use your app and select the service and price level that you desire, no one service is over $100, says Cara.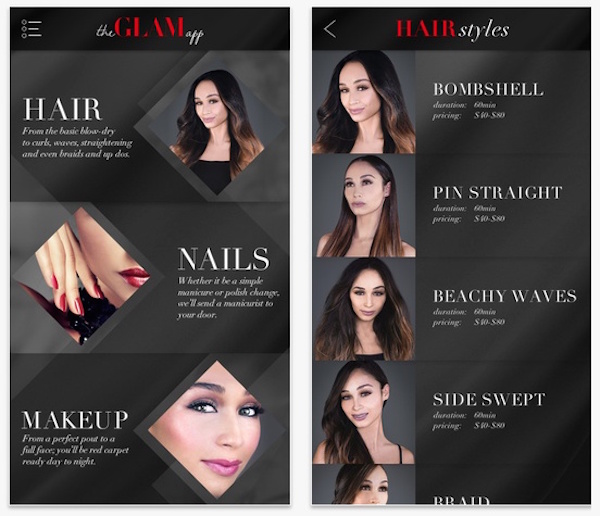 Example of App screen…..left is home screen where a service is selected, right are examples of the hair styles you can request after clicking on HAIR to ensure that they match you with the right stylist for your look!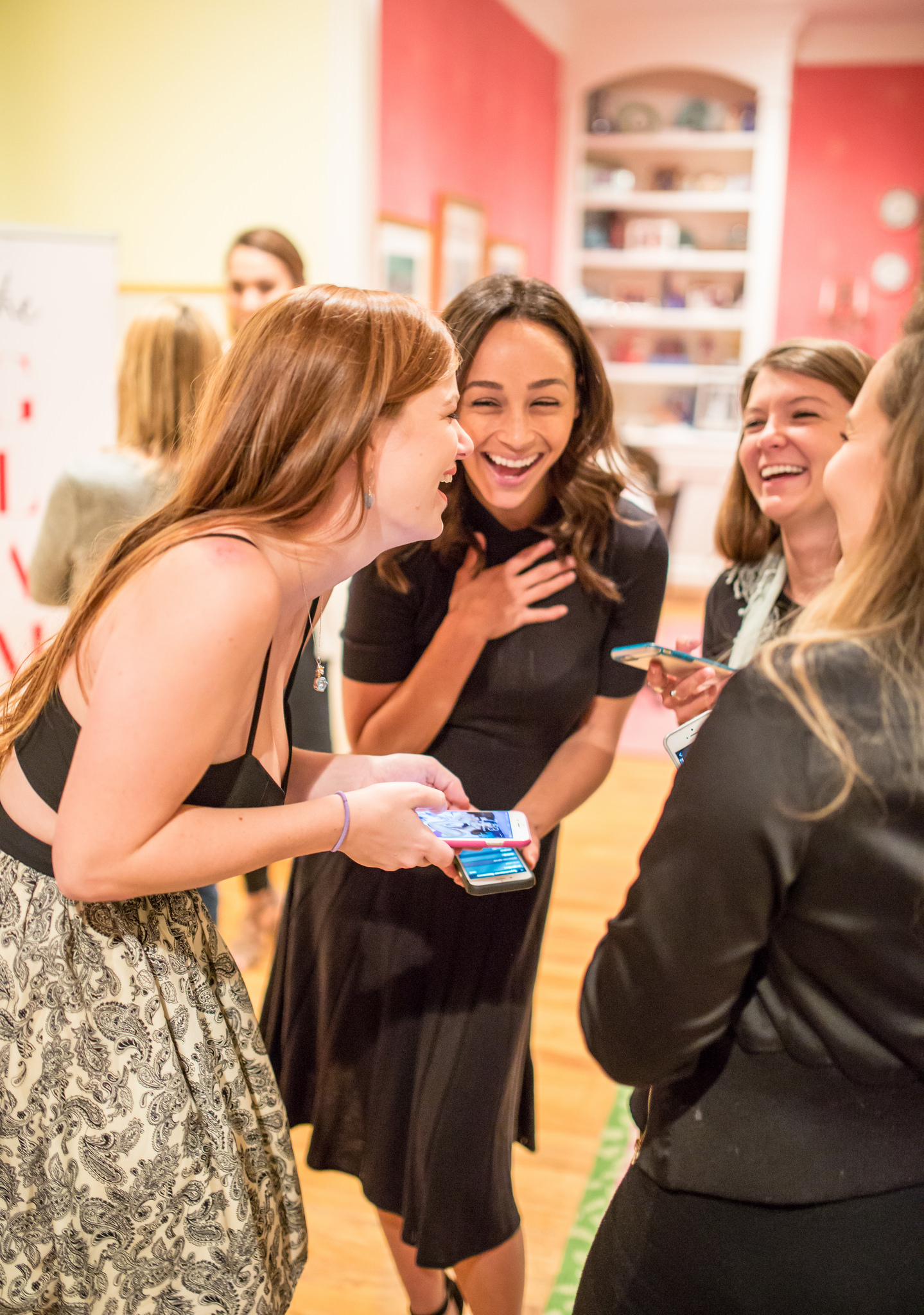 Natalie Cohen, and gal pal, Isobel David getting a fun demo of The Glam App by co-founder, Cara Santana 
Make-up stylist demonstrating her technique to one of the party attendees.
Stylists are recruited in each of the cities by a team of professionals that Cara mentioned were assembled with this as their sole task.  The app acts as a virtual agency, allowing stylists to act as freelance artists, making their own hours, building clientele and managing their schedules and appointments.  They search everywhere from Beauty Schools for fresh new talent to Salons where more experienced and established stylists want to work extra hours to fulfill financial needs and/or enhance their creativity.  The end result is that they use a tiered system that offers three grades of stylist in a field, based on their experience level and to develop a pricing structure that can meet all needs….simply the more experience, the more you pay, so that everyone can manage to fit it into their budgets. Their clientele includes mostly regular gals that lead very busy lives and cannot pre-plan appointments or visits to salons into their lifestyle.  The Glam App also includes celebrity clientele such as Julianne Moore, Reese Witherspoon and beauty editors from top magazines to name a few  that have used this app.  This app has been reviewed by every major fashion/beauty publication in the country from Harper's Bazaar, Women's Wear Daily, Zoe Report, Refinery 29 and many more….all with positive things to say about this easy, convenient and price effective approach to your personal beauty needs.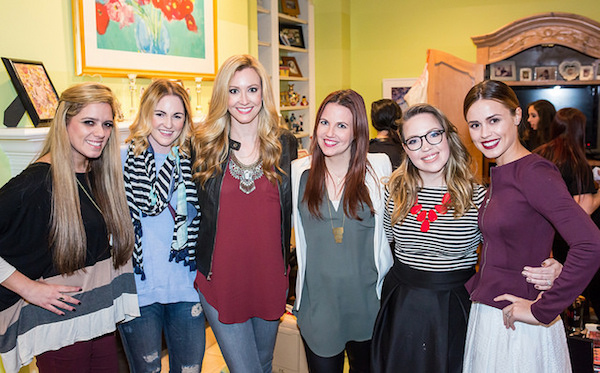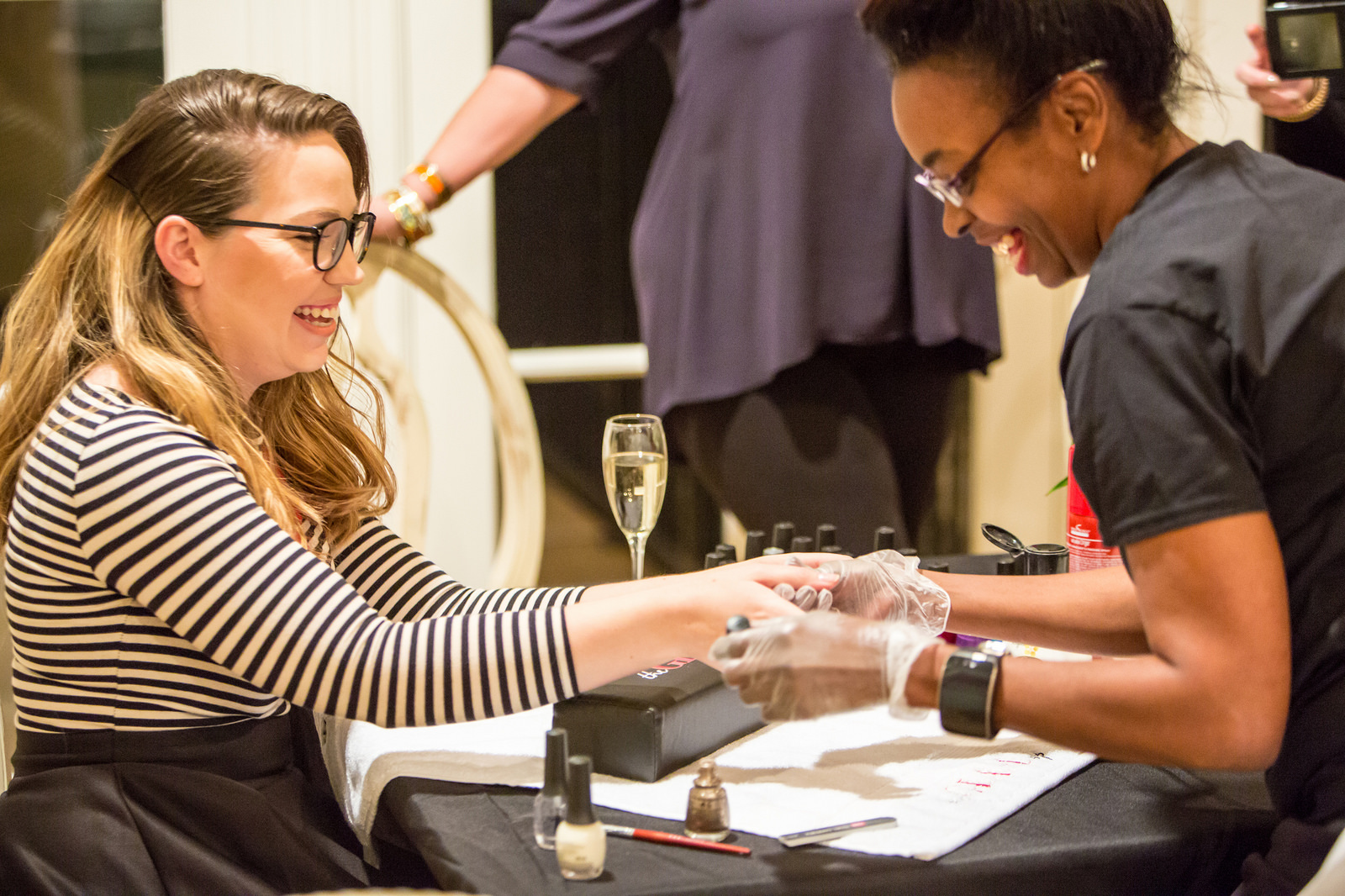 Beauty blogger, Jaclyn Kent, receiving a complimentary manicure by one of the many stylists available for all of us to try that night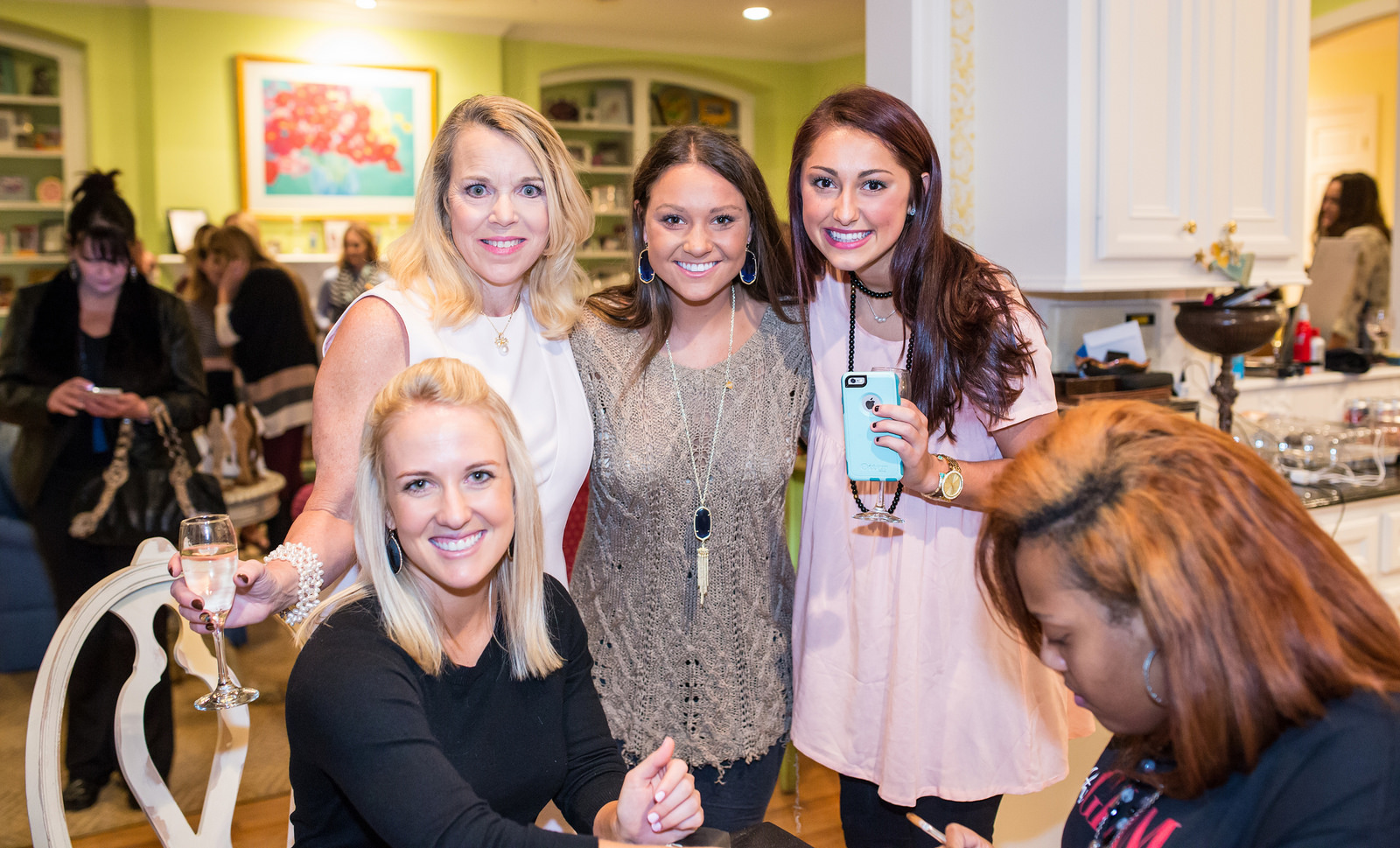 Local Houston gal, Cydney Currie being 'manicured' by Glam App stylist while Joan Cohen, Andee Nelson & Haley Pounds look on anxiously awaiting their turn at the table!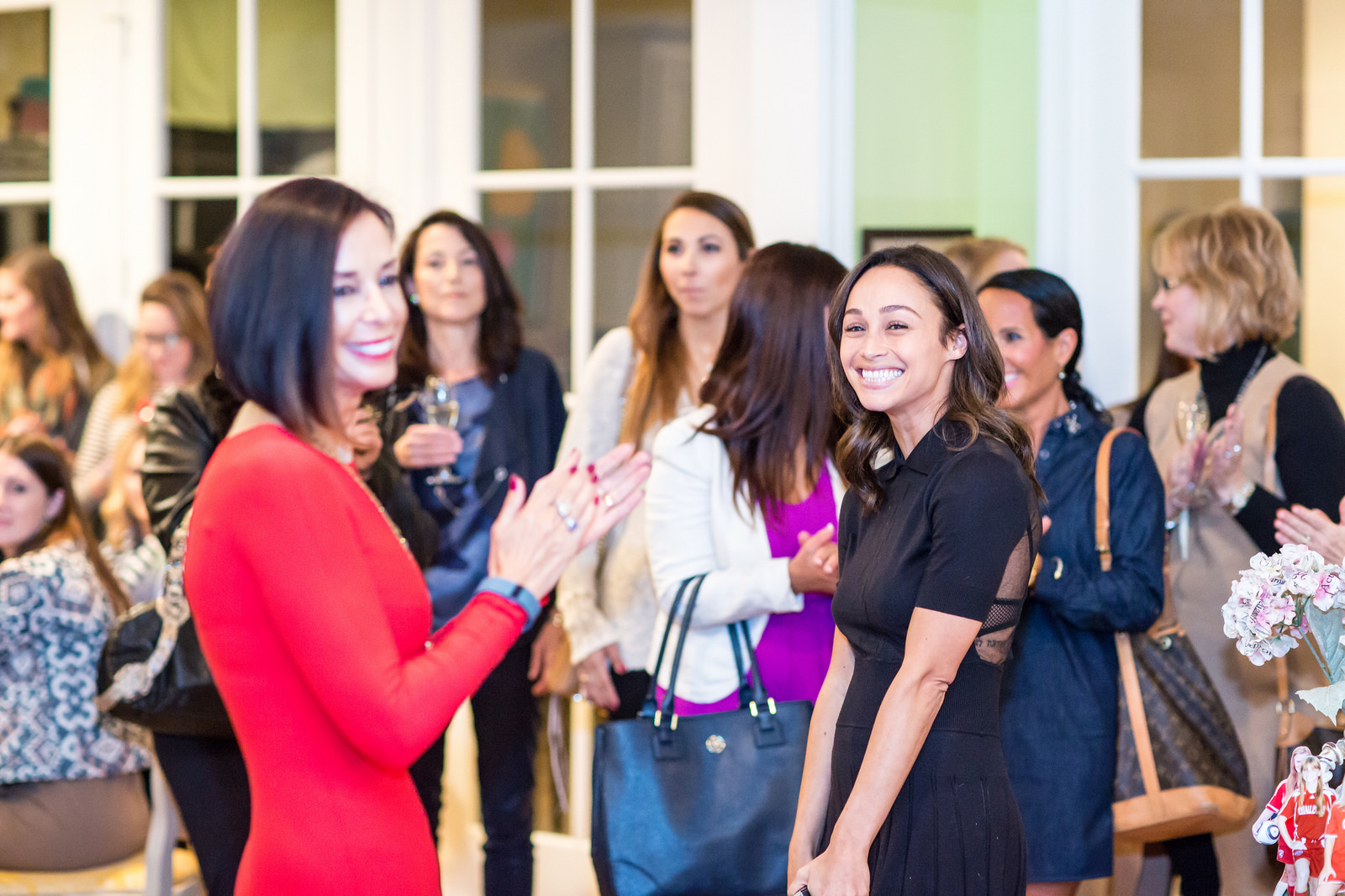 The crowd, including Laura Cook, Lori Wulfe, Wendy Nelson and Donna Zabel, was enamored and excited by Cara Santana's demonstration of this free app that will deliver beauty services to you immediately wherever you may be…..home, office, hotel and at a price that you can afford!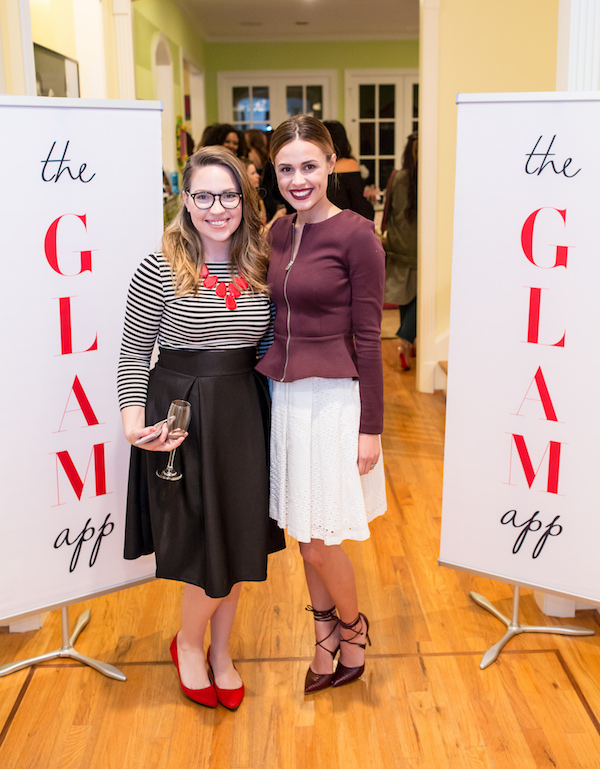 Local beauty bloggers, Jaclyn Kent and Elly Brown 
photography courtesy of Christian Brown