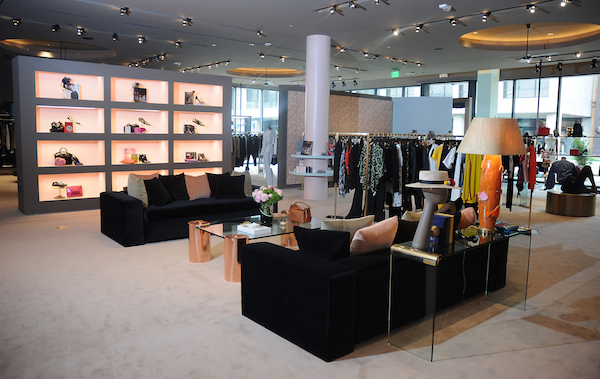 Interior shot of The Webster, Galleria's newest addition; here from Miami, specialty store as unique as it's owner, Laure Heriard Dubreuil
I have awaited this store opening with great anticipation, after meeting Owner/Buyer, Laure Heriard Dubreuil and her awesome team, back in September, who like their boss, share their time  between their three stores in the Miami Beach area and their newly acquired offices in NYC.  We spoke then, about why Houston? for their fourth store and first venture outside of Miami and the similarities of the two cities as a match for what Laure refers to many times as her DNA for The Webster, seemed logical to me then and is apparent now as she, just this week, officially opened her doors to the local consumers. Everything about it is unique and many things are designed exclusively for her and all so thought out especially for the Houston gals 'n guys and we like that!
We chatted as Laure toured me through the new lux establishment and she pointed out to me many things that are unique to The Webster and that make it so special.  First, the Decor…….taken from her other three stores, are chocolate brown walls, that are broken up by large panels of antique wallpapers, all personally selected by her. Also, iconic racks of marble and antique brass and the spattering throughout of artwork she selected from Houston artist Max Snow and artist (and other half) Aaron Young that she met and married after meeting at Art Basel a few years ago!  The ambiance of the store is very open, relaxed luxury.  I fell in love with the black velvet couches in the main room of this 5,000 square foot boutique.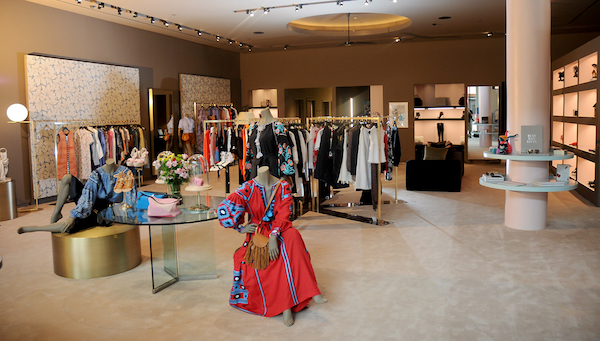 Laure worked closely with her vendors and specific designers to develop unique pieces for the Texas woman, which by-the-way, felt very appropriate for the upcoming Rodeo season or just life on the ranch!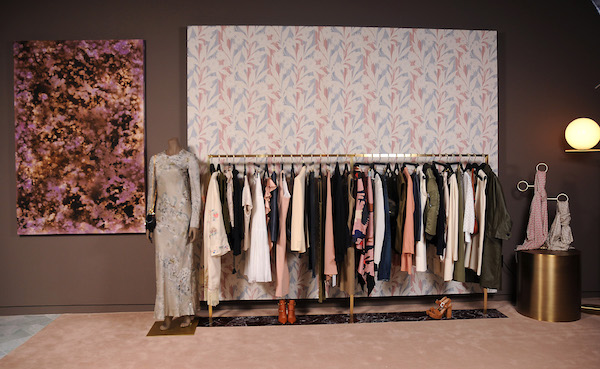 Some of the brands that will be available in The Webster are Alexander Wang, Givenchy, Rosie Assoulin, Saint Laurent, Valentino, Balenciaga, Stella McCartney and Victoria Beckham to name a few.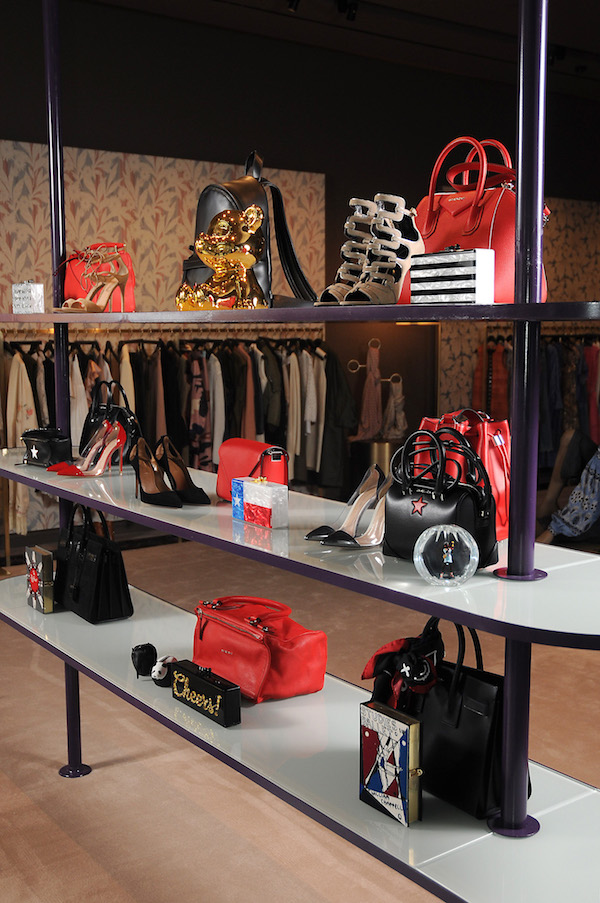 For accessories, Laure reached out to Pierre Hardy, who also designs for Hermes, also, Stella McCartney, Aquazzura, and to Edie Parker, whose clutches have developed a cult following these days and has designed especially for this store a 'state of Texas' flag clutch!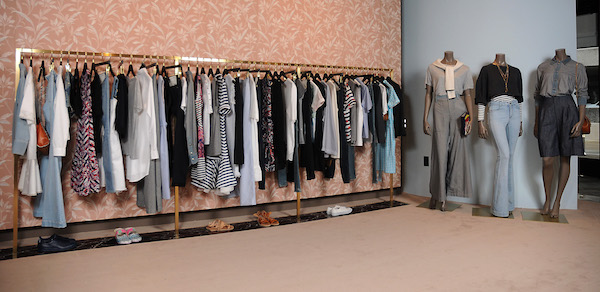 One of the most unique elements of this very divine shopping experience is the way that the store is merchandised. (only a die-hard retailer like myself would notice,maybe?!) However, Laure, who stated firmly that she believes in only buying small quantities of a style so that women would not find their 'fashion twin' out there, merchandises her racks by theme/idea/trend with only one of a style out. So ask quickly if they have your size in the back…..if very limited, then I'm sure they will find an equally perfect look just for you!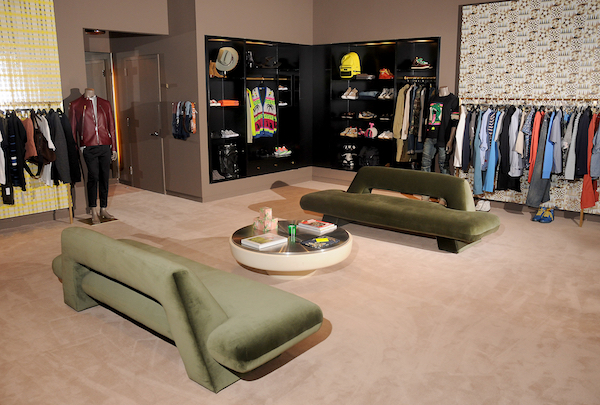 Are those couches not divine….of course, I was enchanted with the beautiful apparel but was equally smitten by the detail that went into the store design and decor!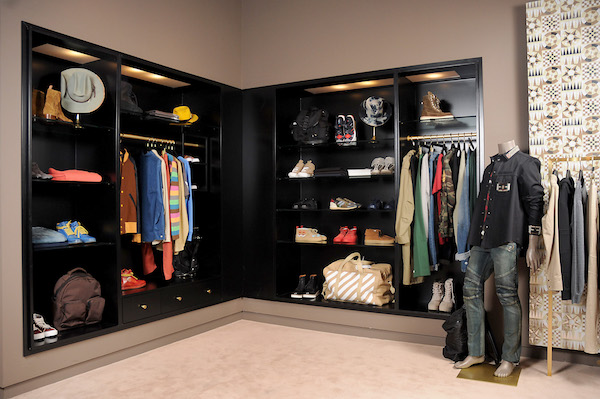 Men's corner tucked away in the back corner of the store is a haven for the stylish guy looking for some very special pieces for himself…..all with a casual luxe vibe, from denim to leather to soft, unique shirtings.
Laure Heriard Dubreuil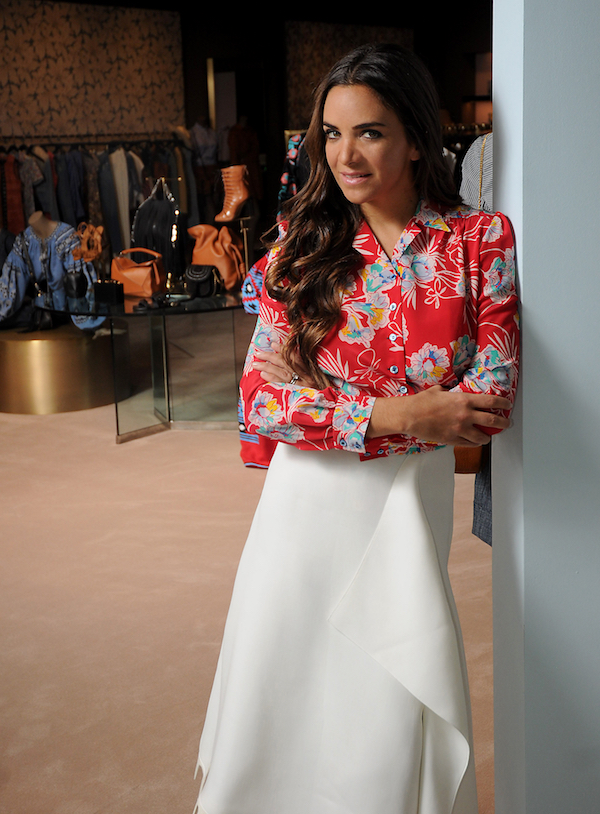 Laure Heriard Dubreil, is quite impressive in herself.  This warm and very unassuming talent, is a native of Paris, France, a member of the Remy-Martin family there, studied in several universities around the world and received a merchandising degree from New York's Fashion Institute of Technology (F.I.T.). She returned to Paris where she worked at Balenciaga and Yves Saint Laurent.  She was dressed so smartly in her Celine mustard-colored wide leg pants when we visited  that you know when you meet her that she lives and loves what she does and exhibits  great style while doing it!  She has been the CEO and sole Buyer for The Webster, but with the aggressive growth plan that she has in her mind, she recently (like this week), hired someone to share in some of the buying responsibilities.  She is a definite fashion power house and her influence leads this very special store. Houstonians will love it!