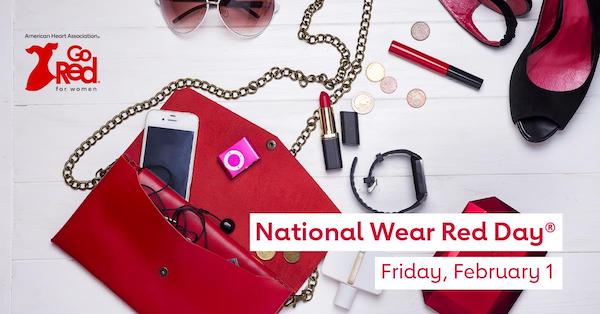 February is Heart Month and it officially kicks off this Friday, February 1, with National Go Red Day across the U.S…….Wear Red and show your support, please!
For those of you that know me you know that my true passion in life has been to find a cure for Heart disease, the No. 1 killer of women. Heart disease and stroke claim the lives of      1 in 3 women….that's a third of our mothers, sisters and friends, approximately 44 million women!  On a positive note, what I have learned over the years by being involved with the American Heart Association is that unlike how I was raised to believe, it is not just a hereditary issue but can be prevented (80% preventable) with simple things like proper nutrition, exercise, regular preventative visits to a cardiologist for testing (got to know your numbers!) and some medications.
The facts are there, things are looking better…….Since the First National Wear Red Day in 2003, we've made tremendous strides in the fight against heart disease and stroke in women. Through research and education to healthy lifestyle changes, women are learning that they can make the right choices and see a difference in their health.  Heart mortality rate has decreased nearly 30 percent over the past 10 years and it's because of more than a few things that this Go Red For Women movement has brought to them.
"Blood pressure is just one area that can have a tremendous impact on your overall cardiovascular health, and high blood pressure can affect anyone, no matter one's age, race, background or socio-economic status. I have seen firsthand how blood pressure can affect even the most 'picture-perfect'people. I am honored to be at the helm of this year's Go Red for women campaign as we strive to meet women where they are and help them lead healthier lives," Hallie Vanderhider, 2019 Go Red for Women Chair.
Here's what you can do……
Anyone can participate by wearing red, preparing a heart-healthy meal, getting active and getting your family, friends, co-workers or school involved. Post your National Wear Red Day photos on social media using #HoustonGoRed and tag @AHAHouston. Also, visit houstongored.heart.orgfor information on getting involved. Take action for your heart health. To help women better understand their risk for heart disease, CVS Health is offering no cost heart health screenings every Thursday in February, including Valentine's Day, at CVS MinuteClinics nationwide. Or make a donation to support the lifesaving work of the American Heart Association at heart.org/HoustonWearRedDayor at your local CVS Pharmacy, February 3- 23
Reliant will donate $100 to the American Heart Association with all purchases of the Reliant Heart Power Plan. Call 1-866-222-7100 or visit reliant.com for more details. The Little Hats, Big Hearts™ program brings together local volunteers who knit and crochet red hats for babies born in February at participating hospitals. These tiny red hats symbolize our mission of heart-healthy lives for everyone while raising awareness of congenital heart defects and what we can all do to help prevent them.
So Friday, February 1……Wear Red and Give….donations, time and positive spirit appreciated!
Connect with GoRedforWomen.org, Facebook, Twitter or by calling 1-888-HEART!