Image: FriendsoftheFountain.org       Mecom Fountain, one of Houston's most beautiful and recognizable icons is going to have its historic look restored. 'Friends of the Fountain', a crowdfunding campaign has been established to make necessary repairs to the fountains while maintaining the integrity of this mid-century landmark design and needs our help to get this done!
When Phoebe Tudor emailed and said that she and her partner in this endeavor, Bill Baldwin, needed help in restoring these historic fountains, I must say, to quote a very famous line from a very famous movie…..'she had me at hello'!  I know that I am not alone, as a native Houstonian of my generation, that has many fond memories of this magnificent  stand-out piece within the beautiful circle on Main, which BTW, I have always felt should be renamed 'Mecom Circle', a la Dupont Circle in D.C., as a tribute to these glorious fountains! I know that everyone has a story of a favorite picture that was taken by them, of jumping in the fountains on prom night(not me, just actually saw this happen!), or any other time that these fountains have played an important part in your lifetime memories.  For me, it was my wedding night……my first decision was to have my reception there at the then, Warwick Hotel, so that I could have those beautiful fountains as my backdrop.
A Special Story About That I Must Share:  Everyone at the hotel knew how special the fountains were to me, so that when Houston had a 'hard freeze' the week of my January wedding, the Warwick's General Manager at the time didn't have the heart to call me and tell me that the pipes had frozen and the fountains would not be running on 'my night' after all. Well, my hubby-to-be could not accept that disappointment for me and actually got the city to do the plumbing needed to have them up and running for my special night. I never knew any of this, of course, only recall that special feeling I had in my heart when my limo drove up to the side of the Warwick and I was facing what I thought was the most beautiful site in the world, the fountains gleaming brightly in the night….just for me!
I know that many of you are saying Roz, please, T.M.I…….but I bring up my story as only an example of how important these fountains have been in my life (always one of my favorite tourist attractions is the drive around the circle!).  I know that many of you out there have similar memories and because of that will do whatever you need to keep them up and running beautifully, just as they were designed to be. For that reason, I know you will give in whatever amounts, you see fit, to this cause.  Please scroll down past this, another view of these beautiful treasures and get all the details on how you can help NOW….we don't have much time, just till the end of this month, to take good care of our friends, the Mecom Fountains!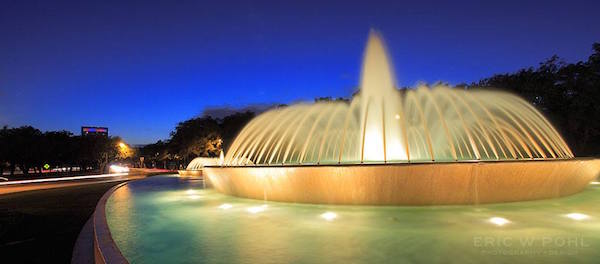 Image: Eric W. Pohl
Here's the story, to date:  The original so called upgrades to the fountains have been halted by the Mayor as many preservationists urged to happen.  The limestone work that was being used for the fountains as part of the "The Grand Gateway" Project, funded by the federal government and overseen by TxDOT, with collaboration by the City of Houston, to match the already completed entrance to Hermann Park and the Zoo, would unnecessarily alter the face of these magnificent fountains.  The Preservationists argue that the limestone additions to this 50-year old water feature are not an improvement but a not needed mistake. It is a modification not appropriate to the free-standing simplicity of these elegant fountains and are not upgrades at all.
So Phoebe Tudor and Bill Baldwin launched the Friends of the Fountain, a crowdfunding campaign established to make necessary repairs to the fountain while maintaining the integrity of its mid-century modern design without spending any further public funds. The sleek, renovation work that had begun and is now haulted was commissioned before the fountain was declared a City of Houston protected landmark and without the approval of the Houston Archeological and Historic Commission.  Mayor Turner halted this unsuitable work to the fountains on Feb. 12 so that a proper solution to the problem could be found. Well, this is the solution…..they only need $60,000 of private funds to complete this project and complete it correctly to make Houston proud and at last give us back the beautiful fountains that we have all loved for most of our lives. At last reading, they were more than halfway there.   Any amount is acceptable, nothing is too little, just please, please give to this cause and keep one of Houston's treasures alive as it was designed to be.
You can click on to friendsofthefountain.org and/or Facebook.com/friendsofmecomfountain to learn more and to please give to this very worthy cause.  
I recall an actor who was in town many years ago(I won't say his name as it will so date me?!…..ok, it was Bob Hope) but he was staying at the Warwick Hotel and commented at the event he was asked to be keynote speaker at. His words were about  what a great morning he had had, looking out his window at these gorgeous fountains overlooking a street that he said rivaled the Champs Elysees in Paris….what a great compliment to our beautiful city, so let's all chip in now to keep it that way!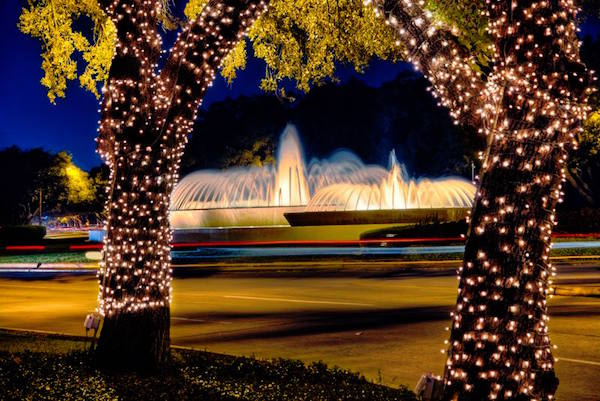 Image: Tim Stanley Photography