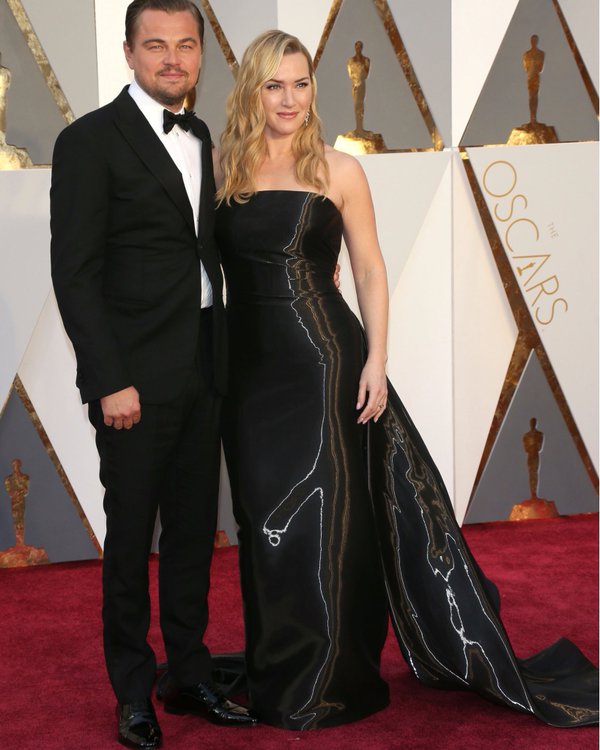 One of the highlights for me of the not so exciting and controversial Academy Awards Presentations last night was the appearance of Leo DiCaprio and Kate Winslet, teamed up for the paparazzi for a glam duo shot.  First of all, I've always loved the two of them together and secondly , Leo in his Armani and Kate wearing her usual Ralph Lauren but this time in a slinky metallic black gown looked so beautiful and fresh. I loved her relaxed hair and make-up that softened and made her beauty shine through!
I must say that the Oscar presentation last night was not one of my favorites.  First there was the racial controversy and it needed to be addressed and I truly feel that Christ Rock did as well as could be expected for a very difficult job!  Secondly, by the time you get to the last big "Awards Show" of the year, and have followed them all as I have, the winners are pretty predictable……most out there was Spotlight, a movie that had to be made and I loved, was the big winner, along with Leo and Brie.
So onto the fashions…..nothing earth shaking, many beautiful gowns but not many that will be stored in my memory bank of the 'greatest dresses of Oscar'….I'm thinking that maybe the undertone of the controversy set for a little more somber and serious approach to dressing……….magnificient ball gowns were few and far between. However, color, Jewel colors specifically and lots of white dominated the Carpet.
However, below are some of my favorites. One of my favorite things both last night as I constantly streamed and this morning is to see just those dresses that we agree on and also those that we agree to disagree.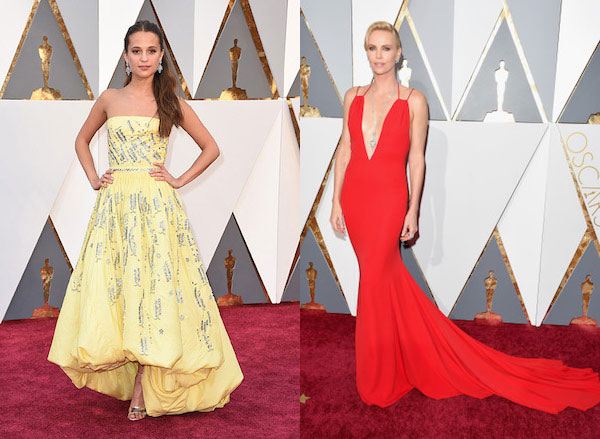 My top two:  Alicia Vikander, Best Supporting Actor winner for the Danish Girl, in pale yellow Louis Vuitton beaded gown and Charlize Theron in a red, deep plunging  Dior gown with an exquisit long diamond necklace.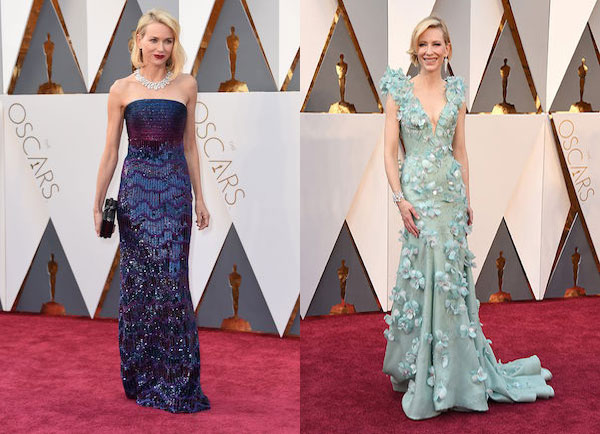 My next two favorite are from my man Armani…..I feel that I can always count on him to do Red Carpet right.  The bling look of Naomi Watts with her exquisitely sparkling Bulgari necklace was stunning.  Also, on Cate Blanchett, stunning in a more soft, subdued lady-like gown from Armani Prive who accessoriezed her gown exquisitely with designs from the 2016 Tiffany Blue Book.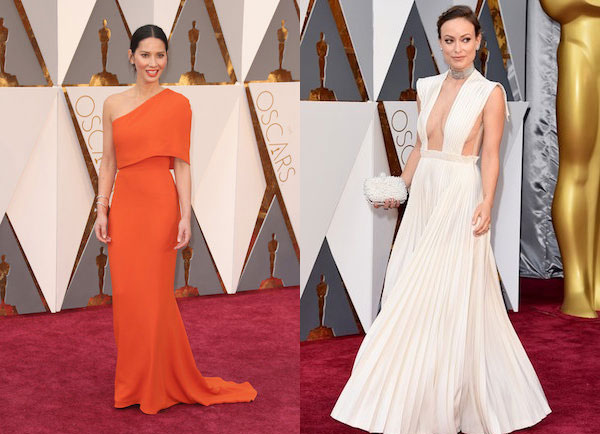 Looking modern and simple……Olivia Munn in a tangerine simple gown from Stella McCartney with a 12 kt. diamond snake cuff from Forever Mark and Olivia Wilde in a strategically fitted white Valentino Couture gown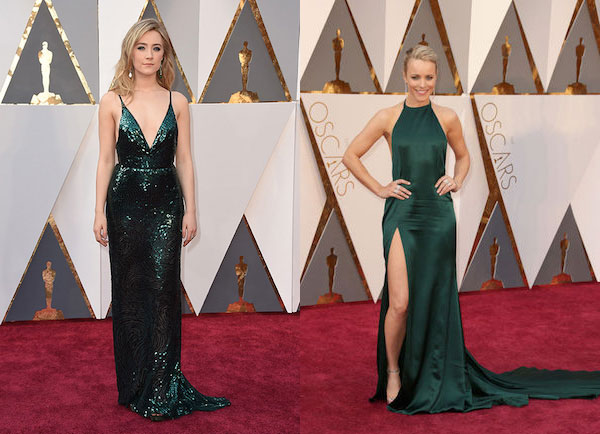 With Jewel tones dominating the evening these two ladies stepped out in Emerald Green. Saoirse Ronan, star of Brooklyn wore beaded green from Calvin Klein couture, as a tribute to her native Ireland;  Rachel McAdams stepped out in a sexy backless, somewhat sideless gown by August Getty.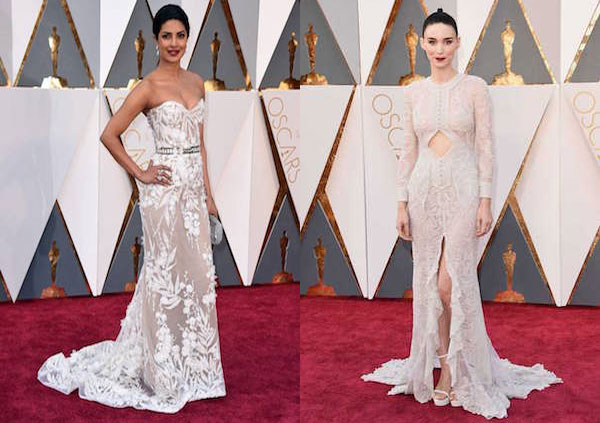 Showing that there was room for some neutrals and white in the colorful scene last night was Quantico star, Priyanka Chopra in beautiful Zuhair Murad, the master of stunning sheer dresses; Also, Rooney Mara in stylish ivory colored Givenchy.
Representing the Italian contingency at the Oscars…. Best actress winner for Room was Brie Larson in royal blue Gucci and the always sophisticated Jennifer Garner in the cold shoulder Versace Atelier.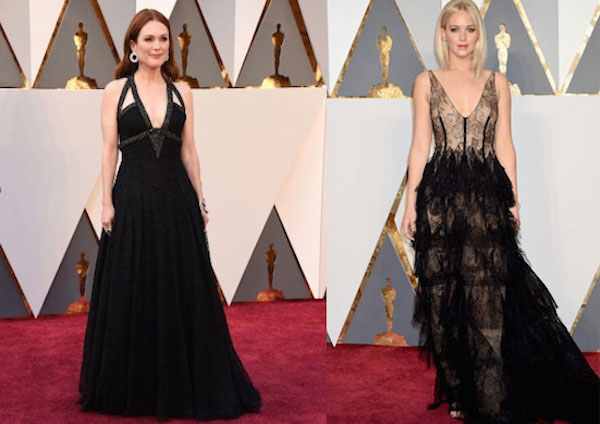 Two of the regular Red Carpet stars looked lovely but didn't wow as they have in the past.  Julianne Moore wearing the Chanel Dress with minor change-ups from the way Kendall Jenner wore the same dress on the recent Chanel RTW shows and Jennifer Lawrence, always a knock-out in Dior couture looked lovely but again no wow-factor.  My favorite thing about Jennifer's look was her styling…..hair and make-up were exquisite!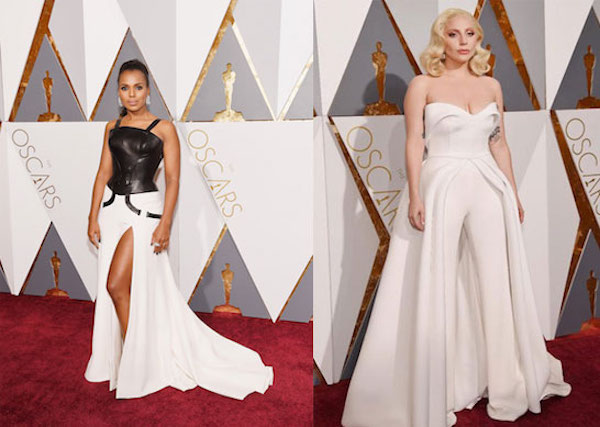 Kerry Washington stepped out there in her Versace black & white and one of my favorite things I'm loving these days is how Lady Gaga has really taken her look uptown. It has helped that she is on an all-out campaign to support her former stylist and NYFW designer Brandon Maxwell, who made his encore runway show this February.  I love his style and this 'thowback'number worked for her!  p.s. her performance for the evening was off-the-charts!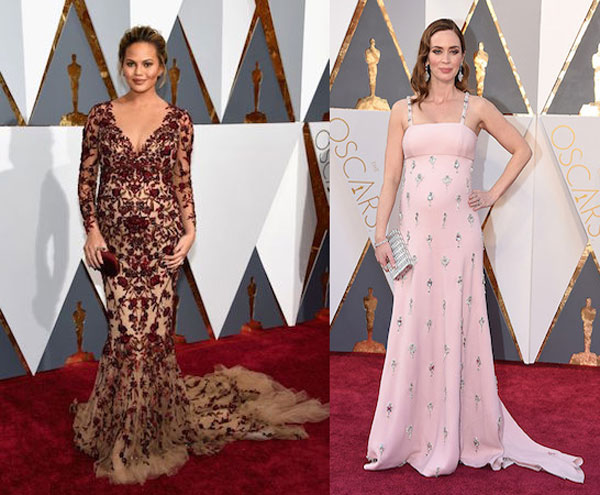 Mommies-to-be never looked so good.  Chrissy Teigen in Marchesa's exquisite floral/sheer gown fresh from the February NYFW runway which they quickly adapted for her  baby bump.  Emily Blunt was equally stunning in her Prada maternity gown.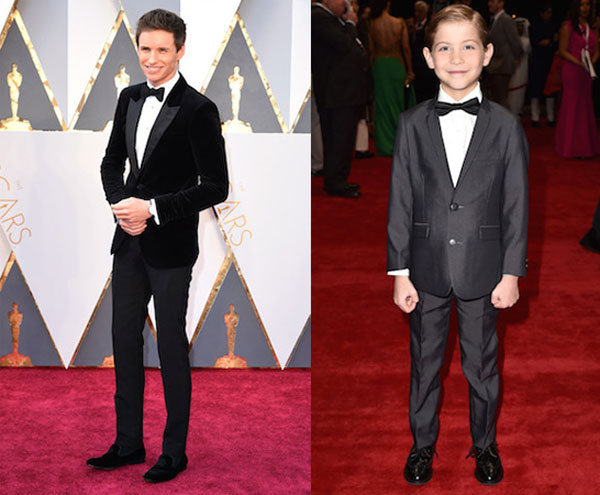 Let's look at the guys….big and small; Eddie Redmayne in his usual Alexander McQueen and the adorable co-star of Room, Jacob Tremblay in his Armani tux and batman socks!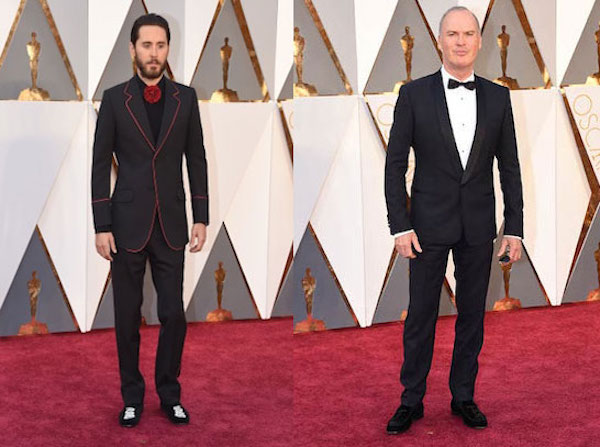 Jared Leto always taking a step 'out there' in his black Gucci tux with red piping, accessorized with his Red rose at this neck and velvet Gucci shoes;  Michael Keaton, on the other hand, played the part and walked the walk in a traditional  Ralph Lauren tuxedo.
photos courtesy of abc7.com, strait times, etonline, elle.uk and many more