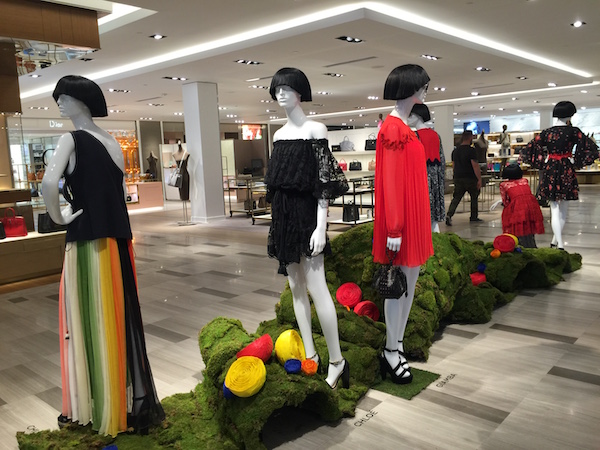 One of the many dramatic mannequin staging areas strategically placed around the new Saks store to add that touch of fashion, luxe and glam to its many spacious areas. This one in particular greeted you from the Valet entrance.
 As I approached the laborious task of trying to recap for all, the newest addition to the Houston high end large-scale retailing scene, I was overwhelmed, in a good way, by all of the guided tours, accompanying photos and generosity and information that was given to us as we toured this spectacular new venture for the Saks Fifth Avenue chain.  In it's very modern, updated design, one of the first things that you notice is the space and air around you and how they creatively and with fine detailing mastered this space.  The store measures in at 213,000 sq. ft. from 195,000 at its former location.  It is has gone from three very choppy floors (that's how we designed them back then!) to a spacious, inviting two floor building.
This newest Saks boasts, the second-largest Saks beauty and fragrance department in the country, the distinctive cuisine of 51fifteen Cuisine & Cocktails, a grand staircase and adjacent coffee and liquor bar, an enhanced Fifth Avenue Club which now has eight rooms to accommodate it's clientele.  The list of additional amenities goes on and on and has all been so well planned and executed by the Saks corporate staff with the partnership of our town's Bobby Dees and Sylvia Forsythe.
To appreciate the store you must get in there, it's grand opening is today, April 28. However, in the meantime I have tried to take the simplest route and literally 'walk you' through the store from the front entrance, through the first floor and up to second where all of feminine clothing lives.  I hope this will be helpful to you giving you an idea of what to expect but most importantly to excite you enough to get you in to see for yourself.
First Floor, Center-Core…..Cosmetics, Jewelry and Accessories plus Spectacular 10022 Shoe Salon, Designer Handbags , Accessories and Men's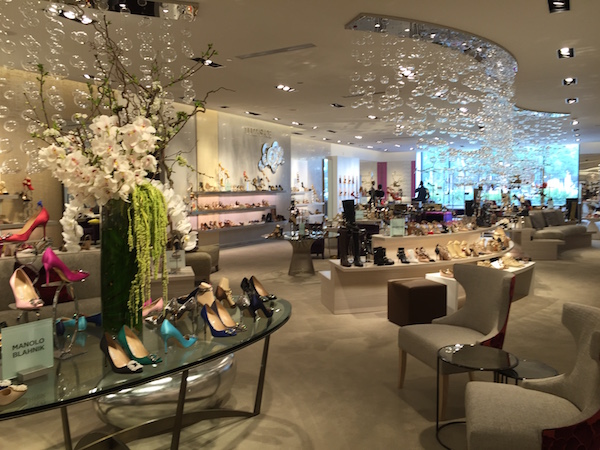 Shoe Department is borderline overwhelming in all of the awesome styles from the best of the business there in one place.Houston Shoes earned the title of the NYC flagship, Shoes 10022 (it's own zip code!) The selection is there in both vendor and style!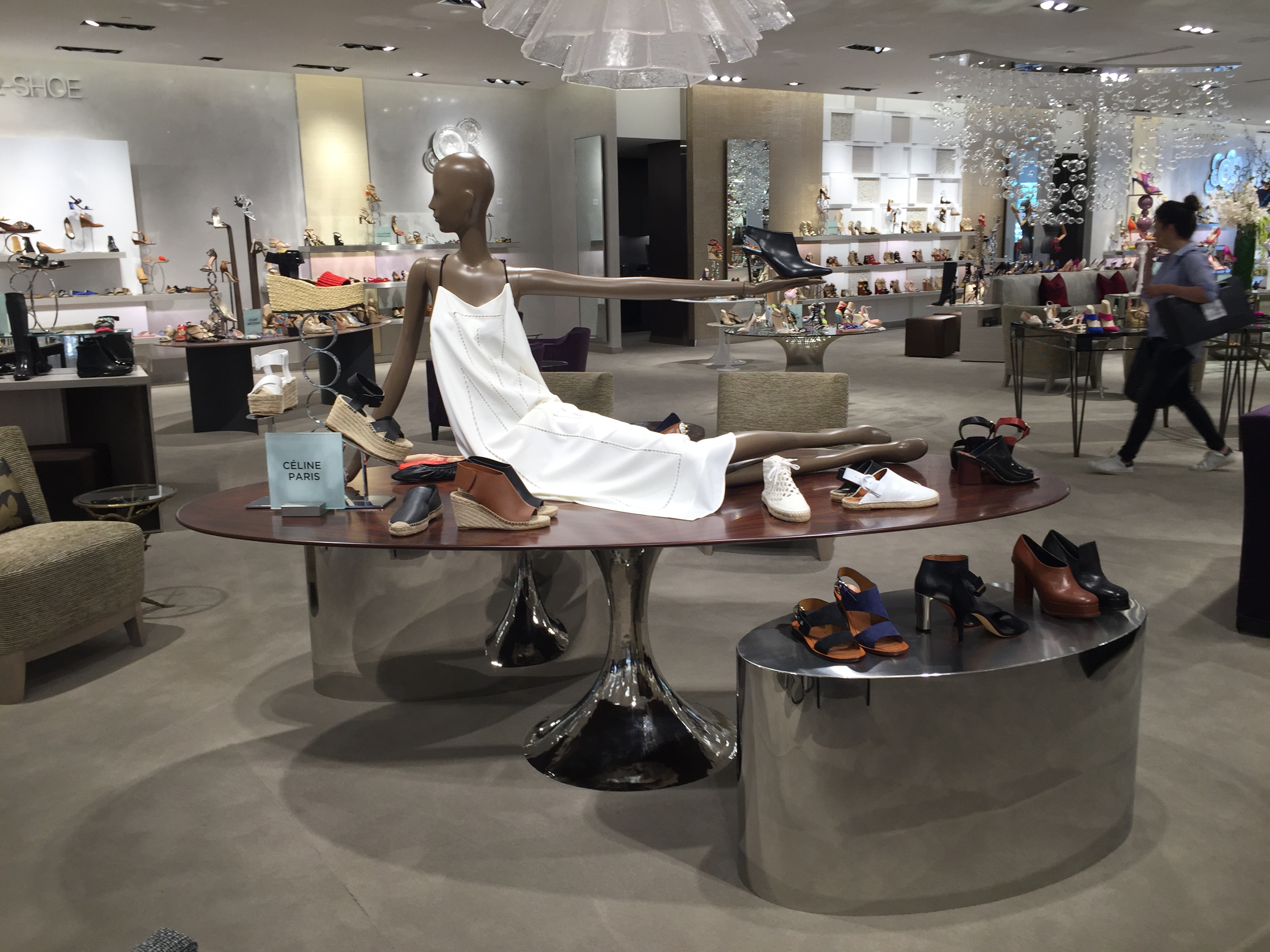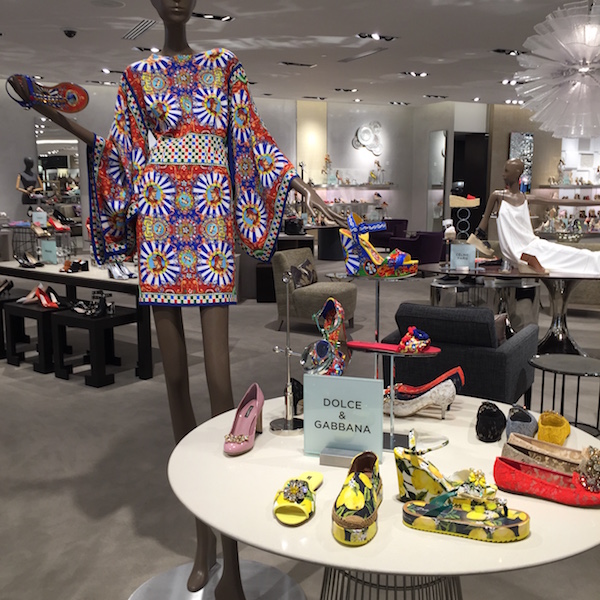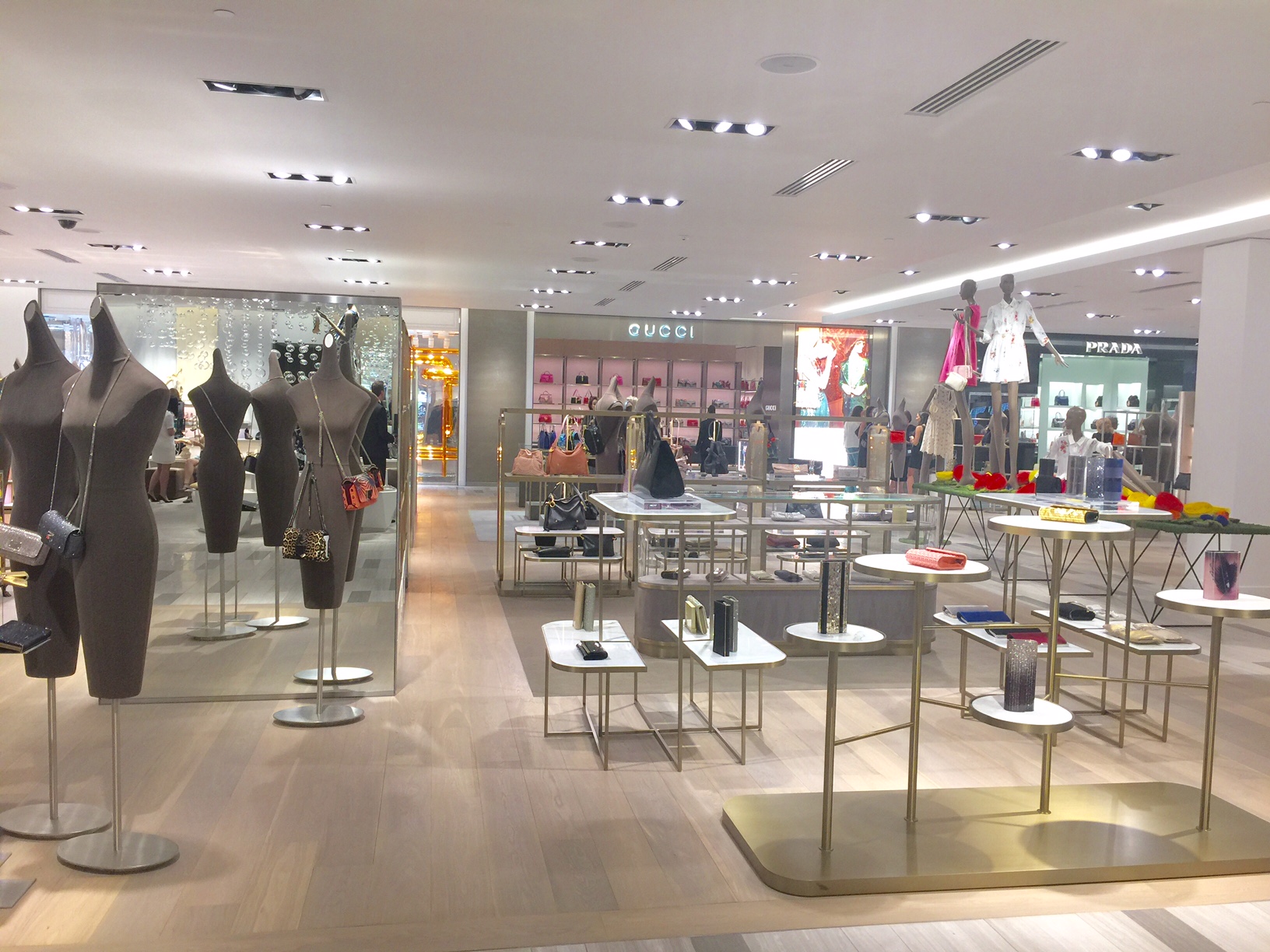 Handbags and Accessories was a favorite with all of the space, trend vignettes and surrounded by the biggest design name boutiques in the industry.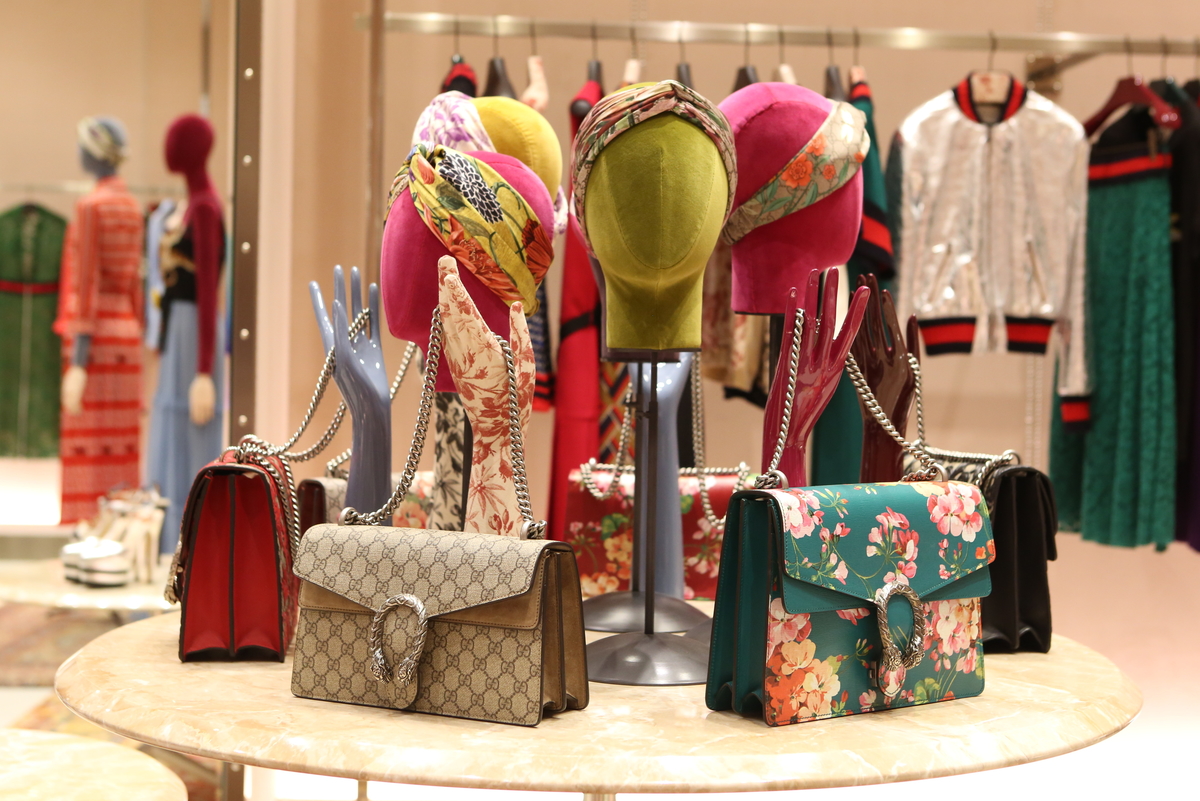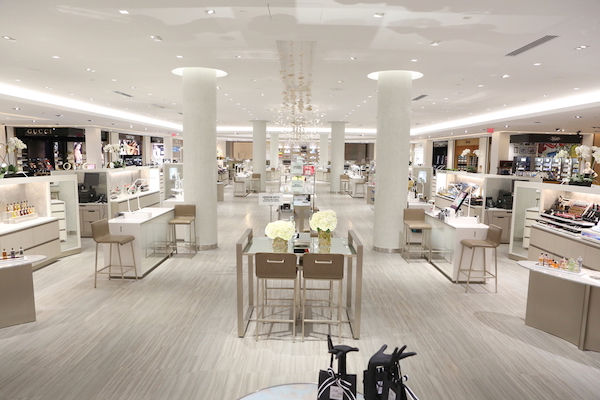 Center Core, stunning…..clean, modern and very well identified by all of the major brands and includes (3) spa treatment rooms.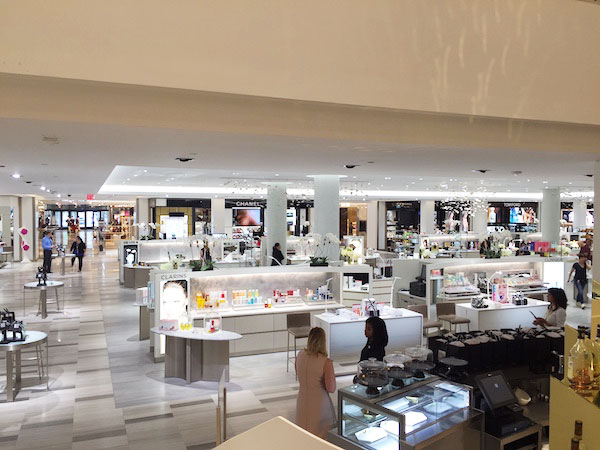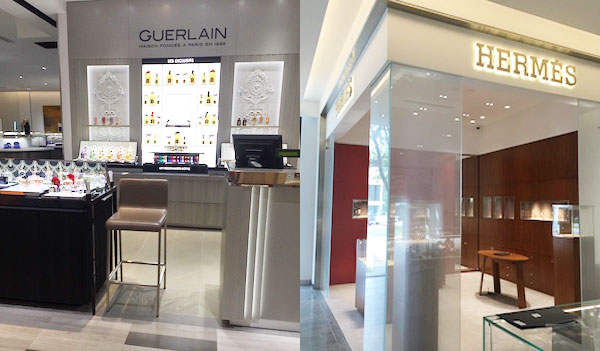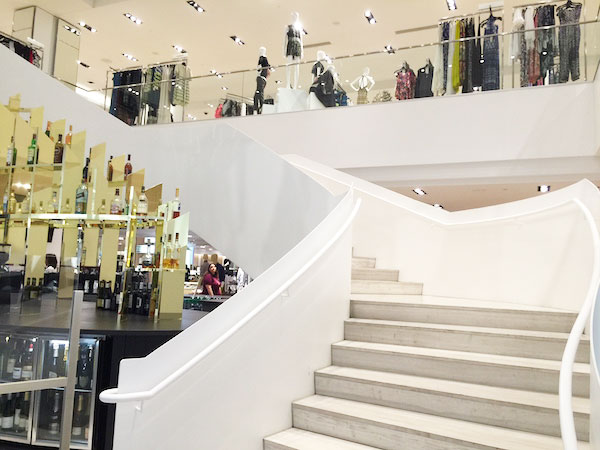 My favorite, I've said it many times before, but the 'grand staircase' in the center core of the store with adjacent bar became the line of demarcation for women's vs. men's and last night at the party was the gathering spot for all to drink up and enjoy one another….great gathering place for all!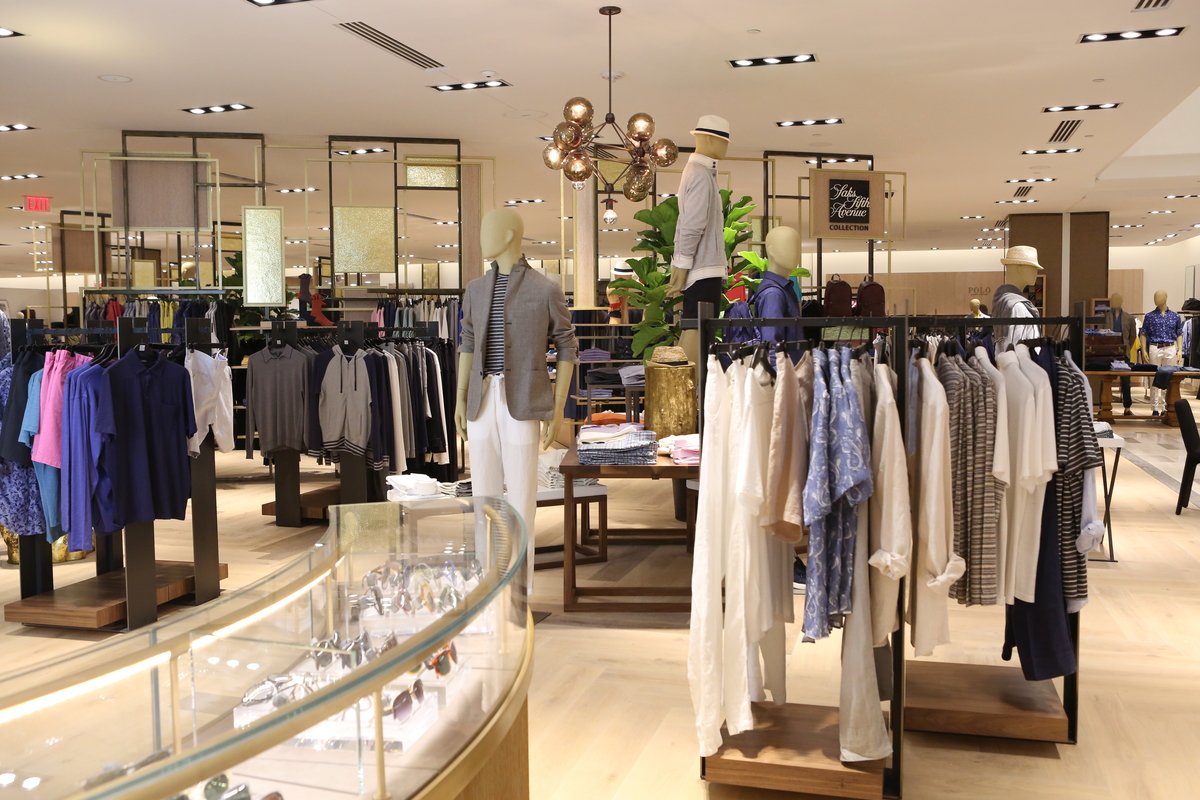 Men's which made their first venture to the main floor has a very large, well-defined space for all apparel, shoes and accessories…..showcasing the latest in designer names for the guys.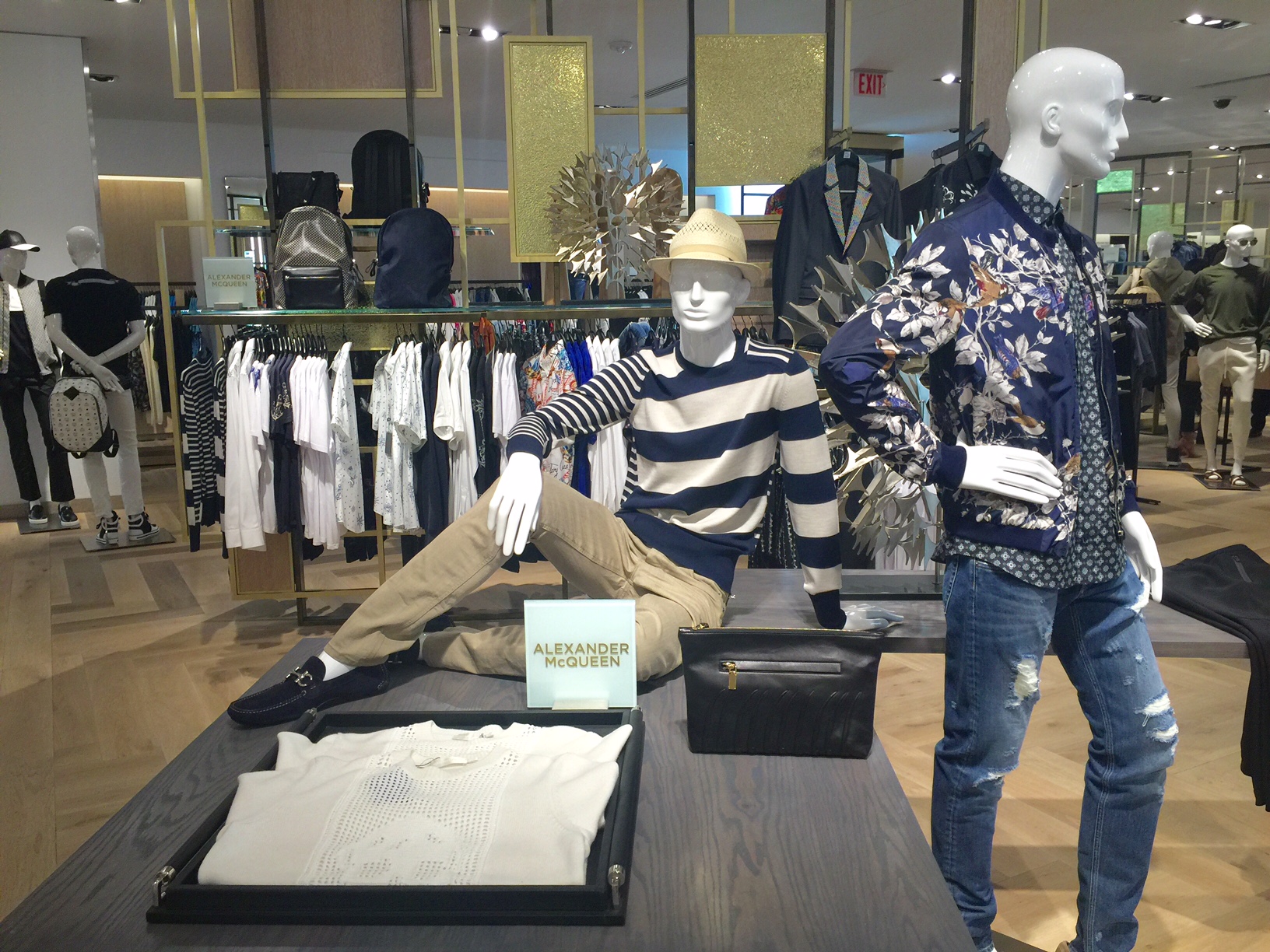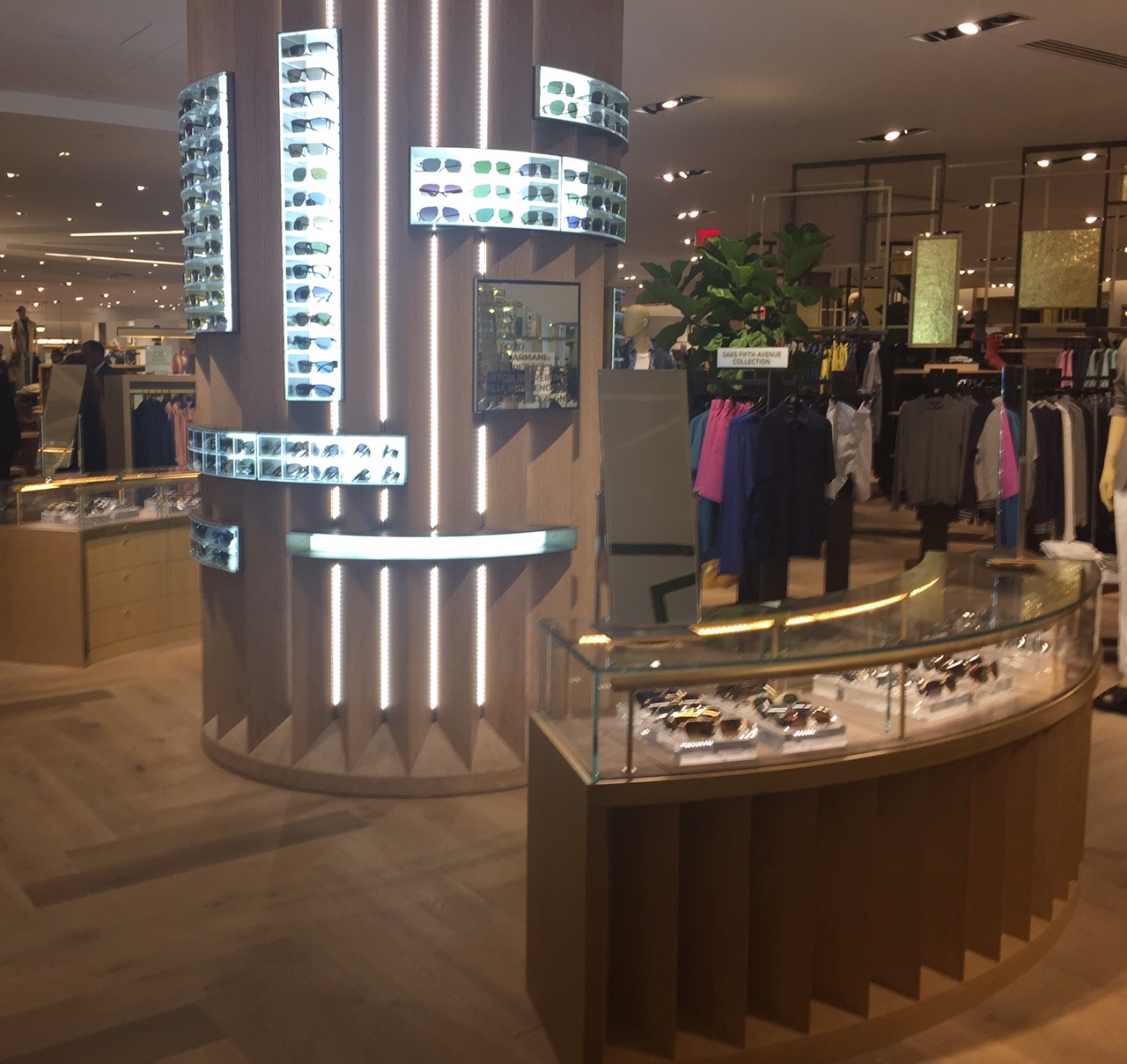 Second Floor, Ladies Ready-to-wear, (Designer, Contemporary & Casual), Intimate Apparel and a newly expanded and upgraded Fifth Avenue Club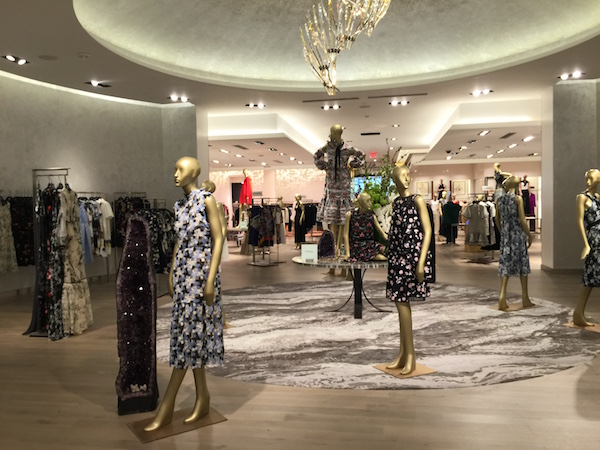 Being a former Visual director I can appreciate the benefits of having adequate staging areas for mannequin displays that showcase trends and offer the shopper styling tips as well.  There were several of these in different sizes and shapes. This center space, dedicated to the visiting designer, Erdem, did an outstanding job of showcasing his collection.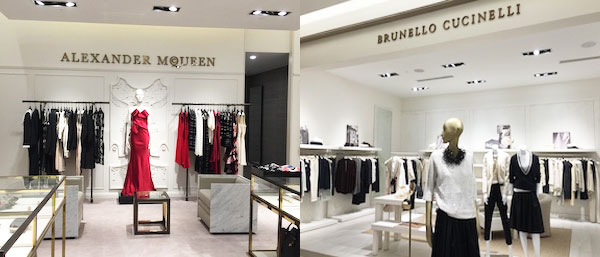 A sampling of the many designer boutiques within the store that showcased each of their top names in that category. Most popular names were included and given their own district look within the framework of the Saks interior style.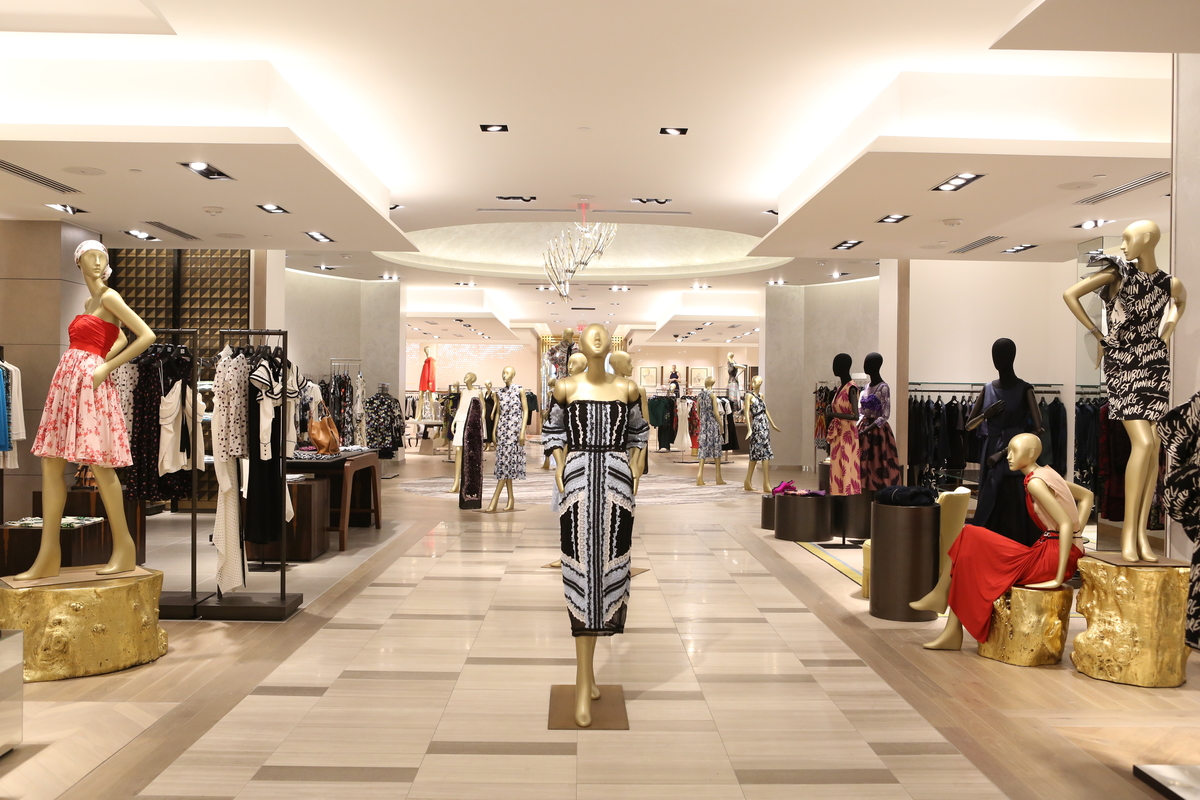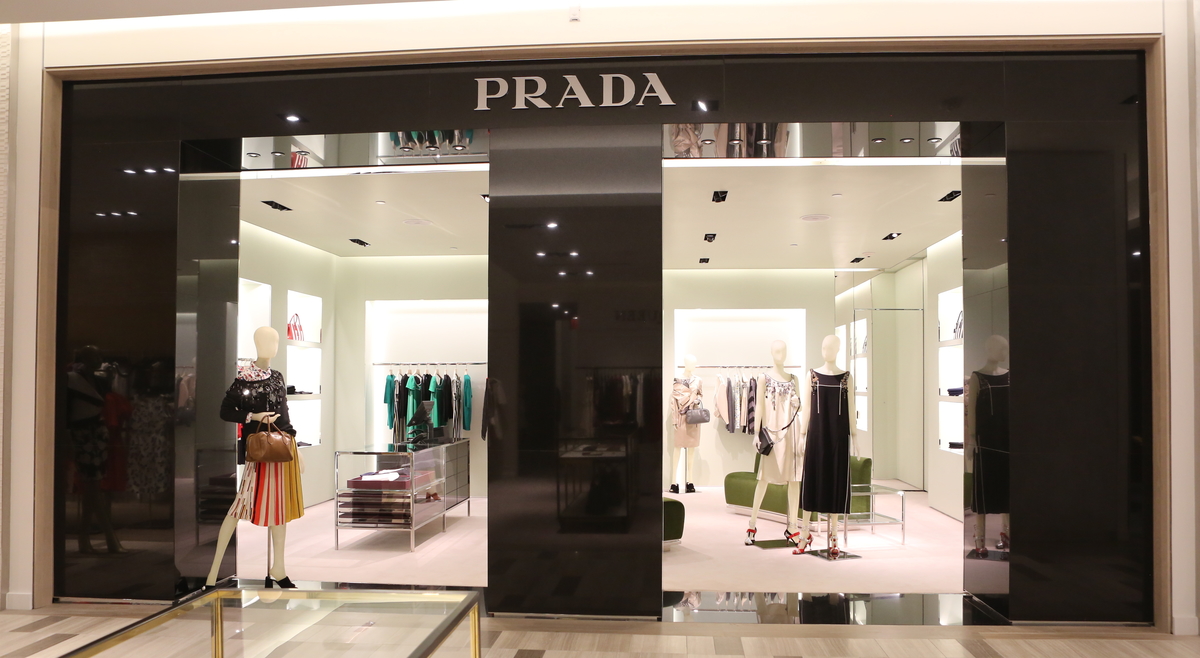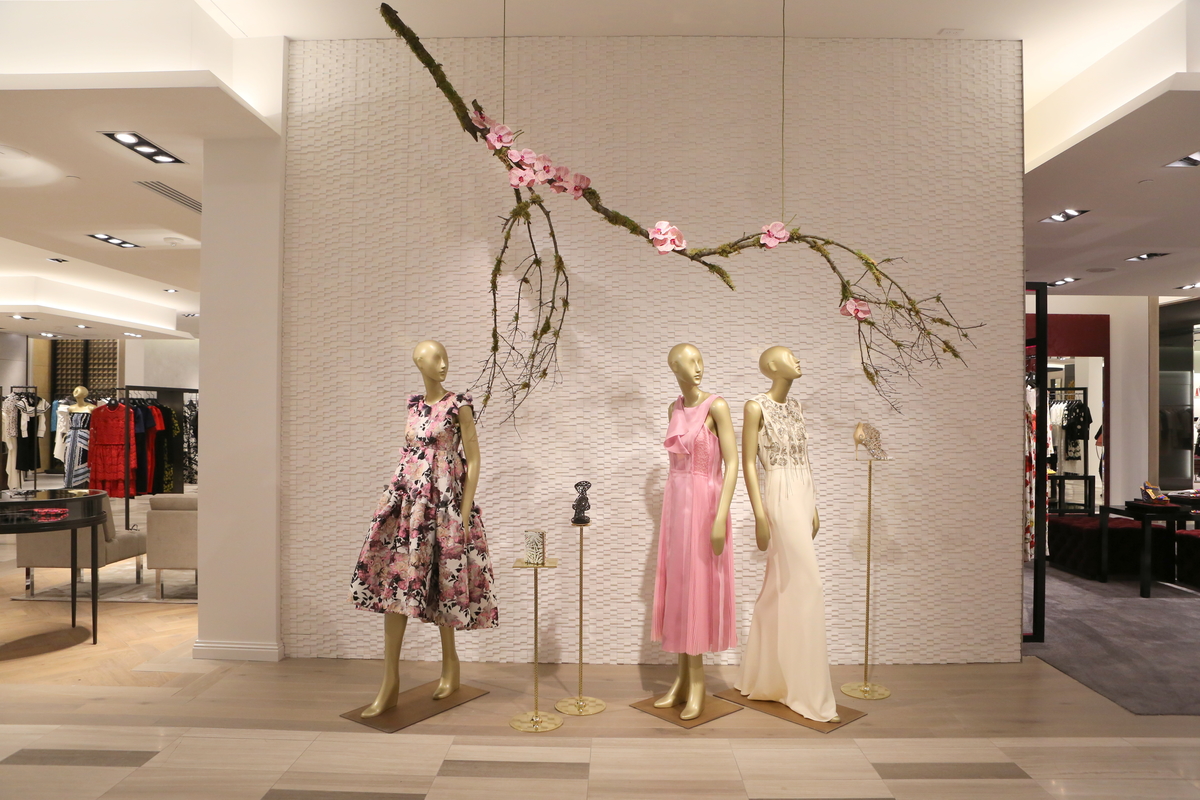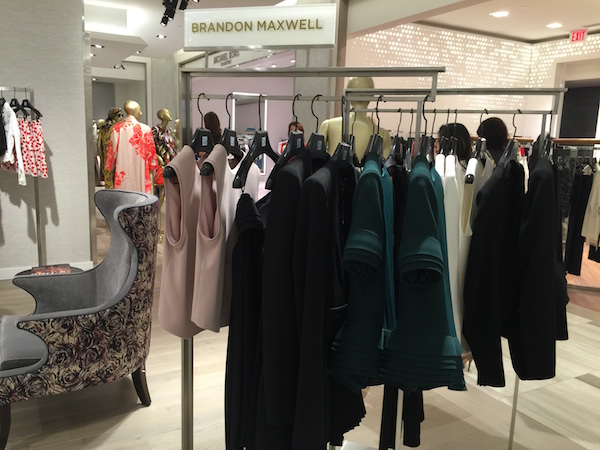 Brandon Maxwell, one of NY Fashion Week's hottest new names and former stylist and now designer for Lady Gaga, is a Saks exclusive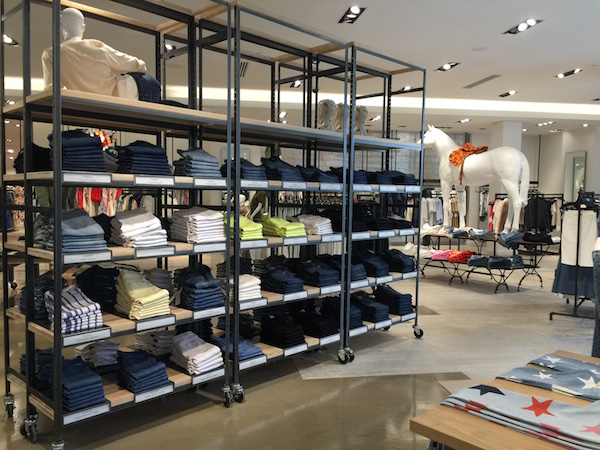 The young contemporary denim department fixturing and design stepped out from the usual Saks look for a more high-tech, contemporary feel…..complete with white horse, after all this is Texas and we love our denim!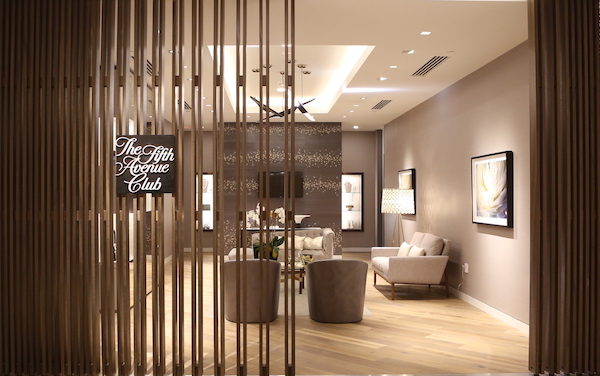 Enhanced and enlarged Fifth Avenue Club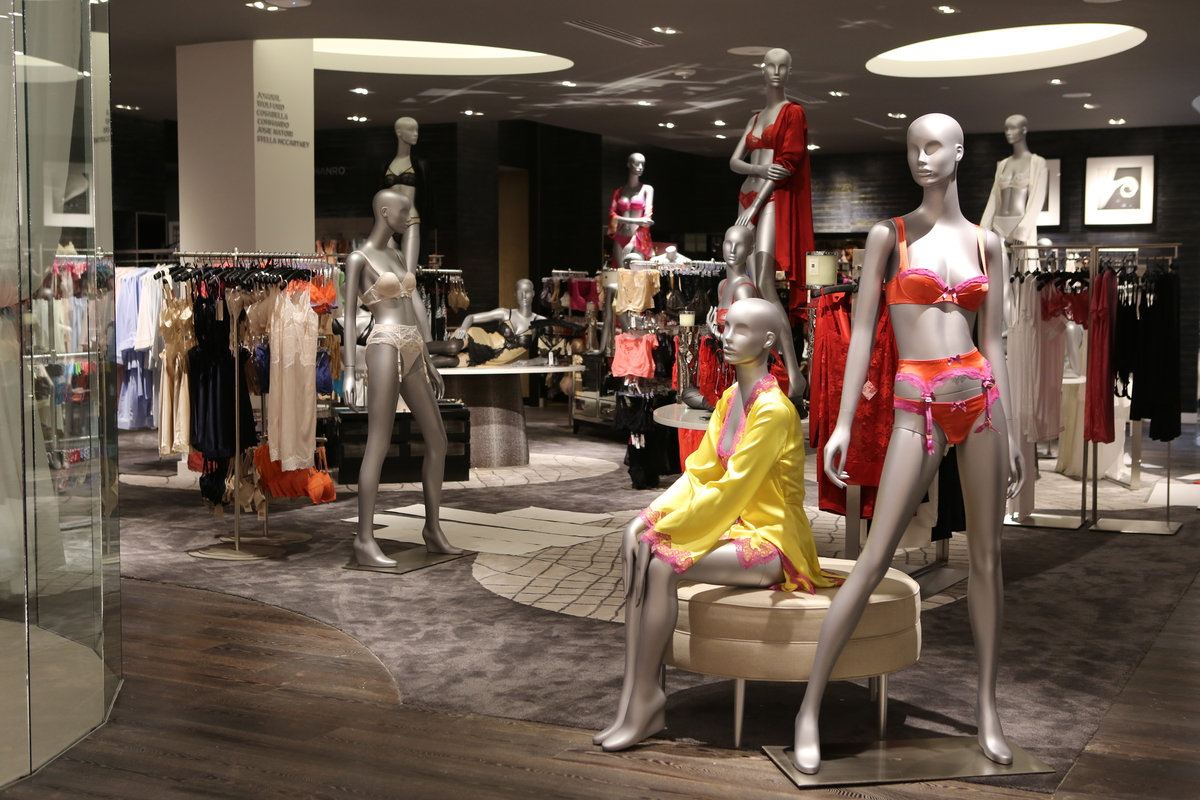 A very modern take on Intimate Apparel……an all-black department, giving off a sultry, sexy vibe to the very appropriate area of the store!
The Grand Opening Party Benefiting M.D.Anderson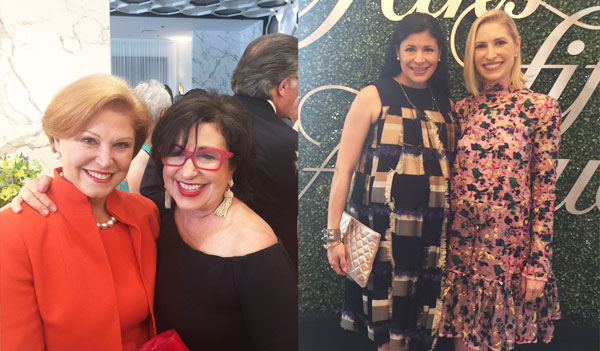 Great seeing Jan Duncan, made me happy…..and besties Christie Junco Bradshaw and Isabel David looking as adorably chic as always!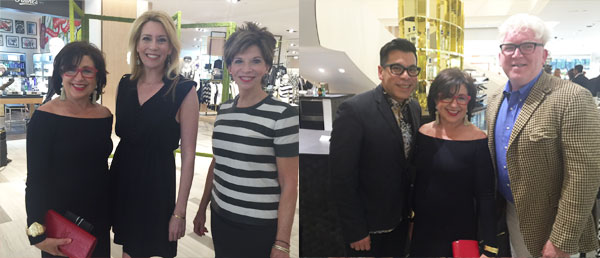 First floor bar area was happing as I stopped to chat with my besties, Vicki Rizzo and daughter, Mauri Oliver and who other than Mr. Tim Moloney and Jeweler, Jay Landa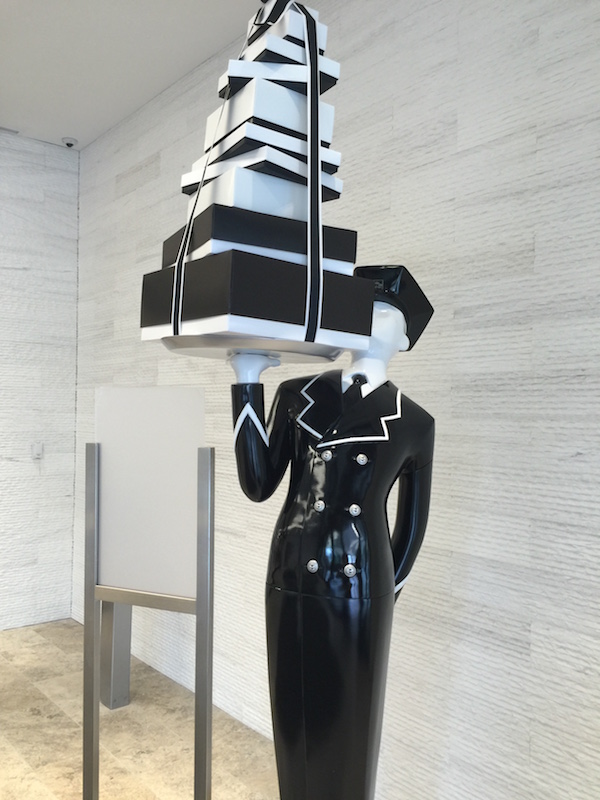 The End of the Festivities…..The Beginning of Success!