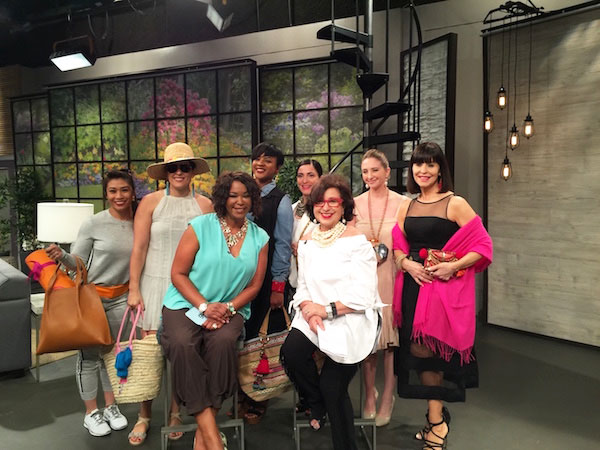 The models with Deborah Duncan and Roz. From left to right: Tiffany Capao (MRG Intern), Crystin Pactor (Marketing Coordinator at Metro National), Paula Blackshear (MRG Intern), Candace Thomas (Blogger behind Luxe with Kids), Dr. Angela Sturm (Facial Plastic Surgeon and one of the MRG contributors), Sandra Porter (VP of Corporate Marketing and Business Development at Hines)
This past Friday, you may have seen a few familiar faces on Great Day Houston. Roz did a segment all about spring trends, focusing on accessories. There are so many incredible accessories out there, and we had a BLAST pulling items from a bientot (all jewelry and bags) and TOOTSIES (all apparel & footwear). Keep reading for some of the biggest accessory trends of the season modeled by some fabulous ladies (and you can watch the entire segment at the bottom of the post!).
Our models getting ready to go on!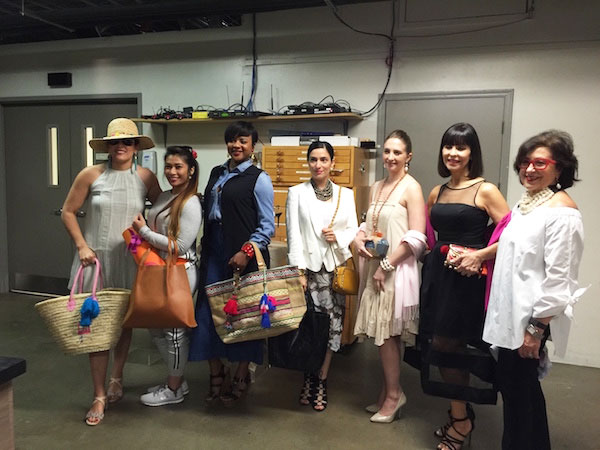 Backstage at GDH.
Roz wearing the Fairchild Baldwin necklace (story coming soon to MRG!) from a bientot and off the shoulder top from Tibi/Tootsies.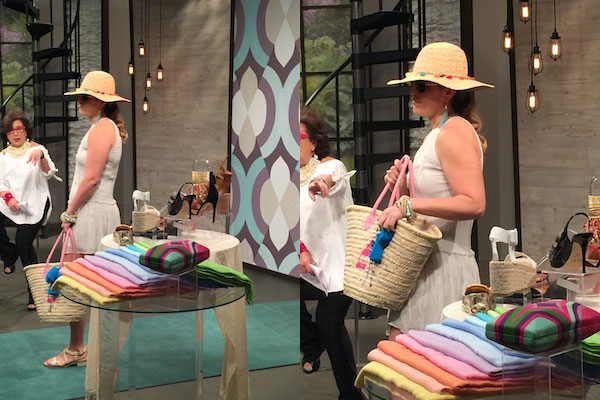 Beach Chic: Crystin wore a summery dress that would easily take her from the beach to dinner. It is paired with strappy sandals, a market bag, which can be monogrammed (one of the hottest bags out there right now!) adorned with colorful baubles and trinkets, and an oversized floppy straw hat and sunnies. Not pictured: Smaller bags within the market bag that you can take on the go when you don't want to schlep your entire beach bag. Trend takeaway: strappy sandals, colorful jewelry and accessories, adornments on bags,   The Market Bag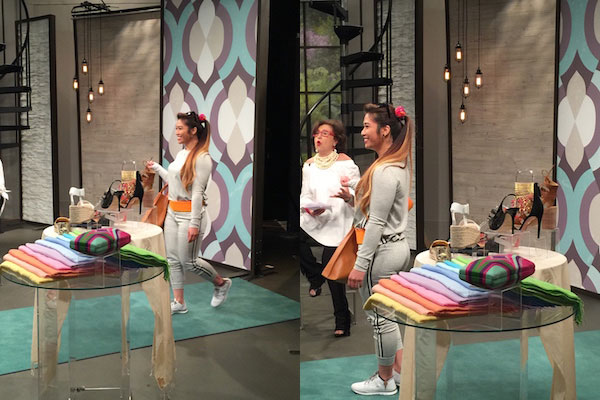 Athleisure: Tiffany rocked one of our favorite trends of the season, athleisure. She can go from the gym to lunch and running errands in this outfit. It's accessorized with an oversized bag to carry all her gym essentials, including a yoga mat (which can be monogrammed), a stretchy 'belt' that goes around the waist to carry essentials while working out, 'has been extremely popular' says, a bientot owner, Betty Newton and white sneaks, our favorite. Trend takeaway: colorful accessories, white sneakers, athleisure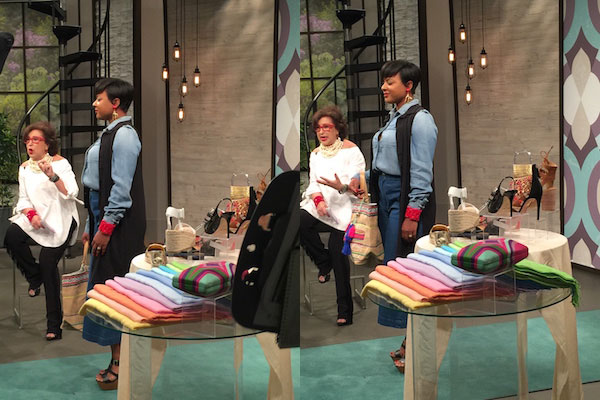 Dressy Casual: Paula strutted out in a dressy casual look consisting of denim on denim (which we love) and a black vest. Her denim bottoms are culottes, which have made a major come come back, and we accessorized her with bold red and gold accessories and a colorful tote, and wedge sandals. Trend takeaway: denim on denim, culottes, colorful jewelry, embellished bags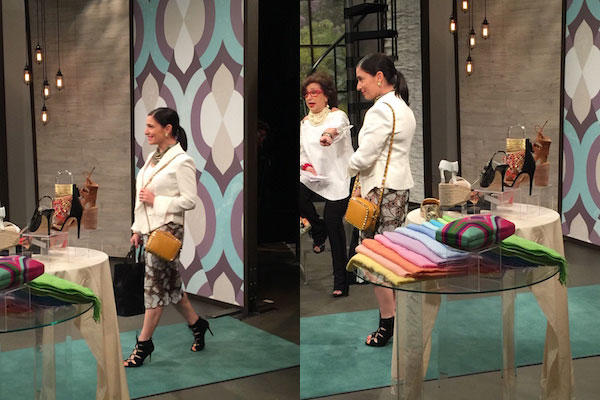 Wear to Work: Candace's look is wear to work, but much more elevated than the traditional work attire you might see. She wore an embellished lace pencil skirt, white cami, and a white cropped blazer. The look was paired with lace up heels, lots of bangles, the Fairchild Baldwin statement necklace, studded bag, and a laptop bag. Trend takeaway: lace up shoes, studded bag, statement necklace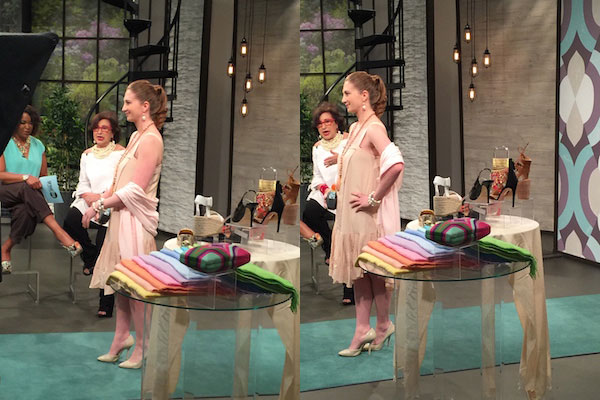 Summer Wedding: Dr. Angela wore one of our favorite colors of the year, blush, with nude shoes, a light pink wrap, and blush tonal accessories. She's ready to go to a summer wedding with in town or at a destination of choice, in her stylish, on-trend dress.            Trend takeaway: blush, statement jewelry, pleats, artsy clutch bag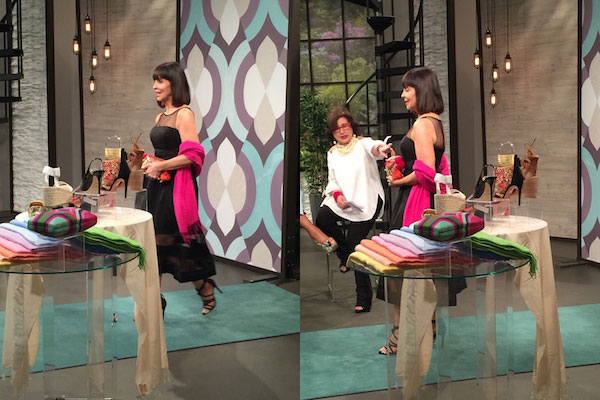 Dressy: Sandra was our dressy gal, and she wore a stunning black dress from Tootsies with sheer paneling, new wrap and lace-up heels, a colorful wrap, and bold, colorful jewelry and accessories. Trend takeaway: wrap & tie shoes, sheer paneling, embellished bags, statement jewelry all in bold color.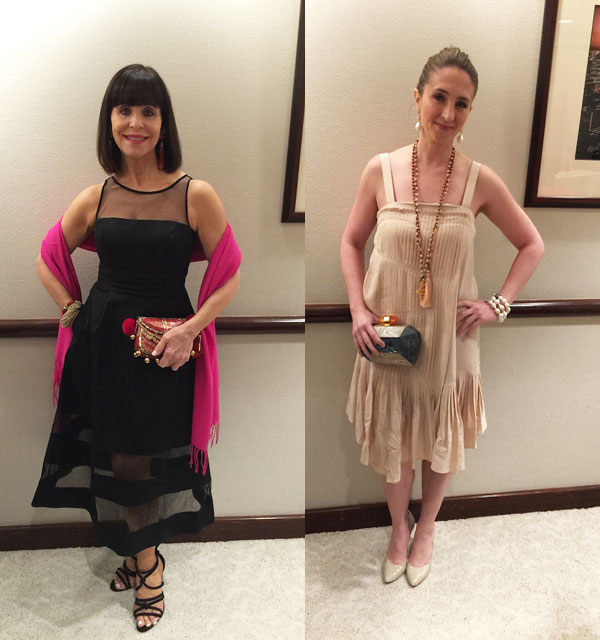 Sandra and Dr. Angela looking beautiful.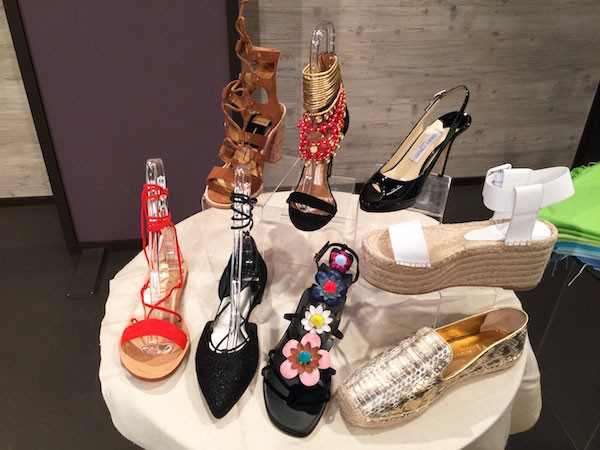 Shoe trends (shoes from TOOTSIES): Wrap & Tie, Embellished, Platform, Espadrilles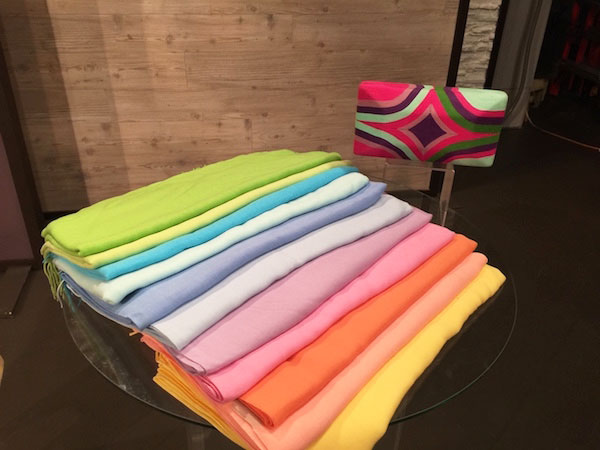 Colorful Wraps and Clutch from a bientot. You can never own too many wraps, especially colorful ones. They add a little something to an outfit (and keep you warm, as well, in the freezing air conditioning or beach-side temps!).
Watch our segment HERE.