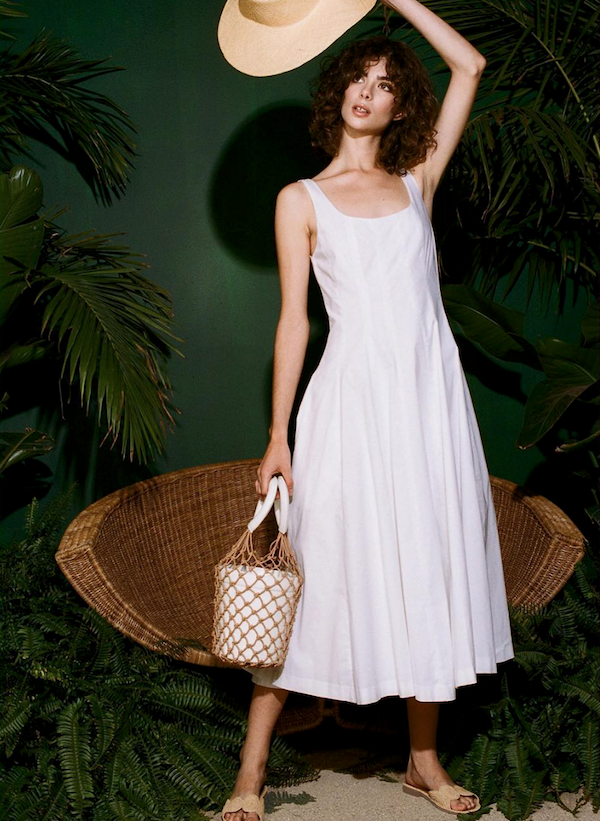 @staud
As soon as the Fashion Weeks are over, every fashion trend lover looks to see what the dominant trends were for NOW.  After leaving the shows, the coming season has registered in our minds but if looking fashion right for now is what you're after, in at least some of the latest trends, a fashion savvy gal needs only to look to the street!  There you will see what fashion editors and influences are wearing now as the top trends of the moment.
One sure bet is that everyone is looking for the "It bag" of the moment.  One of the hottest, in fact so hot that it is selling out as we speak, is the Moreau Bucket Bag from Staud. This bag which could be seen on the arms of such top influencers as Alexa Chung, and Manrepeller's Leandra Medine, is a leather and macrame combo that comes in an array of colors such as pink, blue, red, navy and more. However, the two sell-out combinations  have been the Saddle color with Natural Macrame and the other, no surprise based on the skyrocketing popularity of White this season is the White with Natural bag. (shown above) Both of these are sold out by the vendor and can be wait listed!
The fun thing about these bags, which are vintage inspired, designed by L.A. based handbag designer, Sarah Staudinger, are priced at an affordable $375. As many of us know that have signed on for wait listed bags in the past, that's a steal!  It is a reflection of the designer's theory that any fashionable woman should own more than one "It Bag" and change them out frequently based on occasion and wardrobe.
The Staud Moreau Bag is one of the hottest bags of the season for sure and many of you remember theCult Gaia Ark Bag  bag of last summer as it burst onto the fashion scene and was also impossible to find.  You will see this year's enhancements and updates to that bag, coming up soon as we take another look at the trending "It Bags" of the season! Stay tuned!
Click the images below to purchase this "it" bag!