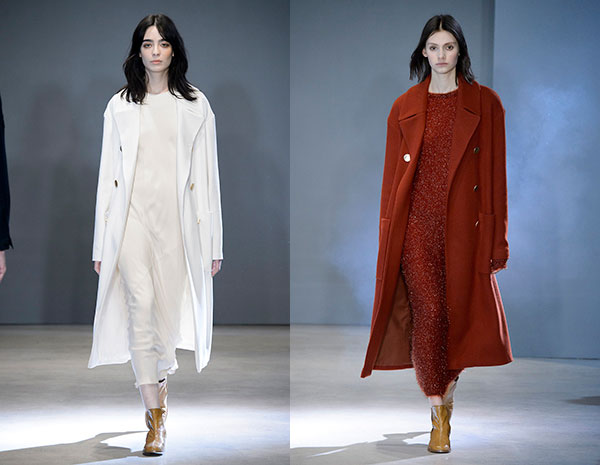 A trending look from Tibi Fall/Winter 2016 Runway Show that I took a strong liking to was the Coat/Dress Ensemble idea shown here
A Contemporary sportswear collection that has fast become a fashion cult favorite is Tibi. A collection that I am always waiting to see and wear myself. For Fall 2016, designer, Amy Smilovic decided this season to 'borrow from the boys' in everything from the designs of this collection that stressed comfort and ease of wear to her casting of a scattering throughout of guys for the show. It should be noted that Tibi is not planning a menswear collection but Amy took the point-of-view that we gals borrow from our guys all the time, so why not reverse it and had some of the guys wearing oversized women's styles for a change-up!
The collection was loosely influenced by military uniforms and the paintings of American figurative painter, George Tooker.  The look was easy, oversized dressing in rich head-to-toe, monochromatic color ways in white, russet, navy, blush and army green. The dominant pant was a roomy, wide-leg cargo pant. Clever details were everywhere from sleeve lengths to bold brass buttons on jackets and from her footwear, the simple, clean boot styles that she showed with all of her looks.  My favorite look as you can see above and from many of my pics from the show is the look of  dress and easy matching coat ensembles, a look I've always favored and that might just become a trend as Tibi usually sets trends (such as her famous cold-shoulder tops that we all bought in several colors in past seasons and a trend for our current season) and does not follow them.  I'm all for that one!