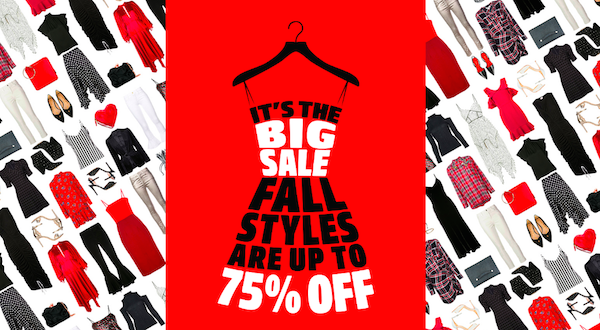 Spring is making its way closer and closer and that means it's time to treat our closets to a little retail treatment from Tootsies huge fall sale!
Tootsies biggest sale of the season is here and is filled with pieces perfect to transition you into spring! With the hottest styles up to 75% off, you won't even have to feel guilty on doing a little post-holiday wardrobe replenishment. Even though the sale says fall, it is full of pieces that are waiting to spring forward with you!
Tootsies and MRG have teamed up to deliver you the sale gems that you need to go into spring in style and on trend at great prices right now.  Colors, patterns and silhouettes that are sure to be huge this spring season are just waiting for you to shop them in-store and online. Find a piece you love, but can't make it to the store? No worries…just click on the image and it will take you straight to the site to purchase! Want to be able to try on your beloved find before saying yes? You're in luck, Houston, because Tootsies is conveniently located right in the River Oaks neighborhood!
Happy shopping, ladies…..remember that these styles below are only a sampling of all of the many treats in store for you by dropping into Tootsies to see more!
---
Animal Print

Items Listed From Left to Right:
Floral

Items Listed From Left to Right:
---
Transparent Accessories

Items Listed From Left to Right:
---
Suiting

Items Listed From Left to Right:
---
Bright Colors

Items Listed From Left to Right:
---
Polka Dots

Items Listed From Left to Right: