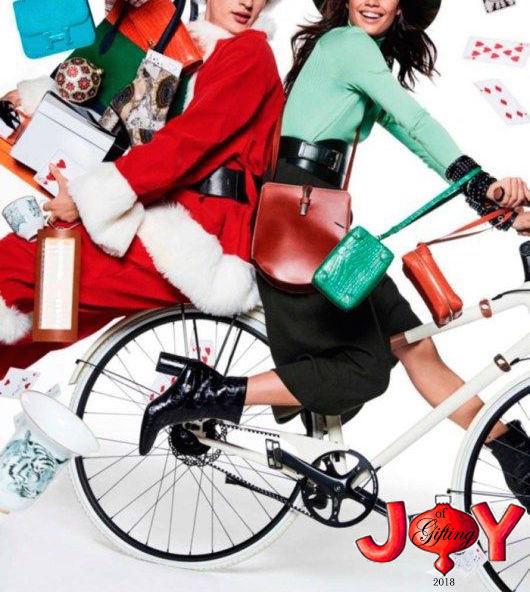 Your loved ones' hobbies are what bring them the most joy…so do the same and buy them gifts that go along with their favorite past-times! 
Figuring out the perfect gift can be very challenging, but all that much more rewarding once you find a gift they truly love! One of the most surefire ways to guarantee they will actually love (and most importantly use!) the present you pick, is to purchase based on their hobbies!
Do they love to play sommelier at dinner each night? Or do they always have the hottest gadgets on the market before anyone else even knows what it is? What about the friend that is always asking you to go on a run with them? These are all the signs you need for picking the perfect present! There are so many unique items on the market that we can almost promise they don't have, yet!
When you find the perfect present, just click on the item's name in red to be taken to the retailer's page to purchase!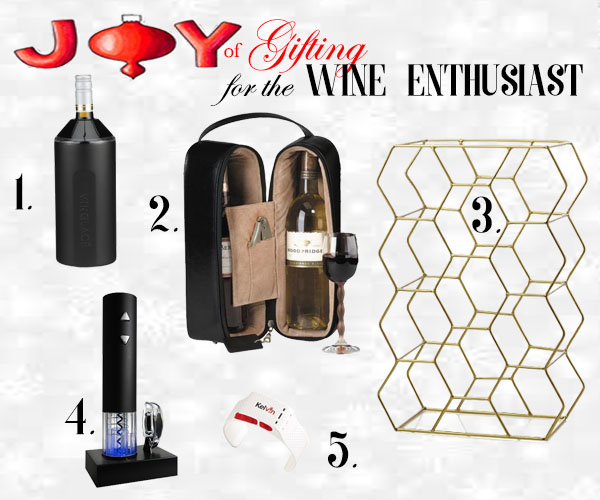 1. Vinglace Black Stainless Wine Cooler – Stainless steel, double walled, and vaccuum insulated- this wine cooler is about as reliable as they come! (Also available in many additional styles, locally, at Kuhl-Linscomb and Cotton ClubCollection)
2. Brookstone Personalized Royce Leather Double Wine Bottle Case – This travel case is the ideal gift for that vino-connoisseur on the go with the added bonus of a wine-opener inside!
3. Crate and Barrel 11 Bottle Gold Wine Rack – Their taste in wine is golden, so why not place their bottles on a rack of the same standard?!
4. Vinotemp Electric Wine Opener – We've all been there…struggling with a tricky wine-opener or corkscrew. With this little guy, they will never have to worry about that again!
5. Kelvin Smart Wine Monitor – No two wines are alike, and neither are their optimal temps, but this faithful monitor will alert you when your vino is ready to go!
---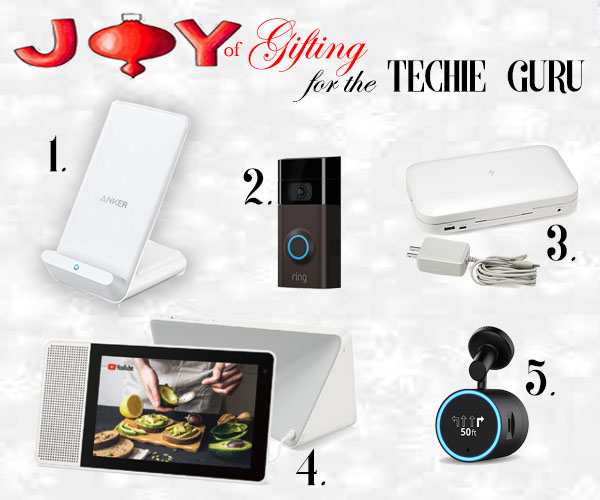 1. Anker Powerwave Fast Wireless Charger – Take away their fear of running out of ever running out of battery with this super fast wireless charger!
2. Ring Video Doorbell 2 – The gift that is all the rage this year- give them the gift of safety with the wildly popular Ring Doorbell!
3. PhoneSoap Smartphone Sanitizer –  Few people realize just how dirty their phones really are, that is until they try this smartphone sanitizer!
4. Lenovo 8" Smart Display – Now they can watch videos, make and answer phone calls, and set timers and reminders without ever even lifting a finger!
5. Garmin Speak with Amazon Alexa – Let them take the convenience of their Amazon Alexa on the go! Also equipped with Garmin GPS capabilities for the best directions!
---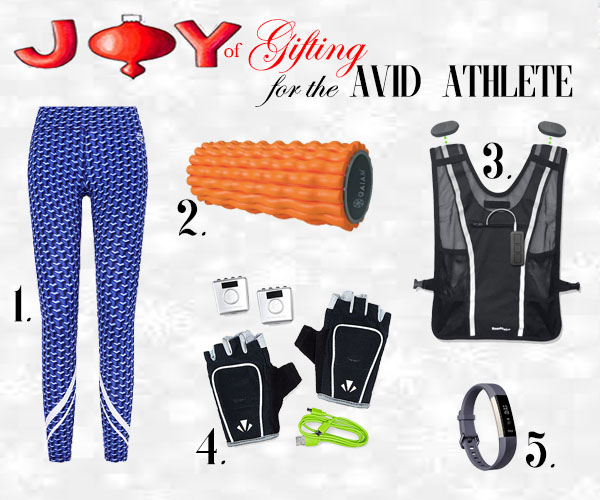 1. Tory Sport Printed Chevron Leggings – Nothing motivates her better than the cutest pair of athletic leggings!
2. Gaiam Restore Deep Tissue Roller – For the most serious of athlete, this foam roller is ideal for saving their muscles!
3. Roadnoise Sound Running Vest – With this vest, they will not only be seen by every car in the darkest of conditions, but it also has a built in speaker for music!
4. Uncommon Goods Runner's Light Gloves – Another added level of visibility is the best gift you can give that late night runner in your life!
5. Fitbit Alta Heart Rate Wristband – In case they haven't already jumped on the Fitbit train, this wristband is all they need to measure their heart rate, physical activity time, and so much more!
---
For even more The Joy of Gifting gift guidance, check out our other gift guides from this season:
The Joy of Gifting…for the Hostess
The Joy of Gifting…for the Traveler
Feature image courtesy of Vogue Paris