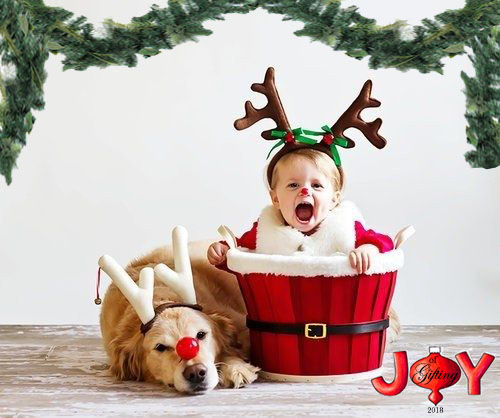 For the smallest ones in our lives, the holidays are an even more joyous time. 'Tis the season for spoiling them, and we are here to help!
Oh the memories of the building anticipation of the holiday season we all had as children. Knowing the goodies that would be waiting for us on the days of celebration were enough to hold us over for the next 364 days of the year. Make sure the holiday hopes of the little (or not so little anymore) ones are more than exceeded when they unwrap the perfect gift…..there is nothing more joyous at Holiday time than bringing happiness to children!
The life stages of a child can make it very difficult to buy for them…but don't worry. We have made our list and checked it twice to make sure you know the hottest toys of this season, no matter their age! Whether they are learning to read or learning to drive, they are sure to love what you wrap for them!
Also, who says the kids in our life have to be human? Our furry friends bring such joy to our everyday life, it is about time they get the same loving in return! Scroll to the bottom for our pick of the most paw-some pet items on the market!
See the perfect gift that they just couldn't live without? Just click on the item's name in red to be taken to the retailer's page to purchase! 
---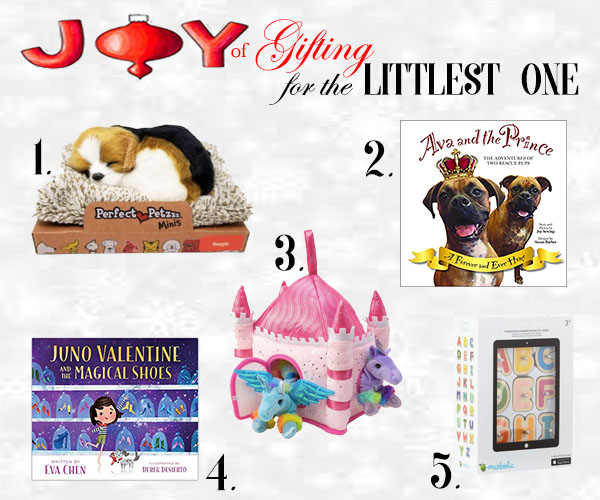 1. Perfect Petzzz Mini Baby Beagle Puppy Dog – While catching their Z's, these little furry companionswill steal your little one's heart and keep you company all day long!
2. Joy Sewing Ava and the Prince: The Adventures of Two Rescue Pups – Ava and Prince are like most dogs. They want a place to call home, where love is yummy like peanut butter and belly rubs never end. This is their sweet, real-life story about home, family and love.
3. Hearth-Song Plush Unicorn Playset -Four soft, sparkly unicorns live inside this plush castle keep, and they're ready to stretch their wings and follow the little one as they follow their dreams! (on backorder online, available NOW in-store, locally, at Kuhl–Linscomb)
4. Eva Chen Juno Valentine and the Magical Shoes Book – Written by a mother-of-two, this story will walk its way right into their heart (and yours) in the most magical way!
5. SODA Says Marbotic Smart Letters – Marbotic smart letters, combined with a tablet's touchscreen technology, help children learn the alphabet and to read and write.
---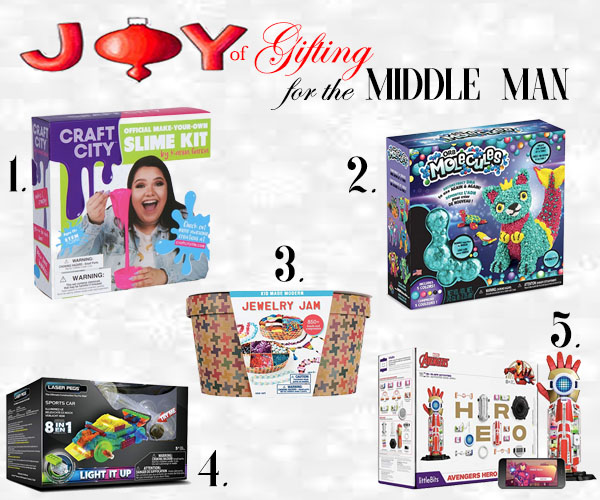 1. Karina Garcia DIY SlimeKit – Slime is all the rage in the kid world right now! Keep them entertained for hours, while inspiring their scientific side!
2. The Orb Factory Orbmolecules Merkitty Never Dries Compound – Completely resusable, these orbmolecules allow them to use their imagination and build whatever they want over-and-over again!
3. Kid Made Modern Jewelry Jam Craft Kit – Unlock your child's creativity and fashion-sense by inspiring them to think outside the box with this show-stopping jewelry making kit!
4. Laser Pegs 8-in-1 Sports Car Building Set – This Laser Pegs construction sets encourages forward-thinking multi-dimensional play which will disguise their learning as play!
5. Littlebits Marvel Avengers Hero Inventor Kit – Let them be their own hero, with the help of their inventor-mind and of course, the trusty Avengers!
---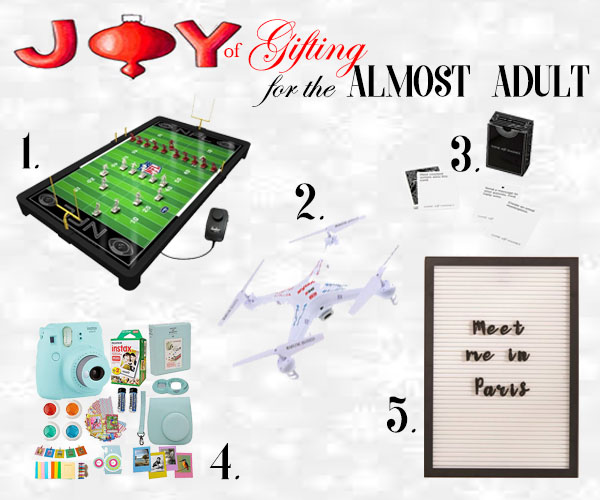 1. Tudor Games NFL Electric Football Game –  Bring the game to them with this all-time, best-selling favorite football game!
2. Syma Quadcopter Drone – The mascot of the new age, you can't go wrong with this drone…especially when equipped with a HD-camera!
3. Uncommon Goods Game of Phones – They're likely going to be on their phone anyway, might as well encourage them to communicate and have fun while doing it!
4. FujiFilm Instax Mini – Let them be their own photographer and bring back the nostalgia of the gold ole'days of polaroids with this amazing Instax value pack!
5. Urban Outfitters Script Letter Board – They have got a lot to say so give them the gift where they can express their inner-thoughts while adding to their decor!
---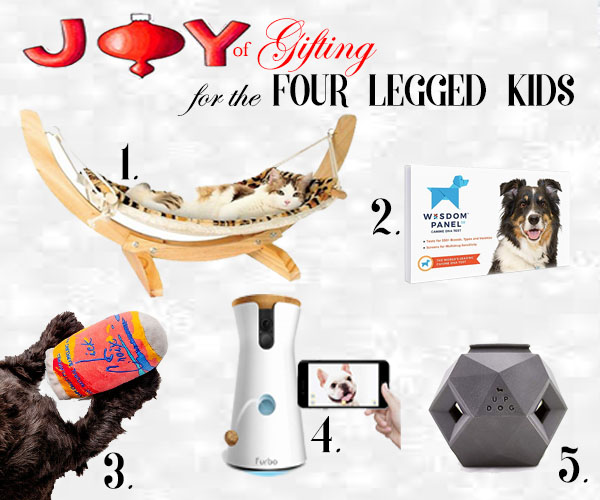 1. Pet Parade Reversible Pet Hammock – They work hard to spoil you with love each and every day, so they deserve a nice place to put their paws up and get some rest!
2. Wisdom Panel 3.0 Breed Identification Canine Kit – Everyone wants to know about their ancestors, so it is no surprise the DNA test-kits have made their way to the canine universe!
3. Kuhl–Linscomb Lick Croix Barkling Water Plush Toy – We all love ourselves some La Croix, and our furry friends deserve the same luxury! (available locally at Kuhl-Linscomb)
4. Furbo Dog Camera – Saying goodbye to our little guys can be the hardest thing in the world, but thanks to Furbo they are never too far away! Even better you can give them treats whenever you want!
5. Up Dog Toys The Odin Treat Puzzle Toy – Provide mental and physical stimulation with a reward with this intricate treat puzzle!
---
For even more The Joy of Gifting gift guidance, check out our other gift guides from this season:
The Joy of Gifting…for the Hostess
The Joy of Gifting…for the Traveler
The Joy of Gifting…for Their Hobbies
The Joy of Gifting…for the Beauty Obsessed
Feature image courtesy of Pinterest