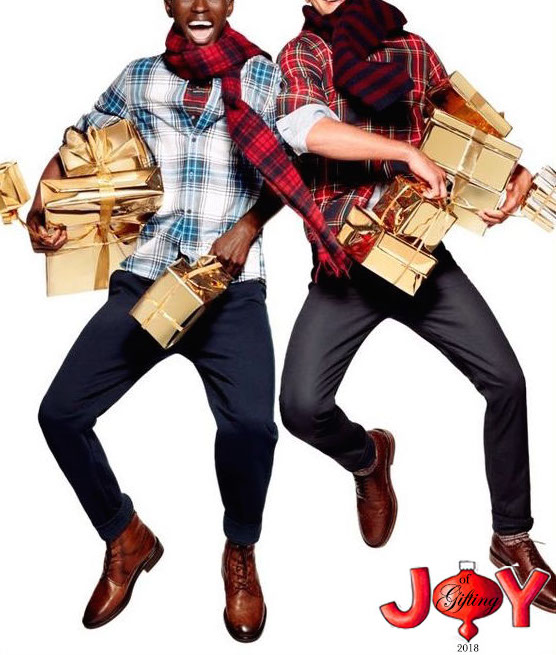 Men can be the hardest one's to buy for on your holiday shopping list…trust us, we understand! No worries, we have consulted the best shopping-man we know (thank you, Santa!) for the best gifts for your guys this year!
Getting the men in your life to tell you what they want for the holidays can be the hardest feat of the season. But in the spirit of making your holiday shopping a little but cheerier, we have done the dirty work for you! The key to gifting for men is to get creative with your approach. Most men take practicality as a priority when it comes to the things they really want, so the best approach is to think about they enjoy doing and what presents will improve or enhance their experiences.
For the outdoors enthusiast, spirited soul and music maestro…we have got him covered. With gadgets and goodies aplenty this gift guide is your go-to for every guy in your life. When you find the perfect present, just click on the item's name in red to be taken to the retailer's page to purchase! Happy shopping!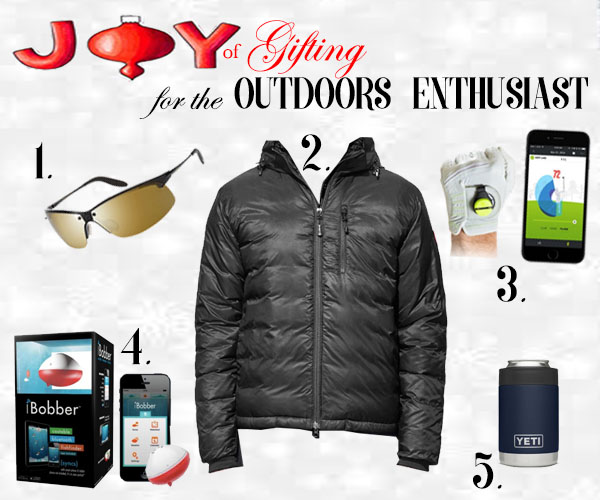 1. Sharper Image Polarized Golf Sunglasses – These sunglasses are developed from original NASA technology (so you know they will work) and block blue light, making it easier for him to focus on the green!
2. Canada Goose PBI Down-Fill Lodge Hoodie – Let him take on whatever weather in this wind-resistant, insulated, ripstop fabric athletic jacket!
3. Zepp Golf 2 Swing Analyzer – Ideal for the serious golfer, this tiny gadget pack a big punch just by clipping onto their golf glove to record and analyze his swing in three dimensions!
4. ReelSonar iBobber Portable Sonar Fish Finder – Out of all the fish in the sea, this sonar depth finder will be what they are most excited to catch!
5. YETI Colster Can Insulator – Nothing goes better with being outdoors than an ice cold drink, and this coozie will keep it that way no matter the temperature!
---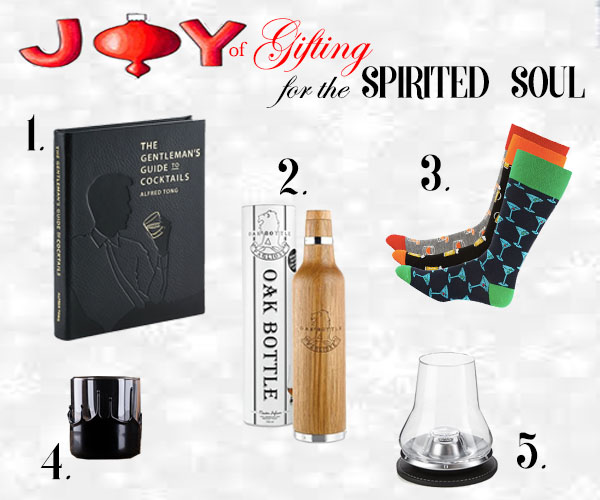 1. Alfred Tong The Gentleman's Guide to Cocktails Book – Help him finally be able to answer the age-old question of "shaken or stirred?" with this book full of more than 150 recipes!
2. Oak Bottle Wine & Spirits Oak Aging Bottle – Let him be the spirit-whisperer with this bottle that infuses oak-aged flavors and aromas in just a few short hours!
3. Neiman Marcus Men's 3-Pack Holiday Cheers Sock Box Set – May these socks keep his feet warm and spirits high- perfect to wear while sipping his favorite drink!
4. Manready Mercantile The Gentleman's Glassware Whiskey Tumblers – Dripping in cool, these glasses are hand dipped in wax, making them just as durable as they are handsome!
5. Peugeot Whiskey Tasting Set – Bring the whiskey tasting to him, with this tasting set minimizes the sting of the alcohol while enhancing the aroma and flavor of the spirit!
---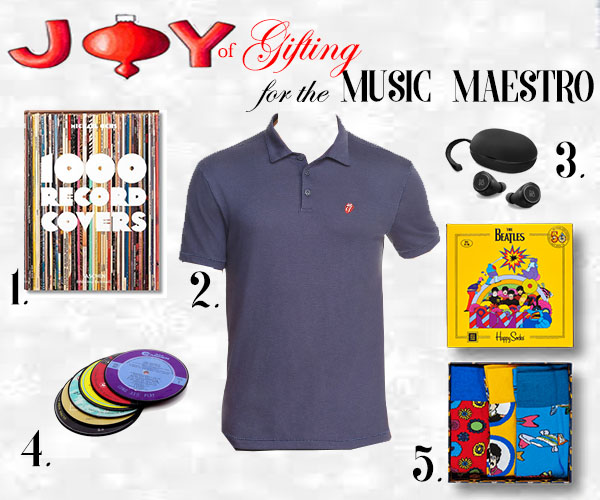 1. Michael Ochs 1000 Record Covers Book – In the case of a lot of vinyls, the cover art is just as good as the music inside of them, so he will love this book showcasing the 1000 best covers!
2. John Varvatos Star USA Rolling Stones Slim Fit Polo – I know it's only rock-and-roll, but hey…he loves it! This Rolling Stones polo will let him show his music taste off to everyone!
3. Bang & Olufsen E8 In-Ear Headphones – The gift of music is unrivaled by any other, especially when enjoyed wireless and snug!
4. Uncommon Goods Upcycled Record Coasters – Let him kick back with the classics, all while protecting his table!
5. HAPPYSOCKS Beatles Box Set – This year, give him the gift that is Fab Four approved – even better, this box set comes with three fab styles!
---
For even more The Joy of Gifting gift guidance, check out our other gift guides from this season:
The Joy of Gifting…for the Hostess
The Joy of Gifting…for the Traveler
Feature image courtesy of andthisisreality.com