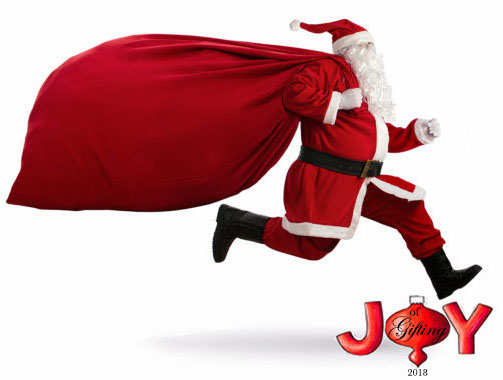 Santa Clause is coming to town…which means it is that time to scoop up those last minute gifts, before it's too late!
Time is quickly ticking, but don't worry! We have found the best last minute gifts for you to grab this weekend, before the big man comes to town. We have so many amazing retailers here in H-Town with an abundance of ideal gifts that everyone on your list would love to get! For him, her, or them…we have got all your last-minute bases covered!
Check out the list below and make sure to make note of which local retailers each item is available to shop in-store! Some are also available online, in which case click on the name of the item (shown in
red

) to be taken to the web retailer's site- just keep in mind, they might not make it before the big day!

1. Tizo Gold Jeweled Frame // Available at More Than You Can Imagine
2. William Sonoma Original Peppermint Bark Collection // Available at William Sonoma
3. Crep Protect Cure Shoe Cleaning Travel Kit // Available at Kuhl-Linscomb
4. El Arroyo's Big Book of Signs // Available at Manready Mercantile and Kuhl-Linscomb
5. Retrospect Group More Issues Than Vogue // Available at Kuhl-Linscomb
6. Rox Coastal Blue Acrylic Box with Clear Lid // Available at Cotton Club Collection
7. à bientôt Naomi Camo Nylon Clutch // Available at à bientôt
8. Alba Huerta Julep: Southern Cocktails Refashioned // Available at Kuhl-Linscomb
9. Neiman Marcus NM 2018 Annual Popcorn Tin // Available at Neiman Marcus
10. Coqui Coqui 100ml Bath Oil  // Available at Abejas Boutique
11. Mignonne Gavigan Mini Madeline Rose Gold Wings Earrings // Available at Tootsies
12. Nest Fragrances Votive Candle Gift Set // Available at Neiman Marcus
---
For even more The Joy of Gifting gift guidance, check out our other gift guides from this season:
The Joy of Gifting…for the Hostess
The Joy of Gifting…for the Traveler
The Joy of Gifting…for Their Hobbies
The Joy of Gifting…for the Beauty Obsessed
The Joy of Gifting…for the Kids
The Joy of Gifting…for the Foodies
The Joy of Gifting…for the Home
Feature image courtesy of The Savvy Shipper